ERBA Group Launches New Hematology Analyzers at MEDLAB 2019
By Theresa Herman, Regional Director
Posted on 18 Feb 2019
ERBA Diagnostics Mannheim GmbH (Mannheim, Germany) launched its latest hematology analyzers at MedLab Middle East, an international platform for laboratory management and medicine that was held between February 4-7, 2019, at the Dubai International Convention and Exhibition Centre, Dubai, UAE.
ERBA is a global in-vitro diagnostic company that provides a comprehensive portfolio in different specialties including clinical chemistry, immunology, hematology, hemostasis, critical care, electrophoresis, urine analysis, diabetes monitoring, autoimmune & infectious disease monitoring and microbiology. Its latest hematology analyzers, H 360 and H 560, launched at MedLab 2019 are designed for improving lab efficiency and are targeted at small to medium laboratories.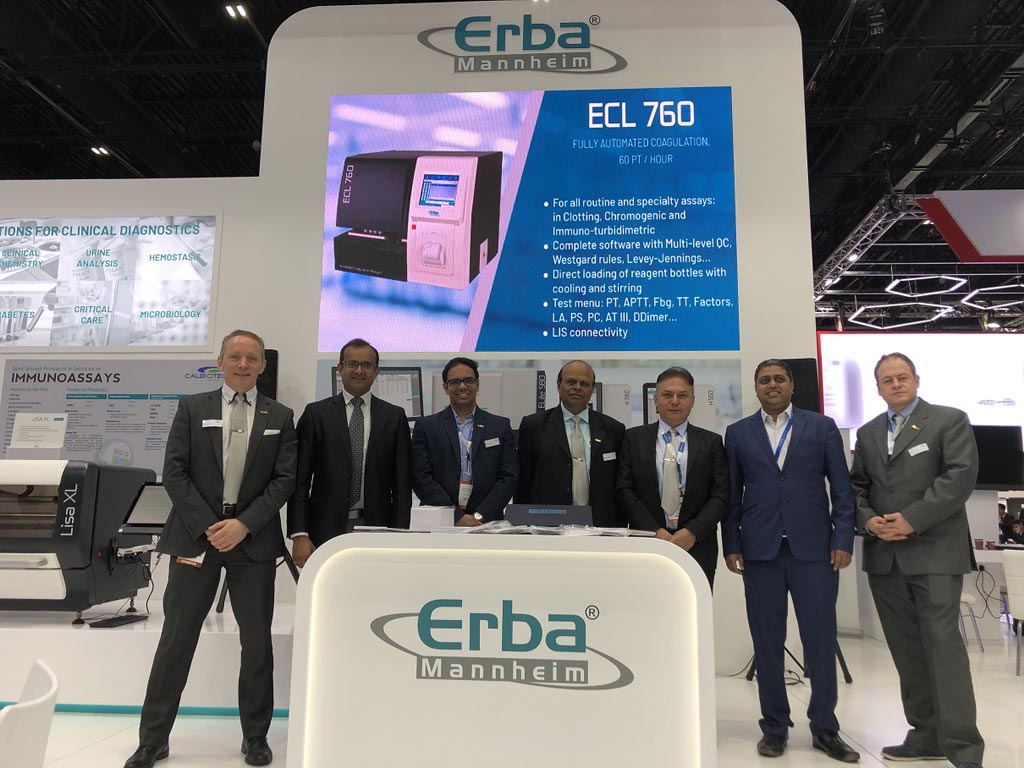 The newly launched, H 360 3-part differential analyzer can run up to 60 samples/hour and requires only 9 microliters of blood. The H 560 5-part differential analyzer also runs 60 samples/hour and requires only 15 microliters, which is highly beneficial in pediatric cases. In both systems, interpretation of results is aided using an advanced 3D scattergram. At MedLab 2019, ERBA also displayed the latest version of its fully automated urine chemistry and sediment analyzer, Laura XL which uses digital microscopy and AI technology to auto-recognize 16 urine sediment elements. Moreover, the photometric urine strip reader aids in the precise determination of 10 analytes using ERBA's standardized test strips DekaPHAN.
ERBA's team of experts provided a first-hand experience to the delegates on the new systems with more than 10 demonstrations being conducted each day. During the exhibition, customer interactions were complemented by a series of informational presentations conducted by industry experts and ERBA team members. Insightful discussions on the benefits of fast reporting for better treatment outcomes, validation methods for clinical chemistry systems, and the advantages of AMH ELISA testing were held, in addition to presentations on Laura XL, H 360 and 560 and the ELISA test range made by its US subsidiary, Calbiotech Inc.
"We are glad to be associated with MedLab as it offers an opportunity to interact with customers from across the world," said Nikhil Vazirani, CEO, ERBA Group. "ERBA operates in a dynamic global economy and MedLab gives us a great opportunity to help understand changing customer needs and how we should adapt our technologies to offer seamless services. We are committed to focusing our products and solutions on the emerging markets and impacting a billion lives globally."