Siemens Healthineers Showcases In-Vitro Diagnostics Products at MedLab 2019
By Labmedica International staff writers
Posted on 31 Jan 2019
Siemens Healthineers (Erlangen, Germany) showcased its wide portfolio of products and services in its core areas of laboratory diagnostics and molecular medicine at MedLab Middle East 2019. MedLab is the only medical laboratory industry event that offers manufacturers the opportunity to meet a diverse audience of buyers. From distributors to senior end-users, the 2019 edition welcomed over 19,610 medical lab and trade professionals in search of the latest innovations.
At MedLab Middle East 2019, Siemens highlighted its Atellica Solution series of flexible, scalable, automation-ready immunoassay and chemistry analyzers. The company demonstrated how the Atellica Solution delivers even more control and simplicity for labs with revolutionary sample-management possibilities. The company also promoted its Atellica Solution Assays having of an expanding menu of over 175 assays powered by proven detection technologies. Also on display at the event was Siemens' Aptio Automation, the total lab automation leader to optimize clinical operations.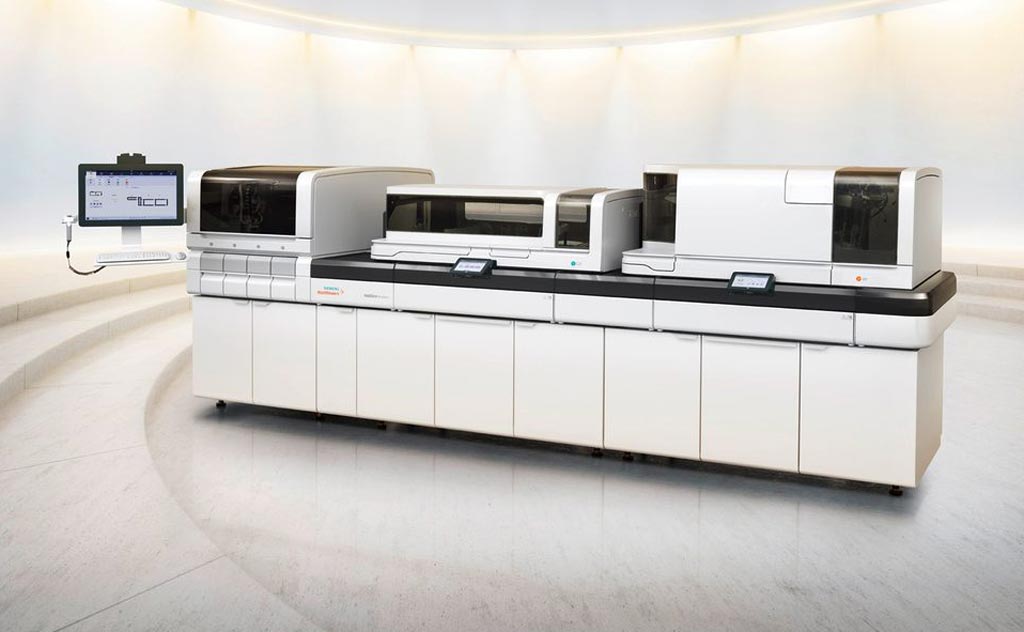 Additionally, Siemens highlighted its wide range of assays, including the Atellica IM and ADVIA Centaur high-sensitivity troponin I assay which provide fast, accurate, actionable troponin I results to aid in the diagnosis of acute MI; the Atellica IM and ADVIA Centaur enhanced liver fibrosis test, a minimally invasive blood test with results that correlate to the level of liver fibrosis severity assessed by liver biopsy; the Atellica IM and ADVIA Centaur B·R·A·H·M·S Procalcitonin (PCT) assay which helps achieve earlier sepsis diagnosis and risk assessment to help improve patient outcomes with high low-end sensitivity; and the Atellica IM and ADVIA Centaur vitamin D total assay which helps evaluate the total amount of 25-hydroxy-vitamin D (both D2 and D3) in the blood to provide patients with accurate results, regardless of level and whether or not they are supplemented over-the-counter or by prescription.
Siemens also highlighted its range of point-of-care analyzers, including the epoc blood analysis system which offers complete blood gas and basic metabolic panel with hematocrit and lactate on a single room temperature-stable test card; the Xprecia Stride coagulation analyzer for PT/INR testing that provides high usability and lab-accurate results at the point-of-care; and the Atellica 1500 automated urinalysis system which combines fully automated urine sediment and chemistry analyzers into one streamlined system.
In the field of molecular diagnostics, Siemens demonstrated the Fast Track cycler for molecular testing that uses magnetic induction technology for robust and reliable results, and Syndromic real-time PCR multiplexing assays, one of the largest ranges of syndromically grouped real-time PCR multiplex assays covering the major infectious-disease groups.
Siemens also presented its digital healthcare solutions, including the Atellica Process Manager to operationalize processes with centralized oversight and advanced analytics; Atellica Data Manager to operationalize lab data with open, scalable test-, QC-, and result-management software; the Atellica Inventory Manager to analyze and automate inventory to reduce costs and save time; the POCcelerator Data Management System which is an open POC Informatics solution that can aggregate data from 180+ device models available from more than 40 different vendors; and the FastFinder Software, a fully automated real-time PCR interpretation platform that is compatible with select kits from Fast Track Diagnostics.