World's First Fully Integrated Platform for Automated High Molecular Weight DNA Extraction
By LabMedica International staff writers
Posted on 23 May 2023
Long-read sequencing, a third-generation technology, throws light on certain "blind spots" that short-read sequencing methods cannot detect, such as complex structural variants. However, isolating high-quality, high molecular weight (HMW) DNA, which is crucial for long-read sequencing, can be a formidable task. The majority of commercial extraction methods compromise the quality and length of the extracted DNA due to mechanical processes like centrifugation or vortexing, as well as alcohol precipitation. These methods tend to be labor-intensive. Now, a novel technology is revolutionizing nucleic acid extraction with a gentle, yet rapid chemistry-based method that selectively binds, gently clusters, and purifies intact DNA using controlled fluidics. This unique workflow is also non-volatile and does not require ethanol, ensuring convenient shipping and room-temperature storage.
One BioMed (Singapore) has launched the X8 HMW DNA Cartridge Kits for automated extraction of HMW DNA, specifically designed for long-read sequencing and genome assembly. The X8 HMW DNA Cartridge Kits, driven by the OneTouch Instrument, present the first globally automated platform for HMW DNA extraction from an array of samples including bacteria, plants, cell culture, tissue, and Peripheral Blood Mononuclear Cells (PBMCs). The kits contain all necessary reagents.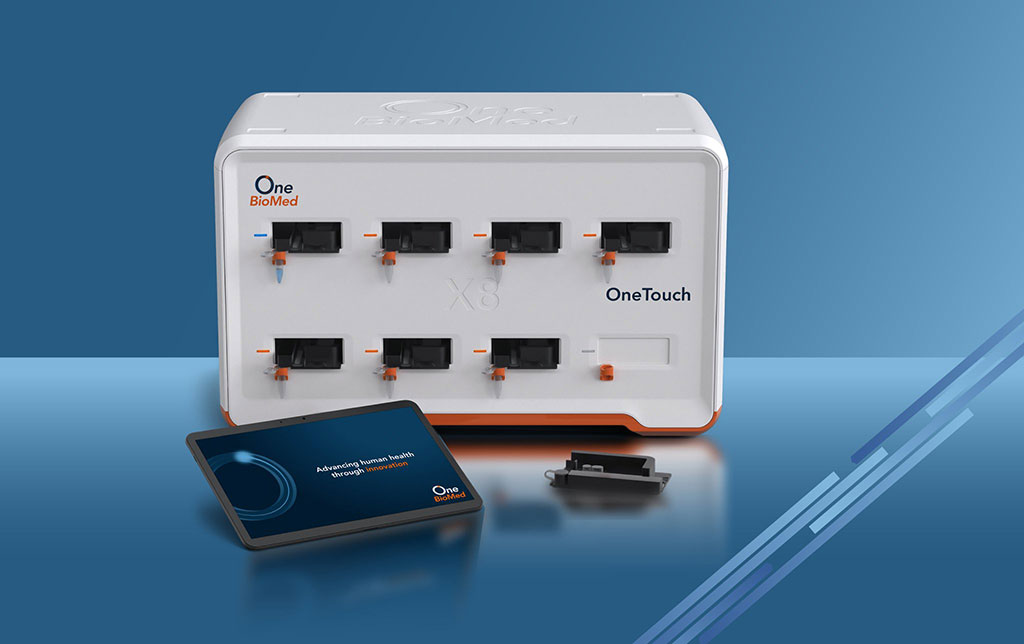 The Xceler8 Platform guarantees consistent and reproducible extraction of HMW DNA up to 2 Mb range from diverse sample types across different users. The purified HMW DNA is fit for a variety of downstream applications including long-read sequencing and de novo genome assembly. Thanks to the flexibility of random access, the Xceler8 Solution can run multiple protocols at the same time and efficiently process up to 8 samples within an hour. This fully integrated, plug-and-play automation system is perfect for labs seeking a highly flexible and consistent method of HMW DNA extraction from a wide variety of sample types.
"We are excited to launch the new X8 HMW DNA Cartridge Kit." said Dr.Mi Kyoung Park, Founder & CEO of One BioMed. "This Kit extends the workflow and performance advantages of the novel Xceler8 Technology, enabling scientists to efficiently extract HMW DNA from a variety of samples, for various downstream applications."
Related Links:
One BioMed