Roche and Eli Lilly Collaborate on Innovative Blood Test for Early Diagnosis of Alzheimer's
By LabMedica International staff writers
Posted on 23 Mar 2023
Presently, obstacles to timely and precise diagnosis of Alzheimer's disease exist globally, resulting in as many as 75% of individuals exhibiting symptoms but lacking a formal diagnosis. Those who have been diagnosed with the condition have typically endured an average wait of 2.8 years since symptom onset. In order to tackle the increasing burden that Alzheimer's is placing on healthcare systems, it is vital to expedite and improve the diagnostic journey for individuals, thereby facilitating access to effective new treatments as they emerge. Now, Roche Diagnostics (Basel, Switzerland) has entered into a collaboration with Eli Lilly and Company (Indianapolis, IN, USA) to support the development of Roche's Elecsys Amyloid Plasma Panel (EAPP) - an innovative blood test that aims to facilitate the earlier diagnosis of Alzheimer's disease.
The EAPP measures phosphorylated Tau (pTau) 181 protein assay and apolipoprotein (APOE) E4 assay in human blood plasma. Elevations in pTau181 happen during the initial stages of Alzheimer's, while the presence of APOE4 is the most common genetic risk factor for Alzheimer's disease. The test result is meant to be considered by clinicians alongside other clinical information to decide on further confirmatory testing using amyloid positron emission tomography (PET) or cerebrospinal fluid (CSF) testing. Patients who test negative using the EAPP are not likely to be amyloid positive and need to be examined for other factors that may be causing their cognitive decline. Roche was granted the EAPP Breakthrough Device Designation by the U.S. Food and Drug Administration in July 2022.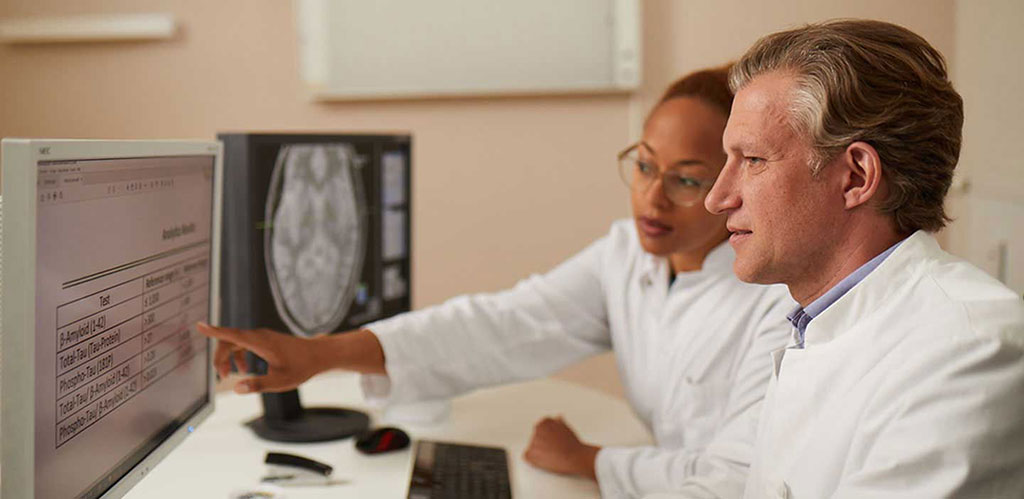 Roche's current Alzheimer's portfolio covers investigational medicines for various targets, types and stages of the disease. Roche also offers approved and investigational tools such as digital and blood-based tests and CSF assays that are designed to more effectively detect, diagnose, and monitor Alzheimer's. However, the global challenges created by Alzheimer's surpass scientific capabilities and have a significant impact, creating the need for collaboration within the Alzheimer's community as well as outside of healthcare. The latest collaboration is in line with Roche and Lilly's mutual goal of aiding patients by improving the journey to a timely and accurate diagnosis and treatment. If granted approval, the EAPP test would serve as an additional means of identifying a low probability of amyloid pathology in symptomatic individuals, thus determining whether further evaluation and testing are warranted to confirm a diagnosis.
"We are excited to be collaborating with Lilly on such an important area of unmet medical need," said Matt Sause, CEO of Roche Diagnostics. "Today, over 55 million people are living with dementia and this is projected to increase to nearly 140 million by 20502. Collaboration is essential to ensure these people receive a timely and accurate diagnosis. The Elecsys Amyloid Plasma Panel has the potential to streamline a person's journey to diagnosis and, therefore, access to future treatment options."
"We are pleased to be joining Roche to support the development of yet another potential diagnostic tool," said Mark Mintun, Lilly group vice president – Neuroscience R&D and president, Avid Radiopharmaceuticals. "We look forward to the robust data and continued collaboration across the field that will be critical to accelerate the ecosystem to aid in a timely and accurate diagnosis of Alzheimer's."
Related Links:
Roche Diagnostics
Eli Lilly and Company