Novel SARS CoV-2 Rapid Antigen Test Validated for Diagnostic Accuracy
By LabMedica International staff writers
Posted on 01 Nov 2022
Many health care providers are hopeful regarding COVID-19 testing programs that use accurate rapid antigen tests to reduce the burden on the health care system through early diagnosis of infection. Currently, various antigen-detecting rapid diagnostic tests (Ag-RDTs) for SARS-CoV-2 are commercially available.
The widespread use of testing outside medical institutions suggests that anterior nasal specimens, which can be safely self-collected by the patient, are now being used instead of nasopharyngeal specimens collected by medical staff. Therefore, to evaluate the usefulness of specimens collected from the anterior nasal cavity, understanding the viral load and diagnostic accuracy of tests performed using anterior nasal specimens is vital.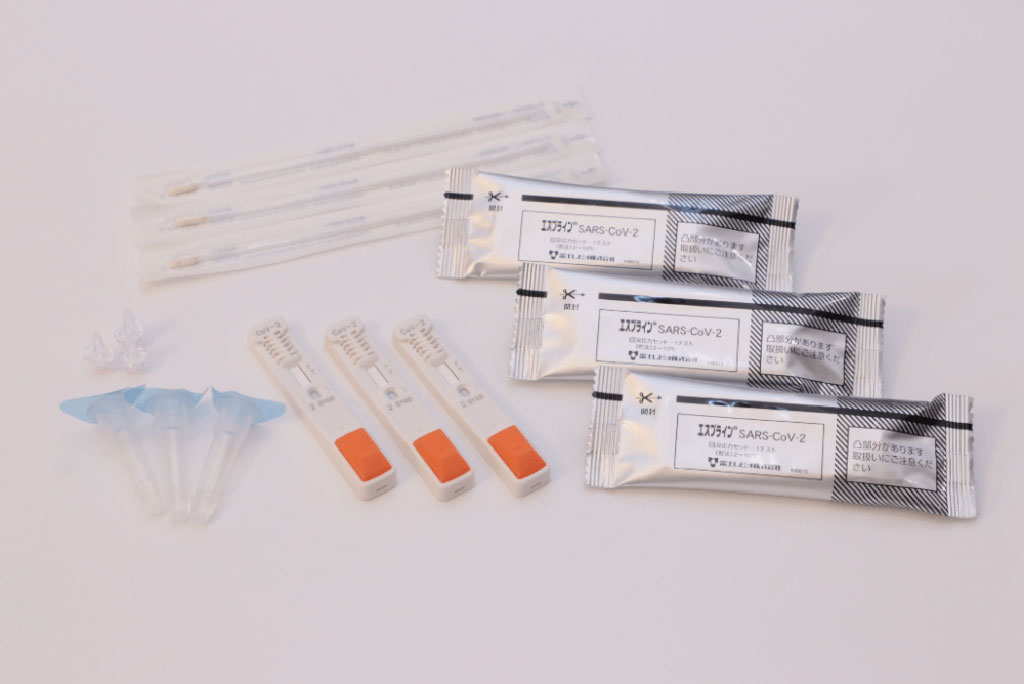 Pediatricians at the Jichi Medical University (Tochigi, Japan) and their colleagues conducted a prospective cross-sectional study from February 12, 2021 to September 30, 2021. They enrolled 16 patients (age range, <1 month-76 years) and samples were collected simultaneously from anterior nasal and nasopharyngeal sites continuously during hospitalization. The primary end points were the diagnostic accuracy of the Ag-RDT and utility of anterior nasal specimens.
The scientists determined the diagnostic performance of the RapidTesta SARS-CoV-2 test (Sekisui Medical Co., Ltd., Tokyo, Japan) and compare it with that of RT-PCR, using specimens collected from the anterior nasal and nasopharyngeal sites. Furthermore, ESPLINE SARS-CoV-2 (Fujirebio Co., Ltd., Tokyo, Japan), an Ag-RDT that has been marketed and widely used since May 2020, was used as a comparator representing the efficacy of common Ag-RDTs.
Four specimen swabs were taken simultaneously from each patient on admission: an anterior nasal and nasopharyngeal specimen from each nostril and also repeat samples. To judge the RapidTesta SARS-CoV-2 results objectively, the team evaluated the results using the RapidTesta Reader after visual assessment. RNA extraction was performed using the QIAamp Viral RNA Mini Kit (Qiagen, Hilden, Germany) with a 140-µL aliquot of each sample. A one-step RT-PCR (Thermo Fisher Scientific, Waltham, MA, USA) was performed which targets nucleotide 2 gene-specific primers for SARS-CoV-2.
The investigators reported that in total 226 sets of paired samples were obtained. In 88.2% of specimens, the viral load was high at the nasopharyngeal site. The mean cycle threshold values for the anterior nasal and nasopharyngeal sites were 32.4 and 29.9, respectively. Using the real-time polymerase chain reaction results as a reference, the Ag-RDT showed a 100% sensitivity up to day 6 of the illness, using specimens with moderate or high viral load (cycle threshold <30) from either site. From day 7, the sensitivity was 70.4% - 90.6% and 83.9% - 84.6% for the anterior nasal and nasopharyngeal sites, respectively. The specificity remained at 100%.
The authors concluded that they had demonstrated the diagnostic accuracy of the newly developed RapidTesta SARS-CoV-2 test for the accurate diagnosis of COVID-19 in terms of both sensitivity and specificity. The anterior nasal cavity was shown to be useful as a specimen collection site. The study was published on November 1, 2022 in the International Journal of Infectious Diseases.

Related Links:
Jichi Medical University
Sekisui Medical Co., Ltd
Fujirebio
Thermo Fisher Scientific