Fastest Ever SARS-CoV-2 Antigen Test Designed for Non-Invasive COVID-19 Testing in Any Setting
By LabMedica International staff writers
Posted on 17 Oct 2022
The fastest SARS-CoV-2 antigen test, that offers a reliable and easy-to-use testing solution for COVID-19 infection, is now available in Europe and any countries accepting the CE mark.
MedMira Inc. (Halifax, NS, Canada) has developed its first rapid antigen test, the VYRA COVID-19 Antigen Test (VYRA COVID-19), utilizing its patented Rapid Vertical Flow (RVF) technology. The technology facilitates the formation of highly specific antigen-antibody reactions allowing specific biomarkers in many sample types, including human whole blood, serum or plasma, to be captured and visualized on a unique membrane. The simple test procedure involves adding the specimen to the device and allowing it to flow through the membrane. If the specimen contains the target antibodies or antigens, they are captured on the test membrane and can be visually interpreted immediately after the addition of a detection reagent. The technology platform is unique in its ability to detect multiple biomarkers specific to several diseases using a single cartridge.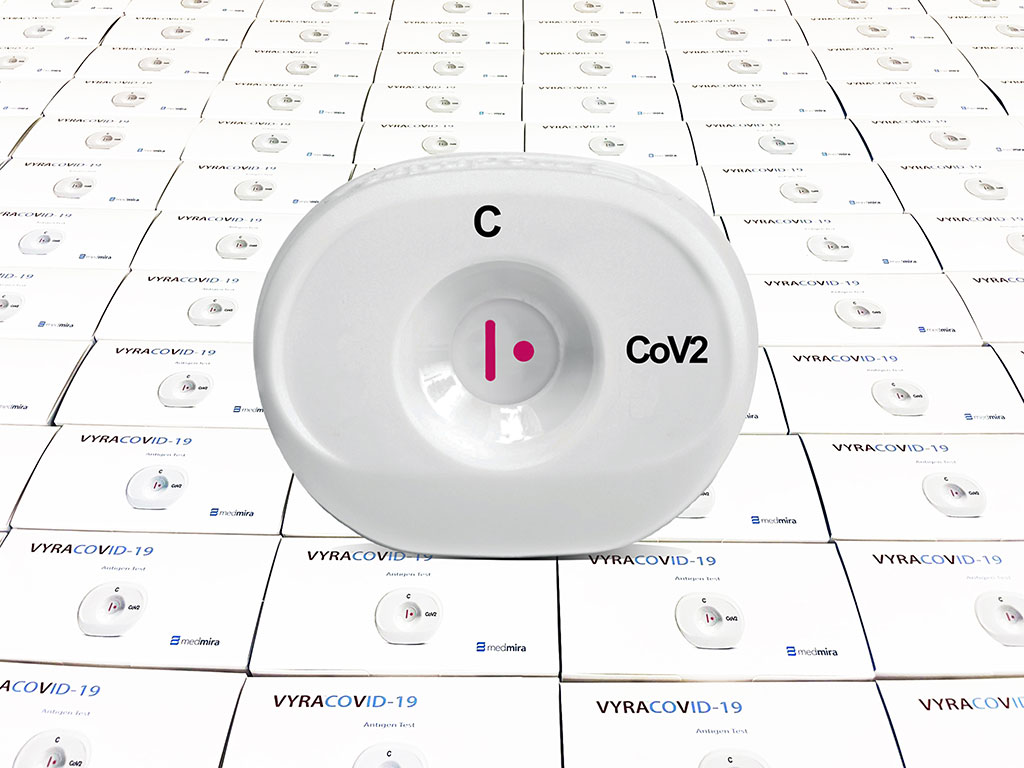 VYRA COVID-19, built using MedMira's RVF technology, detects antigens specific for the nucleocapsid region of SARS-CoV-2, the causative agent of COVID-19, and can determine an active infection in less than three minutes. VYRA COVID-19 nasal swab based test is designed to be non-invasive and user-friendly, making it more suitable for any setting. Designed to detect SARS-CoV-2 virus in swab samples, VYRA COVID-19 directly addresses the need for a fast, reliable, and easy-to-use testing solution. MedMira has received the CE mark for its VYRA COVID-19, which is now the fastest SARS-CoV-2 antigen test available.
"Whereas VYRA COVID-19 provides a high-quality single antigen test for the detection of SARS-CoV-2 designed for customers who are worried about a COVID-19 infection, our up-coming VYRA CoV2Flu Antigen Test will further complement our product offering to customers who wish to have a result for COVID-19 or Flu A or Flu B immediately," said Hermes Chan, CEO of MedMira Inc. "With the increasing infection rates during the next few months and the need for quality rapid testing solutions, MedMira's VYRA COVID-19 is the fastest and most reliable answer. We anticipate our CE mark for the VYRA CoV2Flu and REVEALCOVID-19 Nab-Y Neutralizing Antibody Test in the coming weeks and with it are able to offer our distribution partners a complete set of COVID-19 related products."
Related Links:
MedMira