IL-1RA Antibodies in Myocarditis After SARS-CoV-2 Vaccination
By LabMedica International staff writers
Posted on 26 Sep 2022
Myocarditis associated with messenger RNA (mRNA) vaccines against severe acute respiratory syndrome coronavirus 2 (SARS-CoV-2) predominantly affects male adolescents and young male adults (14 to <30 years of age) and typically occurs after receipt of the second vaccine dose.
In adults with critical coronavirus disease 2019 (Covid-19) and in cases of multisystem inflammatory syndrome in children (MIS-C), it has recently been discovered that neutralizing autoantibodies targeting the endogenous interleukin-1 receptor antagonist (IL-1RA), which inhibits interleukin-1 signaling and inflammation.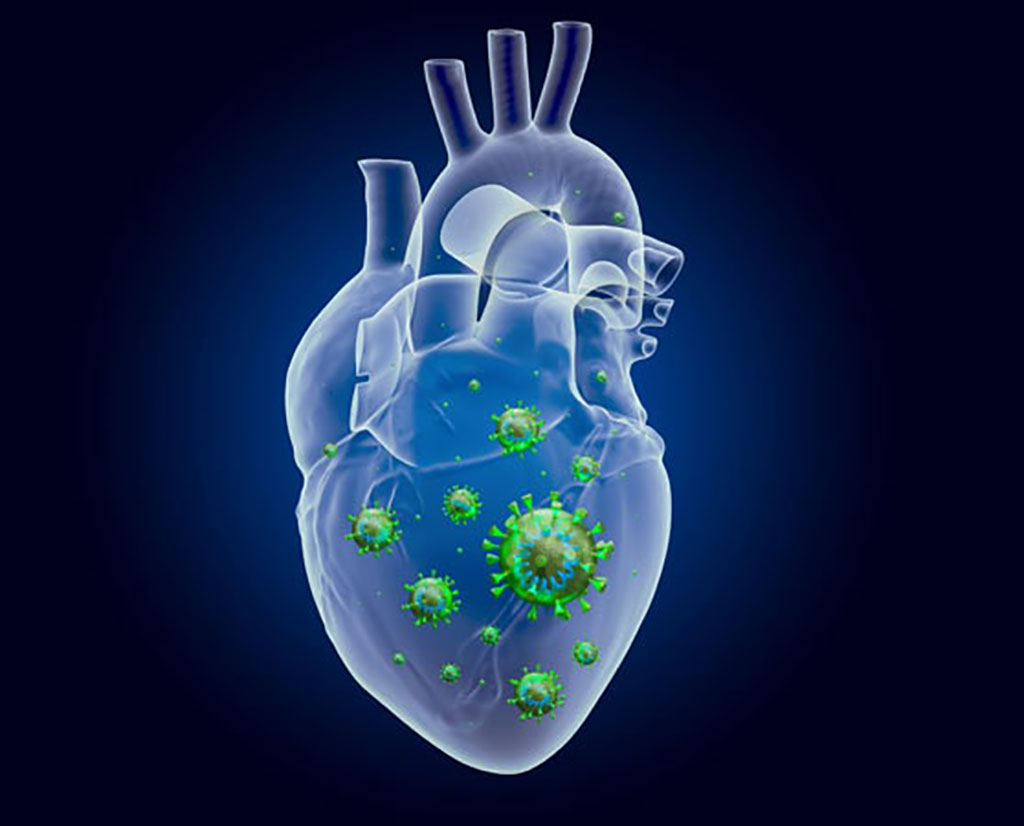 A large team of Medical Scientists led by those at Saarland University (Homburg, Germany) evaluated the prevalence of antibodies neutralizing IL-1RA and progranulin, which inhibits tumor necrosis factor signaling, in 69 patients (14 to 79 years of age) who had clinically suspected myocarditis after SARS-CoV-2 vaccination. A total of 61 patients underwent endomyocardial biopsy. Myocarditis was confirmed by biopsy in 40 of 61 patients.
For immunohistological detection of cardiac immune cells, a monoclonal rabbit-anti-CD3 antibody (Novocastra Laboratories, Newcastle upon Tyne, UK), a monoclonal mouse anti-human CD68 antibody and a monoclonal mouse anti-human HLA-DR alpha-chain antibody (DAKO, Hamburg, Germany) were used. Immunohistochemical analysis was performed on an automated immunostainer following the manufacturer's protocol (Benchmark; Ventana Medical Systems, Tucson, AZ, USA) and using the Ventana ultraView detection system and diaminobenzidine as substrate. ELISA for antibodies was performed including assays for IgG1, IgG2, IgG3 and IgG4 (Binding Site Group, Birmingham, UK) and IL-1-Ra plasma levels were determined with a commercially available ELISA kit (Invitrogen/ThermoFisher, Carlsbad, CA; USA). Isoelectric focusing (IEF) and Western blotting (including native Western blotting with non-reducing sample pretreatment and gradient gels without SDS) was also performed.
The investigators reported that among patients with histologically confirmed myocarditis, anti–IL-1RA antibodies were found in 9/12 patients (75%) younger than 21 years of age, as compared with 3/28 patients (11%) 21 years of age or older. Anti–IL-1RA antibodies were not detectable in the 21 patients in whom biopsy ruled out the diagnosis of myocarditis. IL-1RA antibody–positive patients with biopsy-confirmed myocarditis had an early onset of symptoms, which occurred mostly after receipt of the second vaccine dose, and a milder course of myocarditis than patients with biopsy-confirmed myocarditis but without anti–IL-1RA autoantibodies.
At the time of acute myocarditis, the mean (±SD) free IL-1RA plasma level in 15 patients who were seropositive for anti–IL-1RA antibodies was 236 ± 82 pg/mL, whereas the level was 1,736 ± 312 pg/mL in 33 patients without anti–IL-1RA antibodies and 1,599 ± 277 pg/mL in 21 patients in whom histologic testing ruled out the diagnosis of myocarditis. IL-1RA plasma levels correlated with markers of cardiac damage (troponin T, creatine kinase, creatine kinase MB, or pro–B-type natriuretic peptide), cardiac-tissue infiltration of CD3+ T cells and CD68+ macrophages, and systemic inflammation (C-reactive protein).
The authors concluded that in their study of SARS-CoV-2 vaccination–associated myocarditis and anti–IL-1RA antibodies should be interpreted within the context that the transiency of hyperphosphorylation and patients' HLA haplotypes were not known. Neutralizing antibodies against IL-1RA and a hyperphosphorylated IL-1RA isoform were observed in young male patients with biopsy-confirmed myocarditis after the receipt of SARS-CoV-2 mRNA vaccine. These antibodies impaired IL-1RA bioactivity in vitro, were associated with low circulating levels of IL-1RA, and were found in patients with biomarker evidence of cardiac damage and inflammation. The study was published on September 21, 2022 in the journal the New England Journal of Medicine.

Related Links:
Saarland University
Novocastra Laboratories
DAKO
Ventana Medical Systems
Binding Site Group
Invitrogen/ThermoFisher