New Ultra-Fast Test for COVID-19 Antibodies Uses AI to Analyze and Confirm Results in Less than Five Minutes
By LabMedica International staff writers
Posted on 03 May 2021
A new less than five-minute, easy-to-administer SARS-CoV-2 antibody test is estimated to be significantly less expensive to manufacture, creating the potential for the test to be considerably more affordable than currently available tests and making it possible to extend the test to every corner of the world.
The University of Utah (Salt Lake City, UT, USA), ARUP Laboratories (Salt Lake City, UT, USA) and Techcyte Inc. (Orem, UT, USA) have formed a partnership to develop the NanoSpot. AI rapid COVID-19 antibody test. After the test has been completed, the person administering the test takes a picture of the test card using a mobile phone. The image is transmitted to Techcyte, a developer of artificial intelligence (AI)-based image analysis solutions for the diagnostics industry, for analysis using the company's AI-based image analysis tool.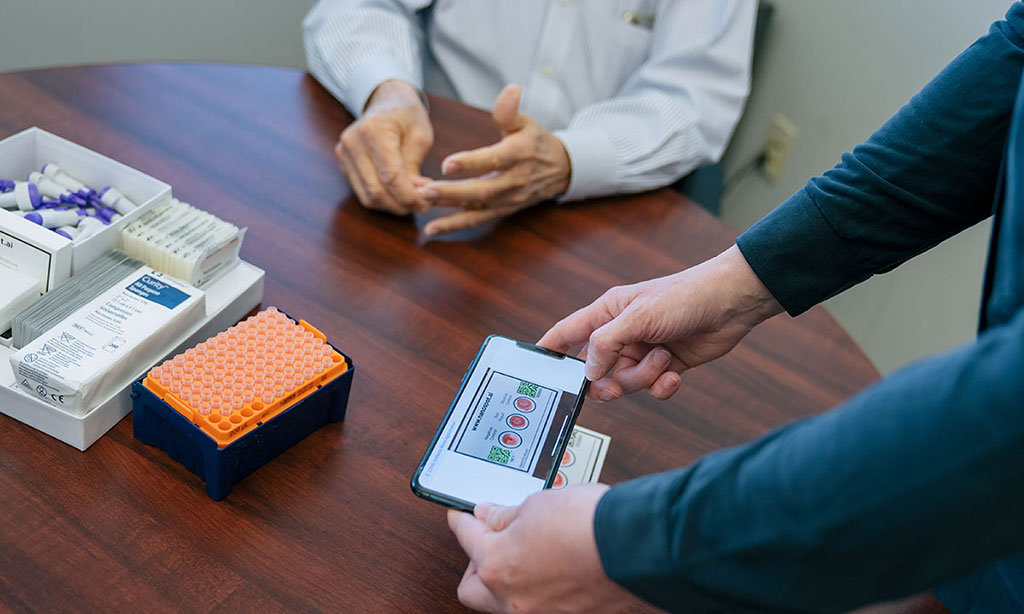 The patent-pending NanoSpot.AI is performed on a spot of blood obtained through a finger prick. All NanoSpot.AI test components are provided in a self-contained kit. The person administering the test places droplets of blood in three small spots on a ready-to-use card. One of the spots displays the test result while the other two confirm the test was properly run. Antibodies against SARS-CoV-2 are quickly apparent because the blood spot begins to separate within seconds when the test result is positive. To ensure accurate results, the person administering the test uses a mobile phone to take a photograph of the card, which is then transmitted to Techcyte for analysis using the company's AI-based image analysis tool. Techcyte. The test could be used around the globe to help prioritize who should receive SARS-CoV-2 vaccinations, or to easily and quickly detect whether individuals have some immunity against COVID-19 for travel or immigration purposes. Clinical studies validating NanoSpot.AI are currently underway. The assay can be easily adapted to test for antibodies to SARS-CoV-2 variants as new mutations emerge. The test can be viewed as a platform because it and the AI can be developed to test for antibodies against other viruses.
"Our platform breaks each blood spot into thousands of features that the AI uses to statistically determine which specimens are positive for SARS-CoV-2 antibodies," said Techcyte CEO Ben Cahoon.
"Other antibody tests are available and are very good, but it takes time to get test results back and they're relatively expensive," said Hans Haecker, MD, PhD, who co-developed NanoSpot.AI. "Based on what we know so far, we believe NanoSpot.AI checks all the boxes. "Because it is simple, fast, and very affordable, it can be done anywhere without specialized equipment, creating the potential for us to have an impact on human health around the world."
Related Links:

The University of Utah
ARUP Laboratories
Techcyte Inc.