Nanoparticle Technology Based Digital Reader Supports High-Sensitivity, High-Specificity Rapid COVID-19 Testing
By LabMedica International staff writers
Posted on 15 Apr 2021
A new 15-minute COVID-19 antigen rapid test (ART) for a nanoparticle technology-based rapid test platform has received the Conformitè Europëenne (CE) Mark registration.
AnteoTech Ltd. (Queensland, Australia) has received the (CE) Mark registration for its EuGeni Reader and in vitro rapid diagnostic test for the detection of SARS-CoV-2 nucleocapsid antigen, the COVID-19 ART. The CE Mark registration confirms that the EuGeni Reader and the COVID-19 ART conform with health and safety protection standards for products sold within the European Economic Area (EE) and the UK. Further, it supports the sale of AnteoTech's EuGeni Reader and the COVID-19 ART which uses the unique AnteoBind Activated Europium technology, to deliver a high performing and high sensitivity test.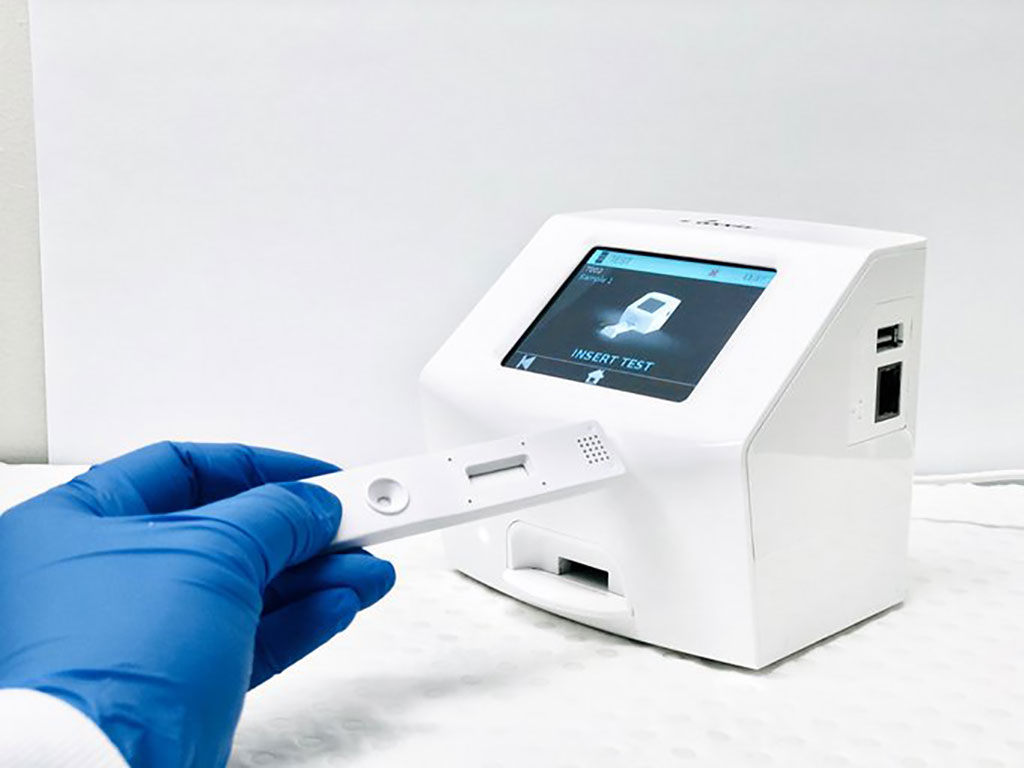 The EuGeni COVID-19 ART is a single use, disposable immunochromatographic rapid diagnostic test intended to be used by healthcare professionals for the qualitative detection of SARS-CoV-2 nucleocapsid antigen in nasopharyngeal specimens collected from individuals who are suspected of COVID-19 infection. The results from this in vitro diagnostic test identify the presence or absence of the SARS-CoV-2 antigen as an aid in the diagnosis of COVID-19 infection. The EuGeni COVID-19 ART has an overall sensitivity of 97.3% and specificity of 99.6%.
AnteoTech's SARS-CoV-2 Ag rapid test is the first test to be used with EuGeni, a fast, accurate and compact solution for rapid point-of-care testing. With a small and portable benchtop design, it can be easily transported in the clinic and on the field for use by healthcare professionals. AnteoTech is currently working on the development of further lateral flow assays for the Point of Care diagnostics market, including a saliva based SARS-CoV-2 Ag RDT, currently in validation. In addition to its proposed COVID-19 suite of tests that will run on the EuGeni platform, the company is also developing a range of new diagnostic solutions in the areas of infectious, bacterial and viral conditions. AnteoTech plans to develop new tests for the EuGeni platform that require rapid diagnostics to deliver critical clinical decision support, including a quantitative test for sepsis, the body's extreme and life-threatening response to infection.
"The EuGeni Platform provides a strong foundation for us to grow a suite of qualitative and quantitative tests for the Point-of-Care market and I am excited by the immediate opportunity and the leverage opportunities that lie ahead of us," said AnteoTech CEO Derek Thomson. "CE Mark for the COVID-19 ART provides us with an opportunity to capture some of the large and growing European antigen rapid test market. We believe we have a superior test with high sensitivity and specificity based on our unique AnteoBind technology. We will soon enhance this offering with a saliva use case and new COVID-19/Flu A/Flu B Multiplex test, which will give us a very strong competitive advantage over other products currently on the market."
Related Links:

AnteoTech Ltd.