Procter & Gamble's Novel Fully Injection-Molded Polypropylene Nasal Swab Improves Speed of COVID-19 Testing
By LabMedica International staff writers
Posted on 25 Jan 2021
A novel polypropylene nasal swab developed for COVID-19 testing that allows for easy collection from the front of the nose and provides sample concentration of up to 30 fold over other swabs in viral transport media is likely to positively impact testing availability.
Procter & Gamble (P&G; Cincinnati, OH, USA) and Rhinostics Inc. (Cambridge, MA, USA), a Harvard spin-out company, have partnered to develop the nasal swab that improves the speed of testing and adds additional swab capacity for COVID-19 testing. The fully injection-molded polypropylene nasal swab has been developed by iMFLUX, a subsidiary of P&G, which is licensing its novel nasal swab to Rhinostics to launch and bring to the clinical laboratory market.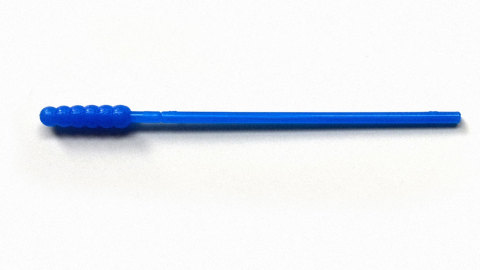 P&G developed the swab as part of its commitment to help communities address supply shortages and to bring creative solutions to bear on the challenges facing laboratories and supply chains during the COVID-19 pandemic. The project was a collaboration between resources from P&G's Personal Health Care business and iMFLUX, a subsidiary focused on mold design and process technology innovation for the plastics injection molding market. Swabs continue to be in short supply and are critical to fighting the COVID-19 pandemic. The companies believe the nasal swab's unique features make it a better material choice for both PCR and antigen-based assays. These swabs reduce handling and lab processing cycle time and increase lab capacity as new home collection kits expand rapidly into the virus detection market.
Rhinostics plans on registering the P&G polypropylene nasal swab as a Class I Exempt medical device and will pursue Emergency Use Authorization for home collection with rPT-PCR testing, the gold standard for detection of SARS-CoV-2 infection. This licensing agreement has the potential to provide relief to the constrained market, expedite test results and be a solution for future testing needs, like influenza.
"We are proud to see the P&G developed nasal swab come to market through Rhinostics efforts. When we began this program, our intention was simply to help relieve bottlenecks in COVID-19 swab supply and bring a novel collection device to bear on the problem," said Mary Wagner, SVP at P&G and CEO of iMFLUX.
"P&G and iMFLUX have been vital partners in helping Rhinostics launch the manufacturing of its nasal swab collection products. We believe there is a significant opportunity to bring new collection devices like the P&G nasal swab to clinical laboratory workflow. Not only does the nasal swab production help to relieve supply chain bottlenecks, the new design and polypropylene materials allows for comfortable collection and sample concentration due to dry shipment and improved release of viral particles. We are excited to bring this innovation to the clinical laboratory market," says Cheri Walker, Chief Executive Officer of Rhinostics, "We look forward to continuing to work with the iMFLUX team to develop molds across our product lines."
Related Links:

Procter & Gamble
Rhinostics Inc.