FDA Authorizes First COVID-19 Test for Self-Testing at Home
By LabMedica International staff writers
Posted on 19 Nov 2020
The US Food and Drug Administration (FDA) has authorized the first prescription molecular diagnostic test for COVID-19 that can be performed entirely at home.
The FDA has issued an Emergency Use Authorization (EUA) to Lucira Health, Inc. (Emeryville, CA, USA) for its single-use, user-friendly COVID-19 All-In-One Test Kit that can produce a positive or negative result at home within 30 minutes. Lucira's test kit is differentiated by its simple 'swab, stir and detect' design. Clinical trials showed 100% of patients were successfully able to perform the Lucira test in about two minutes. That is significantly faster than labs which currently take two to seven days to generate similarly accurate test results.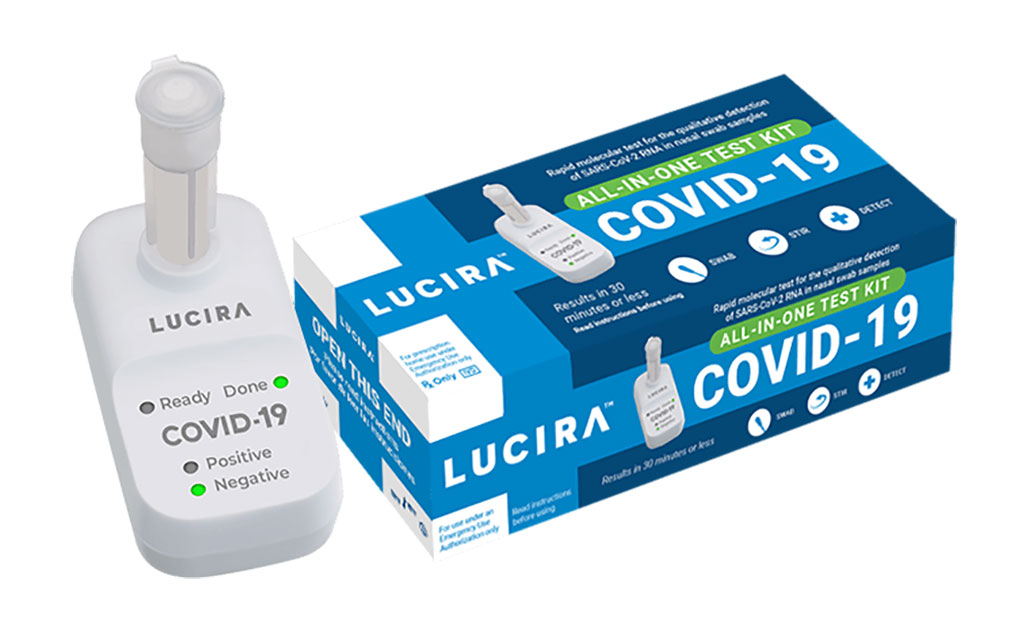 The streamlined Lucira COVID-19 All-In-One Test Kit, which fits in the palm of a hand, extracts genetic material from the virus and amplifies it. This process takes up to 30 minutes, but a positive test result can be generated in as few as 11 minutes. The kit comes with everything needed to perform a single COVID-19 test. Users open the box containing the test device, sample vial, swab and simple instructions. Two AA batteries are inserted in the device and the sample vial is placed in the test unit. Next, the user opens the test swab packet and rotates the swab in each nostril five times. The swab is then stirred in the sample vial, and then pressed down in the test unit to start the test. The "ready" light will blink until a "positive" or "negative" green light is illuminated within 30 minutes.
"There are currently two types of COVID-19 tests that detect whether a person is infected and potentially infectious," said Lucira Health CEO Erik Engelson. "Antigen tests detect viral proteins and can provide results quickly. However, they are not diagnostically definitive and are more likely to miss an active coronavirus infection, or positive result, compared to molecular tests. Molecular tests like Lucira's are 50 to 60 times more sensitive than antigen tests, and considered the 'gold standard' for determining if someone is infected."
"Today's authorization for a complete at-home test is a significant step toward FDA's nationwide response to COVID-19. A test that can be fully administered entirely outside of a lab or healthcare setting has always been a major priority for the FDA to address the pandemic. Now, more Americans who may have COVID-19 will be able to take immediate action, based on their results, to protect themselves and those around them," said Jeff Shuren, M.D., J.D., director of FDA's Center for Devices and Radiological Health. "We look forward to proactively working with test developers to support the availability of more at-home test options."
Related Links:

Lucira Health, Inc.