Stand-Alone COVID-19 Rapid POC Antigen Test Delivers Results in 10 Minutes Without Separate Analyzer
By LabMedica International staff writers
Posted on 11 Nov 2020
A new minimally-invasive, stand-alone COVID-19 POC antigen test delivers rapid results in 10 minutes without the need for a separate analyzer.
The CareStart COVID-19 Antigen Rapid Point-of-Care (POC) test kit developed and manufactured by AccessBio (Somerset, NJ, USA) allows for rapid, effective screening of COVID-19 infection on a large scale with high sensitivity and 100% specificity. The test is available for immediate purchase by qualified healthcare providers from iRemedy Healthcare Companies, Inc. (Stuart, FL, USA) on
www.iremedy.com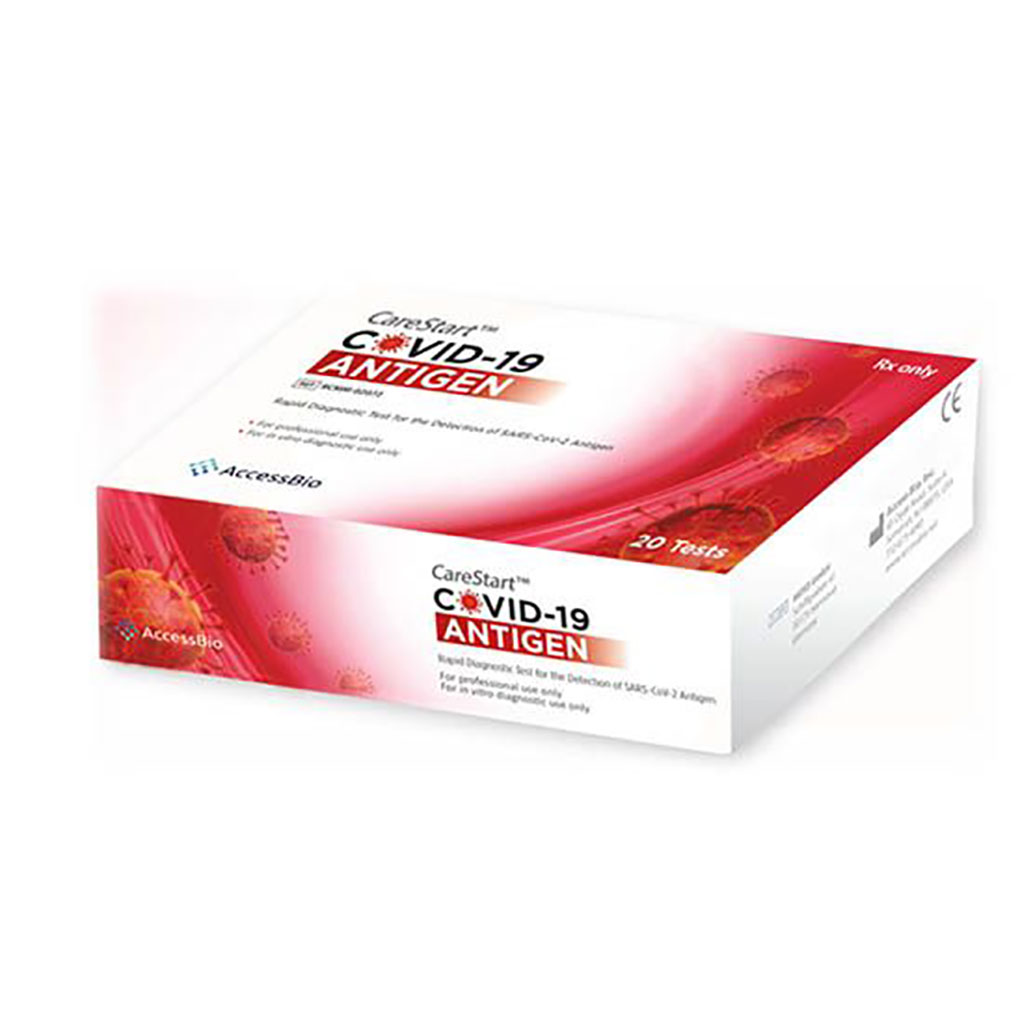 The CareStart COVID-19 Antigen Test is a lateral flow immunochromatographic assay for the detection of extracted nucleocapsid protein antigens specific to SARS-CoV-2 in swab specimens directly collected from individuals who are suspected of COVID-19 by their healthcare providers. Each CareStart kit contains 20 test devices, 20 assay buffers, 20 extraction vials and caps, 20 specimen collection swabs, one positive and one negative control swab and detailed simple use instructions. The stand-alone test has been authorized by the Federal Drug Administration under an Emergency Use Authorization for use by authorized laboratories and at the point-of-care by medical professionals. No separate analyzer equipment is necessary to ascertain results.
"With the second wave of COVID-19 infections underway, it is even more important that healthcare providers have the means to quickly and accurately test and confirm patients who may have contracted the coronavirus," said Tony Paquin, co-founder and CEO of iRemedy. "Negative test confirmations are just as important, particularly for those essential workers who come into direct contact with the public through their workplaces. iRemedy is very pleased to be offering a rapid point-of-care tool that will empower healthcare providers to perform COVID-19 tests at the point-of-care without the need for specialized materials, equipment, personnel and transportation to a centralized laboratory. As a result, these tests should contribute to improving the containment of COVID-19 spread through faster, more efficient detection and subsequent isolation, when necessary."
Related Links:

AccessBio
The iRemedy Healthcare Companies, Inc.