Elevated Angiotensin 1–7/Angiotensin II Ratio Predicts Favorable Outcomes in Patients with Heart Failure with Potential Link to COVID-19 Patients
By LabMedica International staff writers
Posted on 04 Aug 2020
A high ratio of angiotensin 1-7 to angiotensin II (Ang 1–7/Ang II ratio), was found to be an independent and incremental predictor of beneficial outcomes, higher survival rate, and decreased hospitalization duration for patients with heart failure and possibly in patients with cardiovascular complications due to COVID-19.
The enzyme ACE2 (angiotensin-converting enzyme 2) and the peptide Ang 1–7 are endogenous negative regulators of the renin-angiotensin system exerting cardioprotective effects in models of heart failure. ACE2 lowers blood pressure by catalyzing the hydrolysis of angiotensin II (a vasoconstrictor peptide) into angiotensin (a vasodilator). It counters the activity of the related angiotensin-converting enzyme (ACE) by reducing the amount of angiotensin II. ACE2 is not only an enzyme but also a functional receptor on cell surfaces for both SARS-CoV (SARS coronavirus) and SARS-CoV-2 (COVID-19), and is highly expressed in the heart, testis, kidneys, and lungs, and shed into the plasma.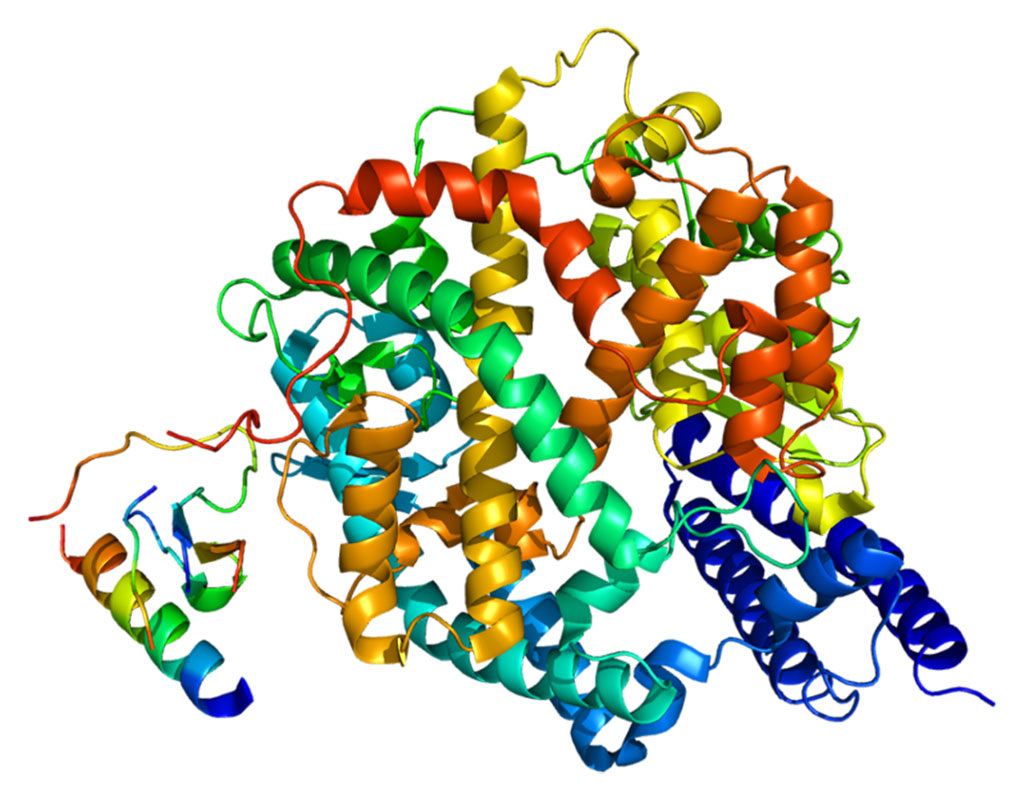 Since clinical trials have shown that recombinant human ACE2 markedly increased plasma Ang 1–7 and lowered Ang II levels, investigators at the University of Alberta (Edmonton, Canada) hypothesized that the dynamic state of this renin-angiotensin system protective arm could influence long-term outcomes in patients with heart failure.
To test this theory, the investigators examined circulating angiotensin peptide levels in the blood of 110 individuals who were experiencing heart failure due to a heart attack or stroke. Comprehensive circulating and equilibrium levels of plasma angiotensin peptide profiles were assessed using novel liquid chromatography-mass spectrometry/mass spectroscopy techniques.
Results revealed that circulating and equilibrium angiotensin peptide levels strongly correlated in the patient group. Elevated Ang 1–7/Ang II ratios were associated with improved survival and lower hospitalization duration. In contrast, individual Ang 1–7 and Ang II peptide levels failed to predict all-cause mortality or hospitalization duration in the patient group.
Senior author Dr. Gavin Oudit, professor of cardiology at the University of Alberta, said, "The discovery of the ratio test highlights the bridge between cardiovascular disease and COVID-19 and the pivotal role ACE2 plays in both diseases. In heart failure patients, when your ACE2 is working well, your mortality is much lower, hospitalization is reduced. Now we need to see the parallels in patients with COVID-19. We are fortunate that we have the understanding of ACE2, and we have both the research and therapeutic tools to target this pathway for patients with heart failure, and also now patients with COVID-19. The crisis is an opportunity to better help all of our patients."
The study was published in the June 25, 2020, online edition of the journal
Circulation: Heart Failure.
Related Links:

University of Alberta