Increased Risk of Hypoandrogenemia Found in Obese Young Men
By LabMedica International staff writers
Posted on 12 Sep 2019
Hyperandrogenism is a medical condition characterized by high levels of androgens in females, but men with obesity may be at increased risk for developing hypoandrogenemia or low free testosterone, especially if they have more severe obesity.
A laboratory test can also be done on the patient to evaluate levels of follicle-stimulating hormone (FSH), luteinizing hormone (LH), dehydroepiandrosterone sulfate (DHEAS), prolactin, 17α-Hydroxyprogesterone (17OHP), and total and free testosterone in the patient's blood. Abnormally high levels of any of these hormones help in diagnosing hyperandrogenism.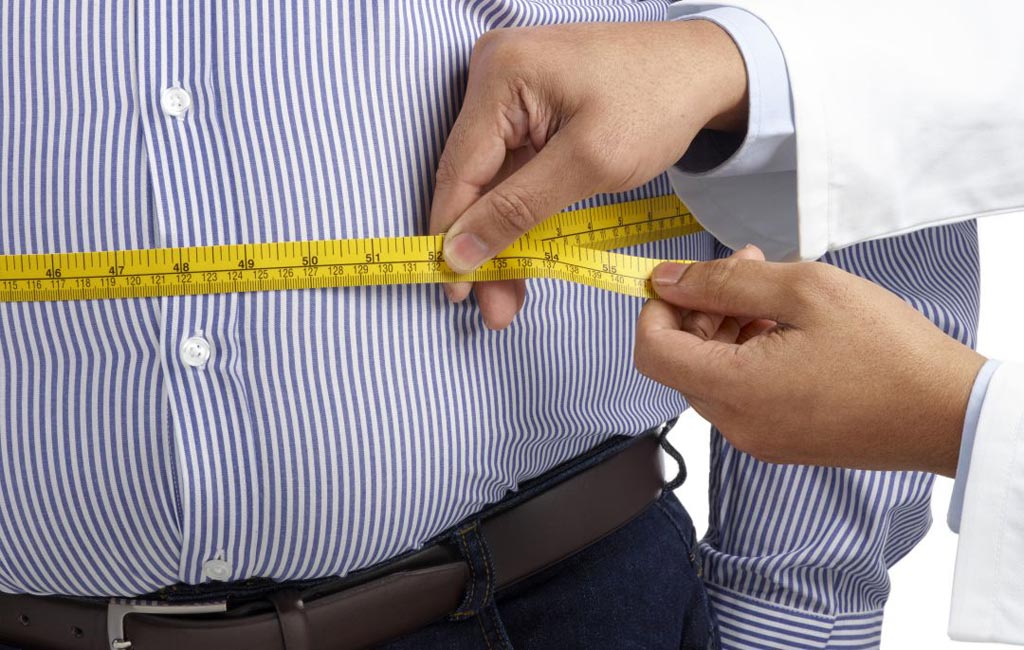 Endocrinologists at the Virgen de la Victoria University Hospital (Malaga, Spain) and their colleagues conducted a cross-sectional study with 266 men with obesity that were younger than 50 years and did not have diabetes (mean age, 36.9 years; mean BMI, 39 kg/m2). Participants were recruited from primary care offices in Malaga, Spain, between June 2013 and June 2015.
The scientists measured total testosterone by high‐performance liquid chromatography mass spectrometry, sex hormone–binding globulin, free testosterone (FT), LH, high‐sensitivity C‐reactive protein, and homeostatic model assessment of insulin resistance were also determined. Body composition and erectile function were also assessed. Hypoandrogenemia was defined as FT level < 70 pg/mL.
The team reported that fasting testosterone levels of less than 70 pg/mL were found in 25.6% of the participants, which they used as the threshold for hypoandrogenemia. Participants with a BMI of more than 50 kg/m2 had a particularly high prevalence of hypoandrogenemia (78.3%), whereas those with a BMI of 40 kg/m2 to 49.9 kg/m2 (33.8%), 35 kg/m2 to 39.9 kg/m2 (19.8%) and 30 kg/m2 to 34.9 kg/m2 (11.1%) had a lower prevalence.
The team noted that the associations between fasting testosterone and BMI, waist circumference, fat mass percentage, visceral fat, HbA1c, high-sensitivity C-reactive protein, insulin and insulin resistance were all negative whereas the associations between fasting testosterone and luteinizing hormone and fat-free mass percentage were positive. In terms of hypoandrogenemia-identifying free testosterone levels, they stated that there was an association with waist circumference, fat mass percentage, high-sensitivity C-reactive protein, BMI, diastolic blood pressure and HbA1c. They also stated that "protective factors" for the condition included elevated fat-free mass percentage and elevated luteinizing hormone levels.
José C. Fernández-García, MD, PhD, an Associate Professor and a senior author of the study, said, "The finding of a subnormal level of testosterone is not a trivial issue. Although often overlooked and underdiagnosed, hypoandrogenemia is associated with visceral obesity, reduced lean body mass, type 2 diabetes, the metabolic syndrome, sexual dysfunction, impaired erectile function and decreased quality of life." The study was published on August 14, 2019, in the journal Obesity.
Related Links:
Virgen de la Victoria University Hospital