Kidney Function Decline Linked with Inflammatory Marker Levels
By Labmedica International staff writers
Posted on 15 Oct 2018
Tumor necrosis factor receptor-1 (TNFR-1), which plays a causative role in endothelial cell dysfunction and inflammation, is expressed on the cell surface in glomerular and peritubular capillary endothelium of the kidneys.
Higher soluble TNF receptor-1 (sTNFR-1) concentrations are associated with kidney disease progression among persons with established diabetic kidney disease. Previous studies have demonstrated that blood levels of sTNFR-1 are linked with kidney disease progression in individuals with established kidney disease.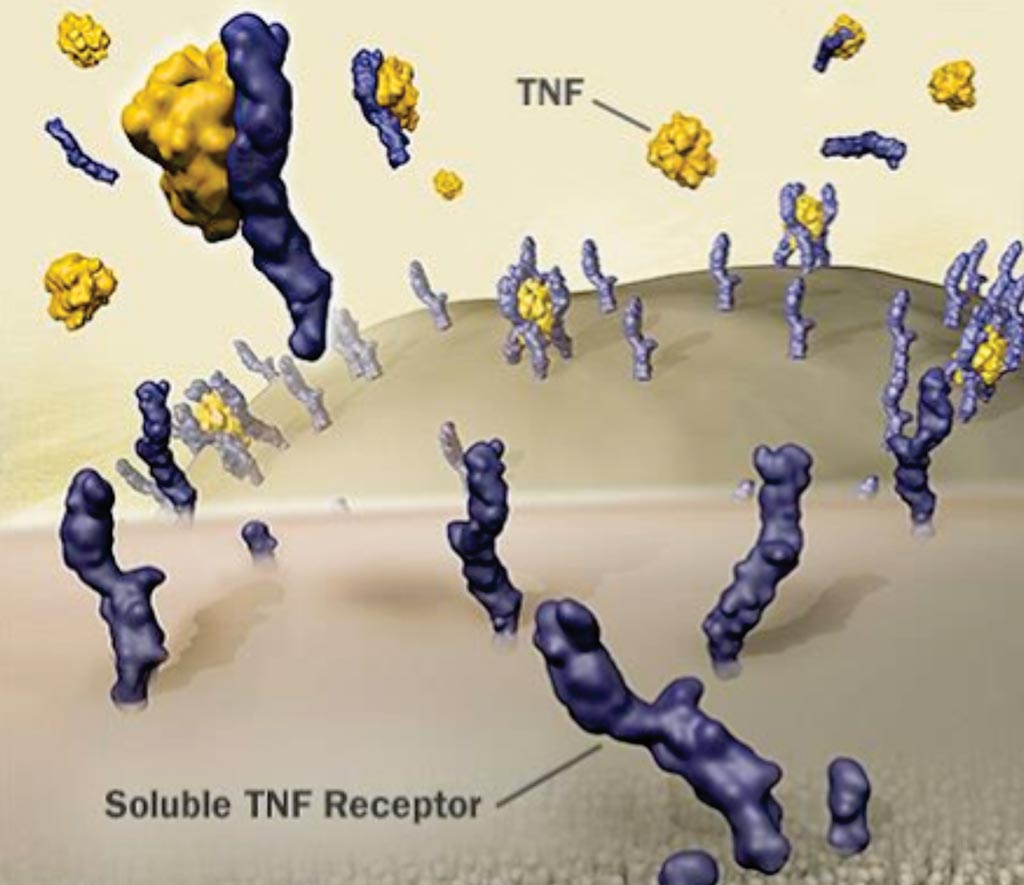 Scientists at the University of Washington School of Medicine (Seattle, WA, USA) and their colleagues conducted a multi-ethnic study of 2,548 adults with an average age of 61 years and 51% were women. Study participants were generally free of known kidney or heart disease at the start of the study, when sTNFR-1 levels were measured. The team tested associations between baseline sTNFR-1 concentrations and 10-year decline in estimated glomerular filtration rate (eGFR: incident ≥40% decline and annual proportional decline). Serum creatinine concentrations were determined at enrollment and study years 3, 5, and 10.
The scientists reported that the mean baseline eGFR was 79 mL/min per 1.73 m2. Serum sTNFR-1 was inversely associated with baseline eGFR. Over median follow-up of 9.3 years, 110 participants developed ≥40% decline in eGFR; each SD higher concentration of sTNFR1 was associated with higher risk of 40% eGFR decline (adjusted hazard ratio, 1.43; 95% confidence interval [95% CI], 1.16 to 1.77). The highest sTNFR-1 tertile was associated with adjusted annualized decline in eGFR of 1.94% (95% CI, 1.79 to 2.09). Associations persisted across subgroups defined by demographics, hypertension, diabetes, and baseline CKD status.
The authors concluded that elevated serum sTNFR-1 concentrations are associated with faster declines in eGFR over the course of a decade in a multiethnic population, independent of previously known risk factors for kidney disease progression. sTNFR-1 was associated with substantial differences in kidney function decline over time. Rates of decline over 10 years were nearly 4-times higher among people in the highest versus lowest sTNFR-1 categories. This association was independent of previously known risk factors for kidney disease progression and persisted across multiple sub-groups of participants.
Pavan K. Bhatraju, MD, MSc, the lead author of the study, said, "Many people continue to progressively lose kidney function despite treatment with current medications. New treatments are urgently needed to help prevent or slow the loss of kidney function. Our studies identify a novel marker that is strongly related to kidney function decline over time in a large multi-ethnic cohort and suggest follow up studies are warranted to investigate the potential role of sTNFR-1 in the development of kidney function decline." The study was published on October 4, 2018, in the Journal of the American Society of Nephrology.
Related Links:
University of Washington School of Medicine

Latest Clinical Chemistry News
Other channels