Prognostic Biomarkers Identified for Aggressive Breast Cancer
By Labmedica International staff writers
Posted on 11 Sep 2018
The rarest, but also the most aggressive and hard to treat, form of breast cancer, is known as triple negative. For this type of cancer, oncologists have so far been unable to identify markers that can classify patients by prognosis or probability of responding to different treatments.
A successful classification of triple breast cancer patients, which for the first time discriminates those who can be cured from those who might suffer a relapse, has been reported. It also identifies new pharmacological targets, and indicates that in patients with these targets, combined treatments with existing drugs could be effective.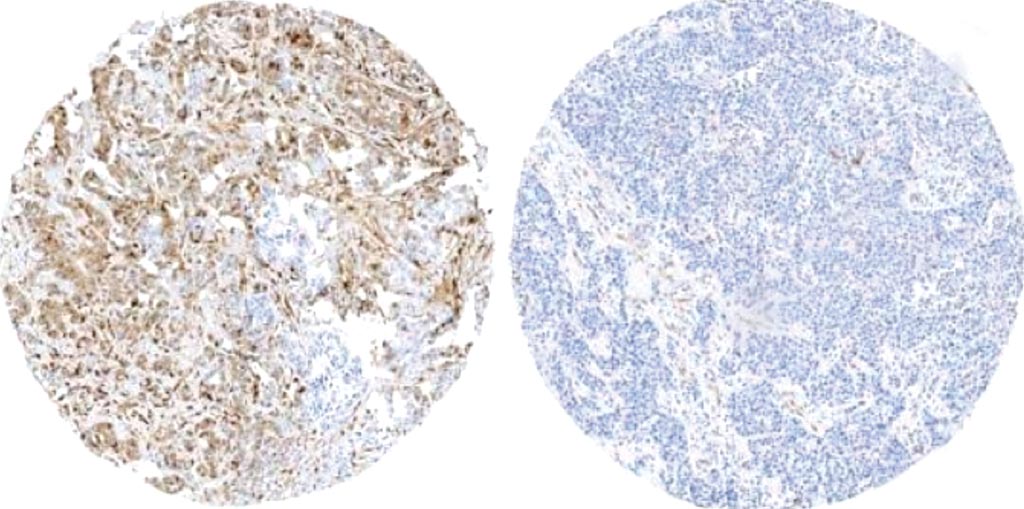 Scientists at the Centro Nacional de Investigaciones Oncológicas (Madrid, Spain) and their colleagues found in samples of tumors from 34 patients, the biochemical markers of the activation of tumor proteins. They found more than two million, but with the help of sophisticated bioinformatic tools, they detected that, among all these signals, there is a precise combination that is only found in patients who relapse. These proteins are activated through kinases, which are in turn protein, and so the next step was to find the kinases responsible for that specific pattern. Finally, the analysis identified the six kinases responsible for the activation pattern characteristic of the proteome of patients who relapse.
The scientists validated their findings with 170 patients confirmed the value of these six kinases as a marker. They detected the phosphorylated peptides by mass spectrometry. LC–MS/MS was done by coupling an UltiMate 3000 HPLC system to a Q Exactive Plus mass spectrometer. Patients in whom none of these proteins was activated had a 95% chance of being cured, or at least not suffering a relapse twelve years after treatment. However, if even one of the six kinases was active, the risk of relapse multiplied by ten. These six kinases can be inhibited using drugs, and there are already drugs in use against some of them. Furthermore, to prove the clinical relevance of their findings, the scientists studied in xenografts and in xenografts derived from patients, tumors from patients transplanted onto mice, the anti-tumour activity of 15 different combinations of drugs, and related it with the activation profile of the six kinases.
Analysis of the functional status of proteins cannot currently be conducted as a routine test in hospitals, but the authors have translated the activation patterns of the kinases into indicators of immunohistochemistry, which can be analyzed easily in hospitals. The objective is for the study of the six kinases identified to become in the future a regular clinical test, in the way that the genetic profiling of any tumour is today. The study was published on August 29, 2018, in the journal Nature Communications.
Related Links:
Centro Nacional de Investigaciones Oncológicas

Latest Clinical Chemistry News