HDL Does Not Always Lower Risk of CV Disease
By Labmedica International staff writers
Posted on 03 Aug 2018
High-density lipoproteins (HDL) are a family of particles found in the blood that vary in sizes and cholesterol contents. HDL has traditionally been measured as the total cholesterol carried by the HDL particles, known as HDL cholesterol.
HDL cholesterol, however, does not necessarily reflect the overall concentration, the uneven distribution, or the content and function of HDL particles. Previous studies have demonstrated the heart-protective features of HDL. This good cholesterol carries fats away from the heart, reducing the build-up of plaque and lowering the potential for cardiovascular disease.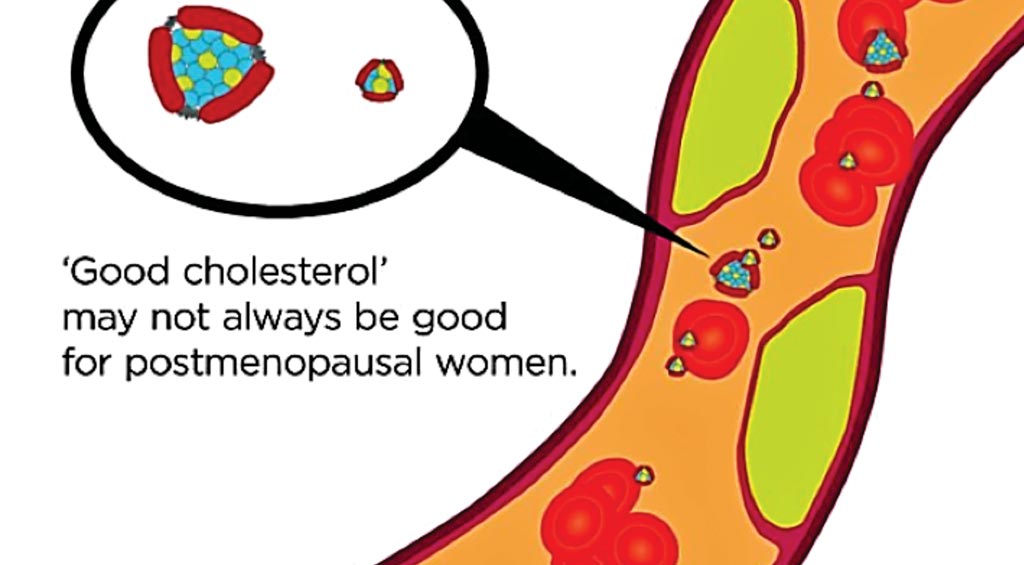 Scientists from the University of Pittsburgh Medical School (Pittsburgh, PA, USA) studied 1,138 women aged 45 through 84 enrolled across the USA in the Multi-Ethnic Study of Atherosclerosis (MESA) that began in 1999 and is still following participants today. The participants mean age was 61.8 ± 10.3; and 61% natural-, 21% surgical-, and 18% peri-menopause.
The team observed that the number and size of the HDL particles and total cholesterol carried by HDL particles. The study also looked at how age when women transitioned into post menopause, and the amount of time since transitioning, may impact the expected cardio-protective associations of HDL measures. The harmful association of higher HDL cholesterol with atherosclerosis risk was most evident in women with older age at menopause and who were greater than, or equal to, 10 years into post menopause.
In contrast to HDL cholesterol, a higher concentration of total HDL particles was associated with lower risk of atherosclerosis. Additionally, having a high number of small HDL particles was found beneficial for postmenopausal women. These findings persist irrespective of age and how long it has been since women became postmenopausal. On the other hand, large HDL particles are linked to an increased risk of cardiovascular disease close to menopause. During this time, the quality of HDL may be reduced, increasing the chance for women to develop atherosclerosis or cardiovascular disease.
The authors concluded that elevated HDL-C may not always be cardioprotective in postmenopausal women. The cardioprotective capacity of large HDL-P may adversely compromise close to menopause supporting the importance of assessing how the menopause transition might impact HDL quality and related cardiovascular disease risk later in life.
Samar R. El Khoudary, PhD, MPH, FAHA, an associate professor and lead author of the study, said, 'This study confirms our previous work on a different group of women and suggests that clinicians need to take a closer look at the type of HDL in middle-aged and older women, because higher HDL cholesterol may not always be as protective in postmenopausal women as we once thought. High total HDL cholesterol in postmenopausal women could mask a significant heart disease risk that we still need to understand." The study was published on July 19, 2018, in the journal Arteriosclerosis, Thrombosis, and Vascular Biology.
Related Links:
University of Pittsburgh Medical School

Latest Clinical Chemistry News
Other channels