Blood Gas Analyzers for POC Validated
By Labmedica International staff writers
Posted on 16 Jan 2018
Several aspects of pH and blood gas analysis are unique in laboratory analysis, and furthermore, no other test results have such a great and immediate impact on patient care. In addition, it is now possible to carry out further vital biological assays on the same sample.
These results provide an overall picture of the patient's state of health, which is especially important for patients admitted to adult and neonatal resuscitation wards (scalp pH), or in emergency medicine. Blood gas analyzers are often integrated into point-of-care testing and this has been evaluated.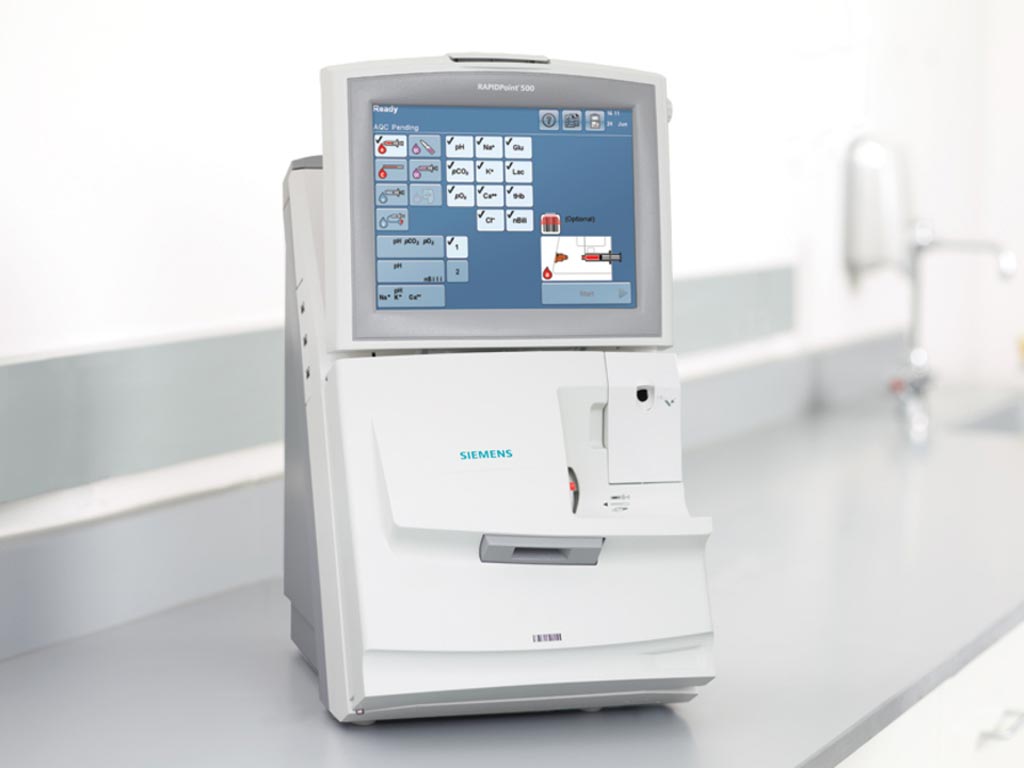 Clinical biochemists at the Clermont-Ferrand Teaching Hospital (Clermont-Ferrand, France) installed and assessed 12 GEM PREMIER 4000 analyzers for pH, pCO2, pO2, Na+, K+, Cl-, Ca2+, lactate, hemoglobin (Hb) and oxyhemoglobin (O2Hb). These instruments were distributed across 11 care sites in the hospital. Comparisons between GEM analyzers were performed on 30 samples and between GEM analyzers and the central laboratory for Na+, K+, Cl-, Ca2+ and hemoglobin on 30 to 50 samples. The GEM analyzers were compared with the automated analyzers of the central laboratory. Na+, K+, Cl- and lactate were assayed on a Vista-type analyzer. Ca2+ was assayed on a Siemens RAPIDPoint500 analyzer, and Hb was assayed on an XN analyzer.
The scientists obtained the results for the determination of [H+], pCO2, Na+, Cl-, K+, Ca2+, lactate and O2Hb that all complied with French Society of Clinical Biology (SFBC) recommendations, with corresponding coefficient of variation (CV) values below 1.5%, 3.8%, 0.8%, 1.2%, 1.2%, 1.2%, 3.8% and 3.8% respectively. These tests were carried out over the measurement ranges 6.80–7.58 for pH (100–22 nmol/L H+), 26–150 mmHg for pCO2, 33–203 mmHg for pO2, 125–163 mmol/L for Na+, 86–136 mmol/L for Cl-, 2.4–6.7 mmol/L for K+, 0.25–1.51 mmol/L for Ca2+, 0.8–19 mmol/L for lactate, 6.0–20.7 g/dL for Hb and 37.2–98.4% for O2Hb.
The authors concluded that their results met standard requirements and the 12 analyzers were assessed as suitable for point-of-care testing in services of academic medical centers, as exemplified at Clermont-Ferrand hospital. The study was published on December 13, 2017, in the journal Practical Laboratory Medicine.
Related Links:
Clermont-Ferrand Teaching Hospital
Latest Clinical Chemistry News
Other channels