Smart Fibers Could Allow T-Shirts to Analyze Electrolytes and Metabolites in Sweat
By LabMedica International staff writers
Posted on 24 Jan 2023
Fibers and fabrics have become an integral part of our daily lives, although much remains unchanged for them despite centuries of human progression. Nevertheless, recent advancements in the multi-material fiber drawing process have led to the development of new multifunctional, fiber-based smart fabrics. Smart fabrics make it possible to seamlessly integrate electronics, optics, biosensors, and mechanics into a thin strand of fiber that is intrinsically flexible and as thin as the human hair. Such fabrics can then be used for monitoring the vital physiological signals related to human mental and physical health.
Now, a team of researchers at Tohoku University (Sendai, Japan) has developed a microelectronic fiber with microscopic parameters that is capable of analyzing electrolytes and metabolites in sweat. The micrometer scale of the microelectronic fiber enables it to be woven into clothes for healthcare applications. The researchers developed the microelectronic fiber by leveraging the versatile thermal drawing process, in which heat is applied to draw out micro-structured fiber from its macroscopic preform. The researchers also patterned on two sensing electrodes for sodium and uric acid on the longitudinal surface of the fiber.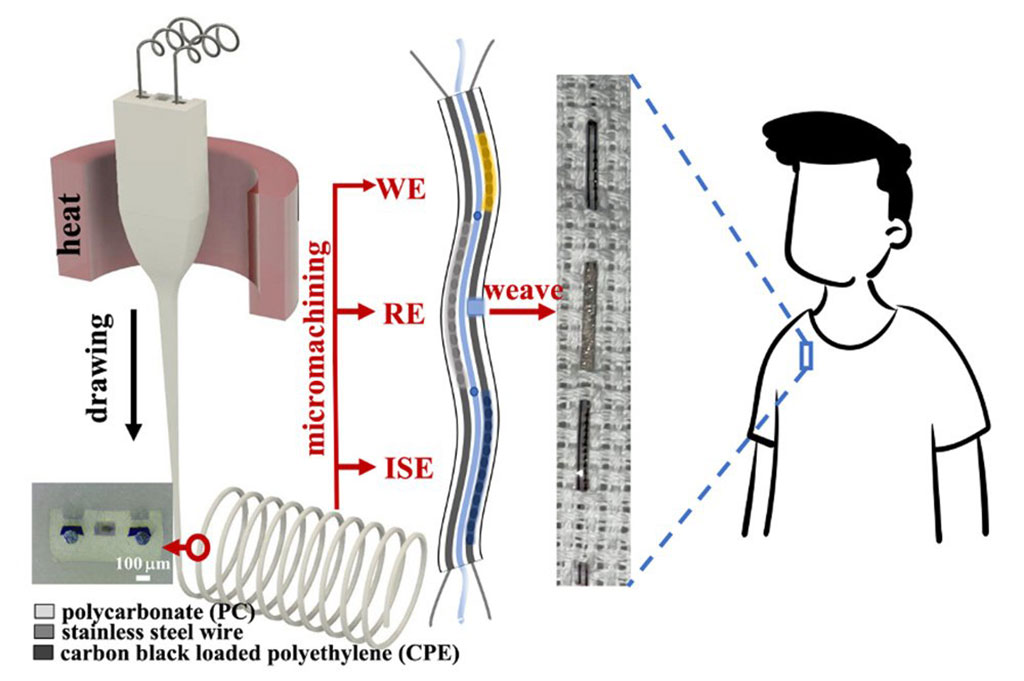 Mainstream photolithography and printing technology have made wearable electronics possible, although this generally requires the attachment of fairly rigid electronic patches to the existing fabrics or directly on the skin, resulting in just a small area of the body being covered. The new microelectronic fiber could pave the way for fiber-based smart clothes that offer more versatility in terms of functions, larger sensing areas, and greater comfort. The new smart fabric could revolutionize the textile and healthcare industries, according to the researchers, benefiting the overall society.
"Our breakthrough is the first successful attempt at using thermally drawn fiber in wearable bioelectronics for monitoring biochemical signatures," said Dr. Yuanyuan Guo, assistant professor at Tohoku University's Frontier Research Institute for Interdisciplinary Sciences, who led the research team.
Related Links:
Tohoku University