Manual Aspiration by Monovette Reduces Hemolytic Sampling
By LabMedica International staff writers
Posted on 18 Aug 2021
Hemolytic blood samples are the number one cause for specimen rejection at emergency departments (ED). Triggered by unsuitable blood sampling material or incorrect handling and a related strong vacuum force, hemolytic samples often must be retaken.
Hemolysis refers to the release of hemoglobin and other intracellular components into the surrounding plasma due to the ruptured cell membrane of erythrocytes. The root cause of hemolysis
in vitro
is an improper sample drawing or, more specifically, an evolving strong vacuum force.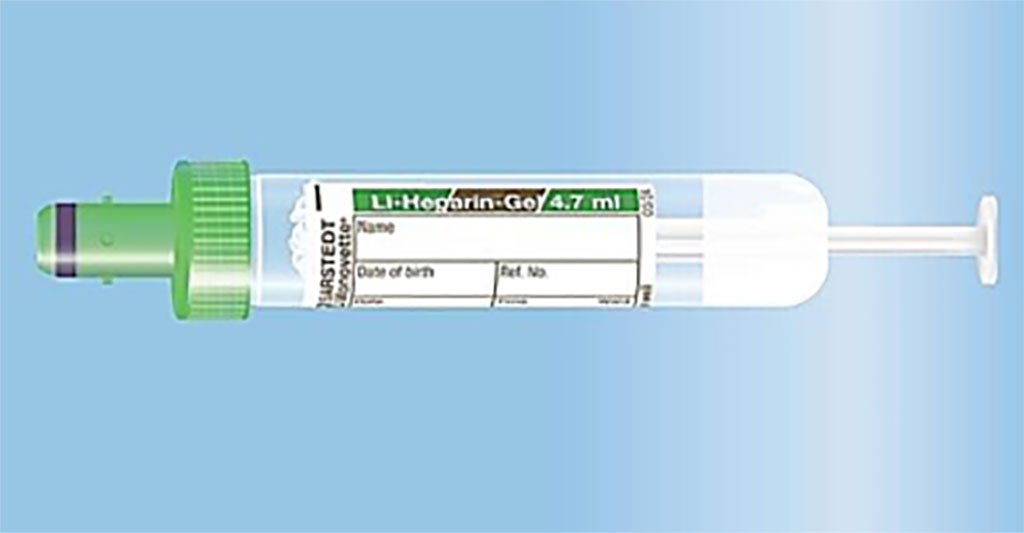 Clinical Laboratorians at the HFR Fribourg-Hôpital Cantonal (Villars-sur-Glâne, Switzerland) conducted a head-to-head study between January and April 2019. In the first eight weeks, all specimens were collected using BD Vacutainer Lithium-Heparin Gel tubes (Vacutainer, Becton, Dickinson and Company, Franklin Lakes, NJ, USA), in the second eight weeks, blood was taken using S-Monovette Lithium-Heparin Gel tubes (SARSTEDT AG, Nümbrecht, Germany) in aspiration mode. Specimens were categorized into five classes (0–30, 31–50, 51–75, 76–100, and 101+ mg/dL of cell-free hemoglobin) and for the statistical analyses, all samples exceeding 30 mg/dL were classified as hemolytic.
All blood samples from the emergency department were evaluated using a Cobas 6000, (Roche Diagnostics, Rotkreuz, Switzerland) a state-of-the-art analyzing system, and their Hemolysis Index (HI 1 = 1 mg of free cell hemoglobin in 1 dL blood plasma) was determined. Data were collected on 4,794 blood specimens (Vacutainer: 2,634 samples, S-Monovette: 2,160 samples).
The scientists reported that overall, 11.3 % of samples were rated as hemolytic because their concentration of hemolysis exceeded 30 mg/dL. This proportion differed considerably between specimens drawn by Vacutainer (17.0 %) and S-Monovette (4.3 %), meaning that, in proportion, there were four times as many hemolytic samples when using Vacutainer. While the percentage of non-hemolytic samples (HI of 0–30 mg/dl) was substantially higher for specimens drawn by S-Monovette (95.7 %) than Vacutainer (83.0 %), the opposite was true for all HI categories above 30 mg/dl.
The authors concluded that regarding hemolysis rates, a slow manual aspiration using S-Monovette was superior to vacuum tubes with predefined filling volumes, as demonstrated in the setting of their ED, which has important practical implications. This blood sampling process could be highly beneficial, not only from a financial point of view, but also with regards to reducing unnecessary tasks and stress for nursing staff and improving patient outcome overall. The study was published on July 28, 2021 in the journal
Practical Laboratory Medicine.
Related Links:

HFR Fribourg-Hôpital Cantonal
Becton, Dickinson and Company
SARSTEDT AG
Roche Diagnostics