Portable, PCR-Based Assay Developed for Rapid, Multiplexed DNA Detection
By LabMedica International staff writers
Posted on 13 Jul 2021
The detection of specific DNA sequences is central to precision medicine, from pathogen identification to the risk assessment of human genetic diseases to disease prognosis. While technologies exist for DNA detection, they tend to be limited either in terms of multiplexing, turnaround times, quantification accuracy, or specificity for single-nucleotide differences.
Assays for the molecular detection of nucleic acids are typically constrained by the level of multiplexing (this is the case for the quantitative polymerase chain reaction (qPCR) and for isothermal amplification), turnaround times (as with microarrays and next-generation sequencing), quantification accuracy (isothermal amplification, microarrays and nanopore sequencing) or specificity for single-nucleotide differences (microarrays and nanopore sequencing).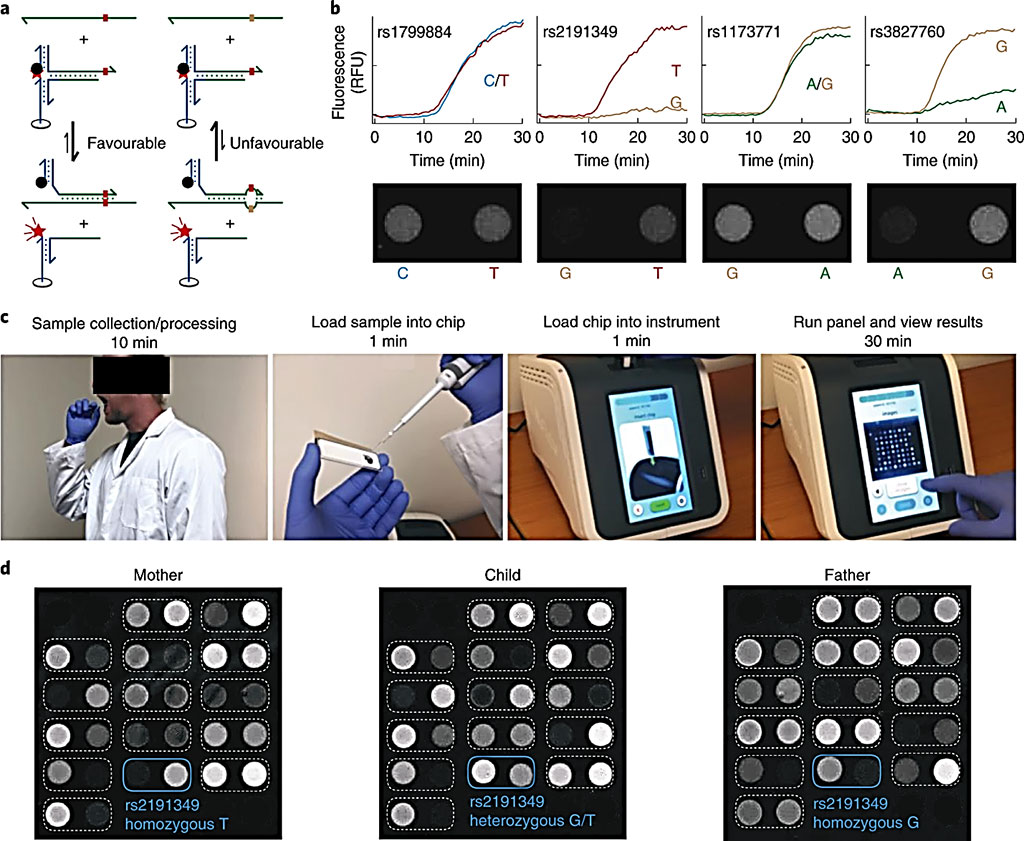 Biomedical Engineers at Rice University (Houston, TX, USA) developed a portable and battery-powered PCR assay performed in a toroidal convection chamber housing a microarray of fluorescently quenched oligonucleotide probes allows for the rapid and sensitive quantification of multiple DNA targets with single-nucleotide discrimination.
In the toroidal PCR system, they designed a chip that includes an annular (donut shaped) reaction chamber in which the DNA sample and PCR reagents are loaded. On the inner surface of the reaction chamber of the chip, they printed a pre-quenched DNA microarray to allow highly multiplexed probe-based readout. Microarrays allow detection of up to hundreds of thousands of different nucleic acid targets using a single fluorescence channel by spatially separating different probes.
The assay offers a limit of detection of 10 DNA copies within 30 minutes of turnaround time and a dynamic range spanning four orders of magnitude of DNA concentration, and they showed its performance by detecting 20 genomic loci and 30 single-nucleotide polymorphisms in human genomic DNA samples, and 15 bacterial species in clinical isolates.
The authors concluded that the ability of toroidal PCR to rapidly and simultaneously detect and quantify many different nucleic acid markers positions it well as a system for performing complex DNA and RNA diagnostics in settings convenient to the patient. Portable devices for the fast and highly multiplexed detection of nucleic acids may offer advantages in point-of-care diagnostics. The study was published on July 1, 2021 in the journal
Nature Biomedical Engineering.
Related Links:

Rice University