Microfluidic Device Explores Ovarian Cancer Interactions
By LabMedica International staff writers
Posted on 26 Aug 2020
In many cancers, platelet interactions with circulating tumor cells and their role in metastasis have been studied extensively. In ovarian cancer, platelet extravasation into the tumor and resulting metastasis is thought to be regulated mostly by the vascular endothelium.
The mechanisms that regulate platelet transvascular transport in cancer may largely depend on a triad comprising cellular and molecular interactions among the ovarian cancer cells, endothelium, and platelets. Determining vascular alterations near cancer tissue over time is extremely challenging, and differential tissue and cell effluents cannot be continually collected for downstream genetic and proteomic analyses.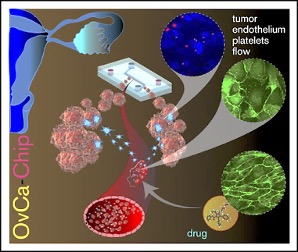 Bioengineers from the Texas A&M College of Engineering (College Station, TX, USA) collaborated with medical scientists at The University of Texas MD Anderson Cancer Center (Houston, TX, USA) used organ-on-a-chip methodology and applied it to model vascular and platelet functions in ovarian cancer. This system (OvCa-Chip) consists of microfluidic chambers that are lined by human ovarian tumor cells interfaced with a 3-dimensional endothelialized lumen. Subsequent perfusion with human platelets within the device's vascular endothelial compartment under microvascular shear conditions for five days uncovered organ-to-molecular–level contributions of the endothelium to triggering platelet extravasation into tumors.
The media effluents collected during different hours from the vascular channels of the OvCa-Chip and Control-Chip were analyzed for 27 cytokines, by using the Milliplex Map Human Cytokine/Chemokine Magnetic Bead Panel Kit (Merck-Millipore, Darmstadt, Germany) containing the beads tagged with specific antibodies against the target cytokines. Flow cytometry data acquisition and analyses were performed with an Accuri C6 flow cytometer (BD Biosciences, San Jose, CA, USA).
Analysis of effluents available from the device's individual tumor and endothelial chambers revealed temporal dynamics of vascular disintegration caused by cancer cells, a differential increase in cytokine expression, and an alteration of barrier maintenance genes in endothelial cells. These events, when analyzed within the device over time, made the vascular tissue leaky and promoted platelet extravasation. Atorvastatin treatment of the endothelial cells within the OvCa-Chip revealed improved endothelial barrier function, reduction in inflammatory cytokines and, eventually, arrest of platelet extravasation.
Viewing the interaction between tumors and blood vessels on the OvCa-Chip led the scientists to an extraordinary result that the tumor cells systematically broke down the endothelial cells, which are the barrier that lines the interior surface of blood vessels and prevents exterior interaction with blood cells. Once this barrier was gone, blood cells and platelets entered the tumor microenvironment and could be recruited for metastasis.
Abhishek Jain, PhD, an assistant professor and a senior author of the study, said, "You have to understand that these are chips that are living as they contain living cells. The advantage is that these are all actually human samples. So what we think the future for this technology is that perhaps we can advance it in the direction of personalized medicine where we could actually take stem cells from patients and other patient-derived cells and make this entire chip from a single patient." The study was published on July 27, 2020 in the journal Blood Advances.
Related Links:

Texas A&M College of Engineering
The University of Texas MD Anderson Cancer Center
Merck-Millipore
BD Biosciences