Rapid Microfluidic Test Demonstrates Efficacy as Diagnostic Aid to Improve Sepsis Triage in ED
By LabMedica International staff writers
Posted on 24 May 2023
Sepsis is the primary cause of mortality worldwide, accounting for over 350,000 fatalities annually in the United States alone, a figure that surpasses deaths from opioid overdoses, prostate cancer, and breast cancer combined. Now, newly presented data for a groundbreaking diagnostic tool further reinforce its potential to facilitate rapid and clinically actionable sepsis diagnoses in emergency departments (EDs).
Cytovale's (San Francisco, CA, USA) IntelliSep sepsis test is an innovative diagnostic tool that assists medical professionals in swiftly detecting sepsis, enabling crucial, time-critical clinical decisions. The test generates a result, known as the IntelliSep Index (ISI), in less than 10 minutes, classifying patients into three groups based on their sepsis likelihood, with Band 1 indicating low probability and Band 3 suggesting high probability. Newly presented data from the multi-center CV-SQuISH-ED clinical validation study further emphasize IntelliSep's precision in stratifying patients based on sepsis and death risk, underlining its potential as a practical tool for clinicians during the decision-making process.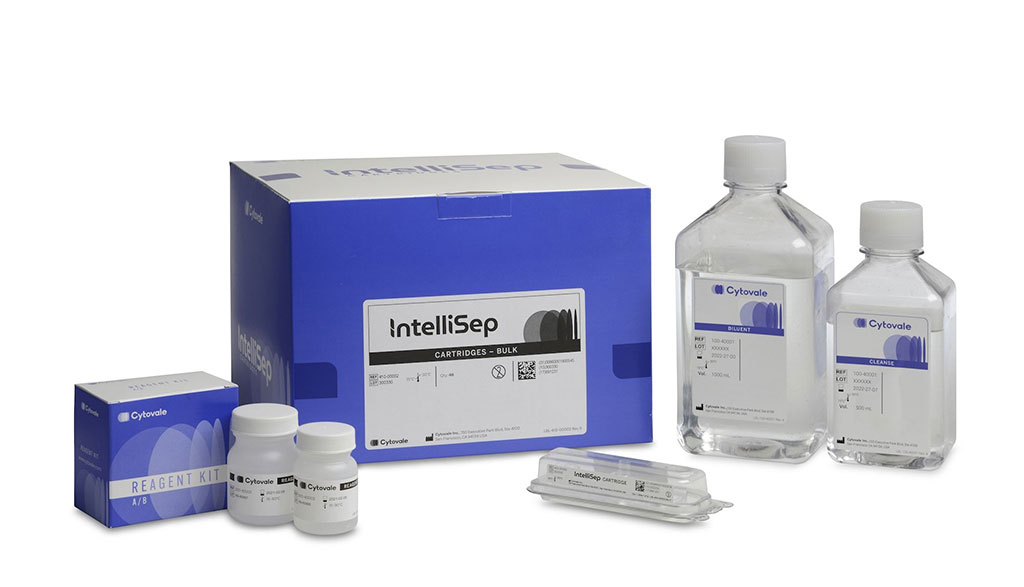 The study, involving 572 patients, demonstrated that the IntelliSep test accurately identified three statistically distinct bands of sepsis probability, each with a progressively increased likelihood of sepsis. Additionally, observational data revealed that these bands correlated significantly with hospital care metrics and sepsis-related mortality. After 28 days, the sepsis-related mortality rate for Band 1 (low sepsis probability) was 0%, as compared to 2.5% in Band 2 and 4.4% in Band 3 (high sepsis probability). Moreover, among those eventually classified as septic requiring escalation of care from non-critical to critical care units during their hospital stay, none were in Band 1, in comparison with 58% and 42% in Bands 2 and 3, respectively.
The study also noted that equivalent amounts of resources from the Severe Sepsis and Septic Shock Management Bundle (SEP-1) were administered to all patients in the study, irrespective of risk band. This underlines IntelliSep's potential to assist healthcare providers in directing these limited clinical resources towards the patients in the most need. Data from the multi-center CV-SQuISH-ED clinical validation study also supports the U.S. Food and Drug Administration (FDA) 510(k) clearance of Cytovale's IntelliSep test in December 2022, facilitating early detection of sepsis for approximately 30 million adults presenting with infection symptoms in U.S. EDs each year. Cytovale aims to make the IntelliSep test commercially available in the forthcoming quarter.
"Every minute counts when it comes to sepsis diagnosis, and EDs operate under major time and resource constraints that could impact patient outcomes," said Dr. Hollis O'Neal, M.D., Medical Director of Research at Our Lady of the Lake Regional Medical Center, Critical Care Physician at LSU Health Sciences Center and National Principal Investigator and presenter for the CV-SQuISH-ED trial. "These results validate the efficacy and efficiency of IntelliSep as a diagnostic aid that may improve sepsis triage when incorporated into existing clinical protocols."
Related Links:
Cytovale 
Latest Point of Care News