Spatial Landscape of Lung Pathology Investigated During COVID-19 Progression
By LabMedica International staff writers
Posted on 13 Apr 2021
Early histopathological changes of viral pneumonias are rarely observed because histopathological examination is not necessary for diagnosis, but late stage changes in viral pneumonias are well defined, most commonly in autopsy series.
Since the outbreak of the COVID-19 pandemic, much has been learned regarding its clinical course, prognostic inflammatory markers, disease complications, and mechanical ventilation strategy. Clinically, three stages have been identified based on viral infection, pulmonary involvement with inflammation, and fibrosis.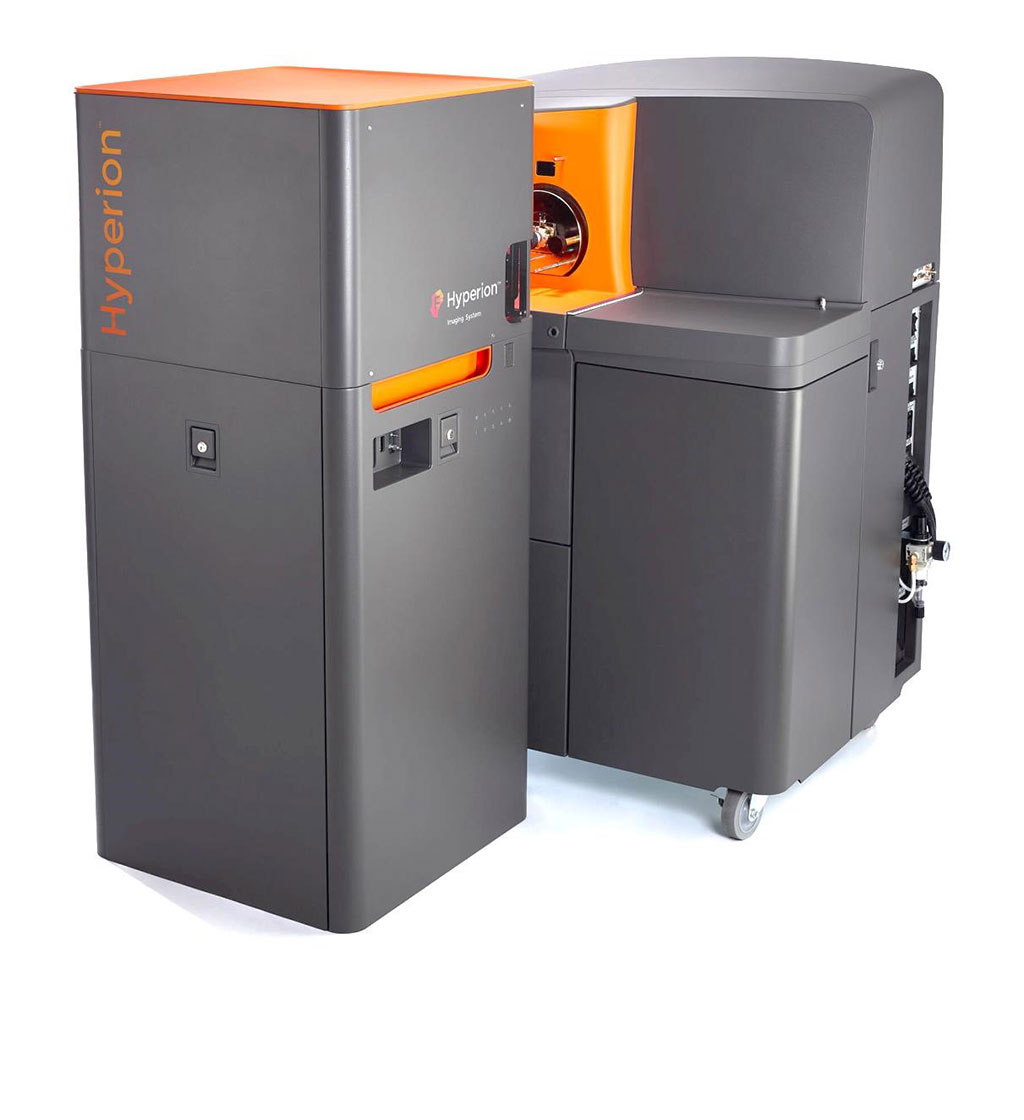 Medical Scientists at Weill Cornell Medicine (New York, NY, USA) and their colleagues used high parameter imaging mass cytometry to measure the expression level of 36 proteins at single-cell resolution, allowing them to characterize the pathophysiology and immune response in the lungs of 10 patients who died from COVID-19. They investigated at single cell resolution, the cellular composition and spatial architecture of human acute lung injury including SARS-CoV-2. The team also looked at samples from patients who died with acute respiratory distress syndrome from influenza (two patients), bacterial infection (four patients), and bacterial pneumonia (three patients), along with post-mortem lung tissue from four otherwise healthy individuals.
The panel included phenotypic markers of endothelial, epithelial, mesenchymal, and immune cells, functional markers (activation, inflammation and cell death), and an antibody specific to the spike protein of SARS-CoV-2. They used immunohistochemistry and targeted spatial transcriptomic measurements to validate their imaging mass cytometry findings from the Hyperion Imaging System (Fluidigm, South San Francisco, CA, USA).
The scientists reported that the spatially resolved, single-cell data unravels the disordered structure of the infected and injured lung alongside the distribution of extensive immune infiltration. Neutrophil and macrophage infiltration are hallmarks of bacterial pneumonia and COVID-19, respectively. They provided evidence that SARS-CoV-2 infects predominantly alveolar epithelial cells and induces a localized hyper-inflammatory cell state associated with lung damage. They observed increased macrophage extravasation, mesenchymal cells, and fibroblasts abundance concomitant with increased proximity between these cell types as the disease progresses, possibly as an attempt to repair the damaged lung tissue.
Robert Schwartz, MD, PhD, an associate professor of medicine and senior author on the study, said, "In contrast to other lung injury or disease processed, there is widespread tissue damage in late COVID-19 marked by the high amounts of pro-apoptotic cleaved caspase 3 and the off-target deposition of activated complement C5b-C9 attack complex in epithelial cells."
The authors concluded that this spatial single-cell landscape enabled the pathophysiological characterization of the human lung from its macroscopic presentation to the single-cell, providing an important basis for the understanding of COVID-19, and lung pathology in general. The study was published on March 29, 2021 in the journal
Nature
.
Related Links:

Weill Cornell Medicine
Fluidigm