ctDNA Provides Prognostic Clues in Advanced BRAF-Mutated Melanoma Cases
By LabMedica International staff writers
Posted on 02 Mar 2021
A
BRAF
mutation is a change in a
BRAF
gene. That change in the gene can lead to an alteration in a protein that regulates cell growth that could allow the melanoma to grow more aggressively. Approximately half of melanomas carry this mutation and are referred to as mutated, or
BRAF
positive.
Melanoma lacks validated blood-based biomarkers for monitoring and predicting treatment efficacy. Circulating tumor DNA (ctDNA) is tumor-derived fragmented DNA in the bloodstream that is not associated with cells. Because ctDNA may reflect the entire tumor genome, it has gained traction for its potential clinical utility.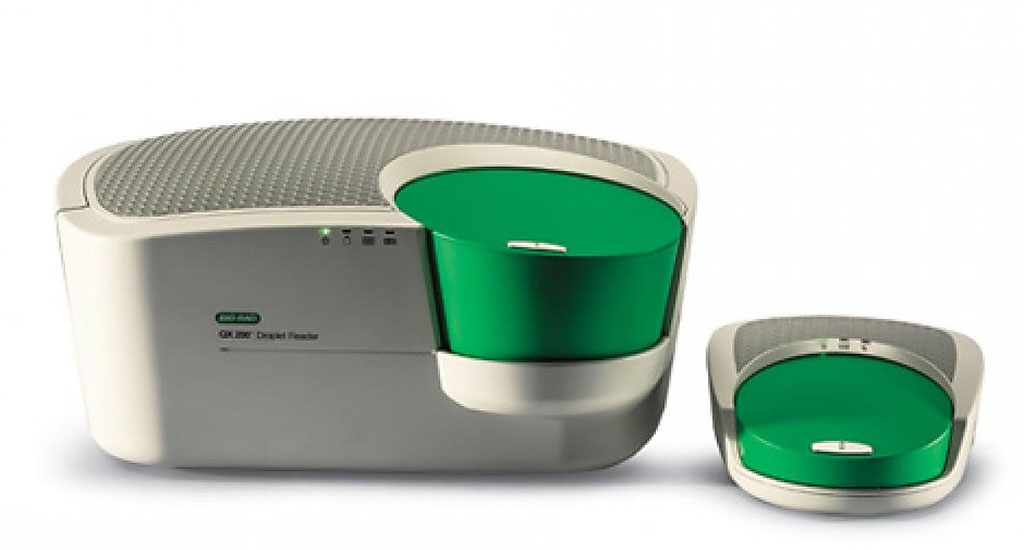 Medical Scientists at the NYU Langone Health (New York, NY, USA) tracked circulating
BRAF
V600
mutation patterns in 383 individuals with melanoma, using analytically validated Droplet Digital PCR (Bio-Rad Laboratories, Hercules, CA, USA) profiles to pick up ctDNA mutations in individuals before and during treatment.
The investigators found that enhanced levels of circulating
BRAF
V600
mutation fragments in the blood prior to treatment in more than 350 patients with available blood plasma samples coincided with shorter overall survival times in the melanoma patients, regardless of whether they were getting dabrafenib or dabrafenib-trametinib treatment. In contrast, those with 64 ctDNA copies or fewer in each milliliter of blood at baseline saw overall average survival times of more than 35 months compared with 13.4 months in those with higher ctDNA levels.
The team noted that patients who had
BRAF
mutation-based ctDNA levels that were too low to detect by Droplet Digital PCR after four weeks of treatment had longer overall survival and progression-free survival times, based on data for more than 260 melanoma patients with available plasma samples at that point in their treatment.
David Polsky, MD, a Professor of Dermatology and a senior author of the study, said, "Our findings suggest that levels of ctDNA may serve as a fast and reliable tool to gauge whether an anticancer medication is working. A blood test based on such ctDNA-based markers could help support continuing the current treatment strategy or else encourage patients and physicians to consider other options."
The authors concluded that pretreatment and on-treatment
BRAF
V600
-mutant ctDNA measurements could serve as independent, predictive biomarkers of clinical outcome with targeted therapy. The study was published on February 12 2021 in the journal
Lancet Oncology.
Related Links:

NYU Langone Health
Bio-Rad Laboratories