EGFR Mutation Assay Cartridges Evaluated
By LabMedica International staff writers
Posted on 24 Mar 2020
Lung cancer remains the leading cause of cancer deaths. The management of lung cancer has been aided by the better understanding of molecular mechanisms involved in its initiation and progression and increased usage of molecular testing.
Mutations in the tyrosine kinase domain of the epidermal growth factor receptor (
EGFR
) gene are observed in approximately 15% of non-small cell lung cancer (NSCLC) patients in the USA. In some lung cancer patients with advanced disease,
EGFR
testing should be available as soon as possible to allow fast management decisions and determine the need for a first-line therapy with
EGFR
Tyrosine kinase inhibitors (TKIs) in patients with
EGFR
-mutated NSCLC.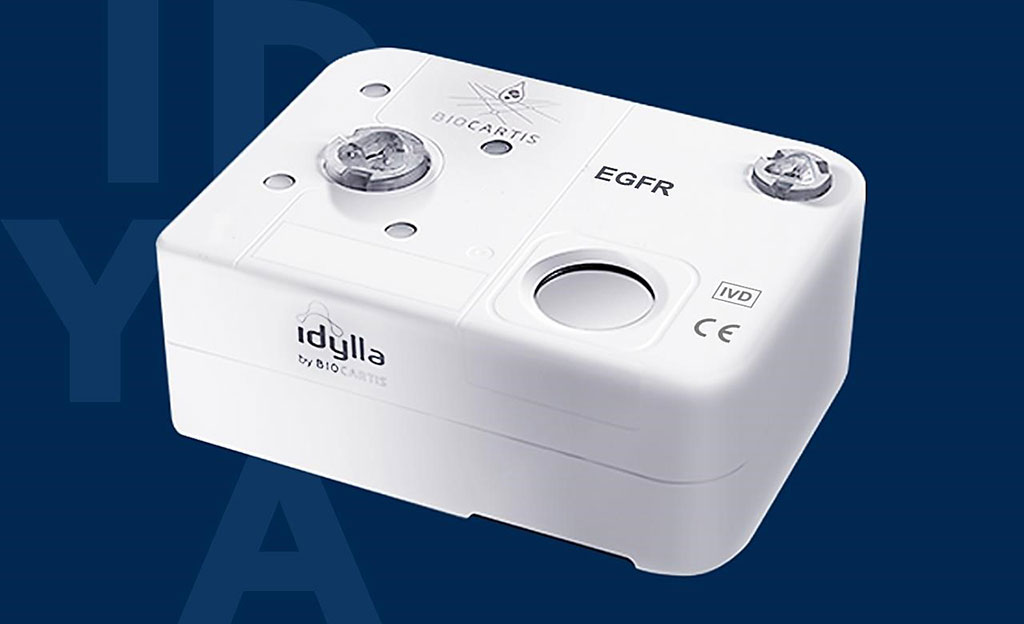 Scientists at the Dartmouth-Hitchcock Medical Center (Lebanon, NH, USA) carried out a retrospective study of 34 archived formalin-fixed paraffin-embedded (FFPE) resected or biopsy tissue samples obtained from patients with adenocarcinoma of the lung. Next-generation sequencing (NGS) analysis was previously performed on these samples using the Ion AmpliSeq 50-gene Cancer Hotspot Panel v2 (Thermo Fisher Scientific, Waltham, MA, USA).
The NGS analysis was compared with the Idylla EGFR Mutation Assay (Biocartis, Mechelen, Belgium) which is intended for detection of mutations in the EGFR oncogene including exon 18 (G719 A/S/C), exon 21 (L858R, L861Q), exon 20 (T790M, S768I) mutations, exon 19 deletions and exon 20 insertions The Idylla system is a fully integrated, cartridge-based platform that provides automated sample processing (deparaffinization, tissue digestion and DNA extraction) and real-time PCR-based mutation detection with all reagents included in a single-use cartridge. The Idylla EGFR Mutation Assay uses a real-time PCR chemistry based on the PlexPrime and PlexZyme (also known as MNAzyme) technology that allows multiplex mutation detection with high sensitivity and specificity.
The scientists reported that NGS testing results showed that 21 samples had at least one mutation in
EGFR
and the remaining 13 had no
EGFR
mutation. The Idylla EGFR Mutation Assay detected all 23 of the
EGFR
activating mutations identified by NGS. These included L858R (eight samples), G719A (two samples), G719C (two samples), S768I (three samples), and exon 19 deletions (eight samples). No
EGFR
mutations were detected by the Idylla in samples determined by NGS as having wild-type
EGFR
. The Idylla system produced results rapidly with a turnaround time of approximately 2.5 hours.
The authors concluded that the Idylla EGFR Mutation Assay is a simple, fully automated and reliable test that provides rapid turnaround time allowing for timely management decisions in the care of patients with lung cancer. The Idylla system is especially appropriate for clinical laboratories that lack molecular diagnostics expertise and infrastructure. The study was published on March 2, 2020 in the journal
Practical Laboratory Medicine.
Related Links:

Dartmouth-Hitchcock Medical Center
Thermo Fisher Scientific
Biocartis