Custom NanoString Assay Detects Bowel Cancer Subtypes
By Labmedica International staff writers
Posted on 13 Jun 2019
Colorectal cancer (CRC) is the fourth leading cause of cancer-related deaths worldwide. The median overall survival of metastatic (m)CRC patients with unresectable disease remains around 24 months with standard chemotherapies.
A gene expression assay has been developed that they anticipate may facilitate prospective validation of bowel cancer subtypes in clinical trials. Scientists described a 38-gene proof-of-concept test that they have used to detect gene expression patterns associated with each type of bowel cancer.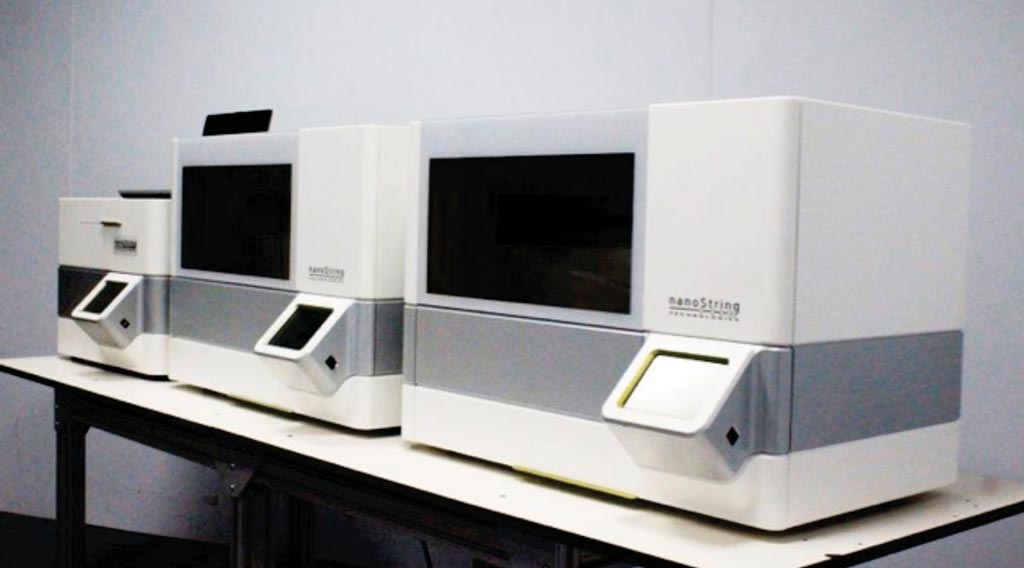 A large team of collaborating scientists led by The Institute of Cancer Research (London, UK) analyzed 413 samples from 355 CRC patients. From the 237 fresh frozen samples, a subset of 47 had matched microarray/RNAseq profiles or 58 formalin-fixed paraffin-embedded (FFPE) samples. They also analyzed a further 118 FFPE samples. They compared the assay results with the consensus molecular subtypes (CMS) classifier, different platforms (microarrays/RNAseq) and gene-set classifiers (38 and the original 786 genes).
nCounter Max Analysis System was used to perform the assay using either standard or modified (Elements chemistry) protocol. The platform measures gene expression in the form of discrete counts of barcoded mRNAs, and requires no amplification step. It uses capture and reporter probes to measure gene expression through fluorescence and by counting barcoded mRNAs. The method provides the sensitivity of a quantitative reverse transcriptase polymerase chain reaction (qRT- PCR) assay but can more effectively identify the cancer subtypes because it can analyze the presence of a significantly larger number of targets. Microarrays and sequencing can capture and analyze tens of thousands of genes, but the level of sensitivity using those methods is far lower than that of the NanoString platform.
The investigators examined the subtypes identified in a cohort of fresh frozen samples, they found that the enterocyte subtype was the most prevalent, followed by goblet-like, stem-like, and inflammatory. Importantly, the team demonstrated through discovery of the five bowel cancer subtypes, that they could show not only prognostic differences but also predicted differences for treatment responses. As a prognostic biomarker test it provides information about a patient's overall cancer outcome regardless of therapy, while as a predictive biomarker test it provides information about the effect of a therapeutic intervention.
R. Bradley Gray, BA, SB, president and CEO of NanoString, said, "That as the treatment options for cancer expand and target distinct molecular pathways within tumors, it is important to have diagnostic assays that will be able to characterize the intrinsic subtypes of cancer so that those therapies can be directed to the patient population that is most likely to benefit. The work of the ICR group provides an important tool for the colorectal cancer research community because it demonstrates that the NanoCRCA assay is an accurate and robust solution for transcriptional profiling to identify the consensus molecular subtypes of colorectal tumors."
The authors concluded that they had developed and analytically validated their NanoCRCA biomarker assay based on a refined 38-gene classifier, and classified CRC samples into molecular subtypes, along with undetermined samples. Subtype prediction by the NanoCRCA assay is highly concordant with more multiplexed platforms, and predicted subtypes show the expected association with the CMS subtypes. The study was published on May 21, 2019, in the journal Scientific Reports.
Related Links:
The Institute of Cancer Research