Glioblastoma Driver Mutations Appear Long Before Diagnosis
By Labmedica International staff writers
Posted on 03 Apr 2019
Glioblastomas are the most common high-grade (cancerous) primary brain tumor in adults. They can also occur, rarely, in children. Glioblastomas belong to a group of brain tumors known as gliomas, as they grow from a type of brain cell called a glial cell.
Diverse glioblastoma (GBM) tumors falling into several distinct methylation-based subgroups tend to share early driver mutations, which appear to have arisen long before individuals' initial GBM diagnoses and influence genetic features found in the tumors present at disease recurrence.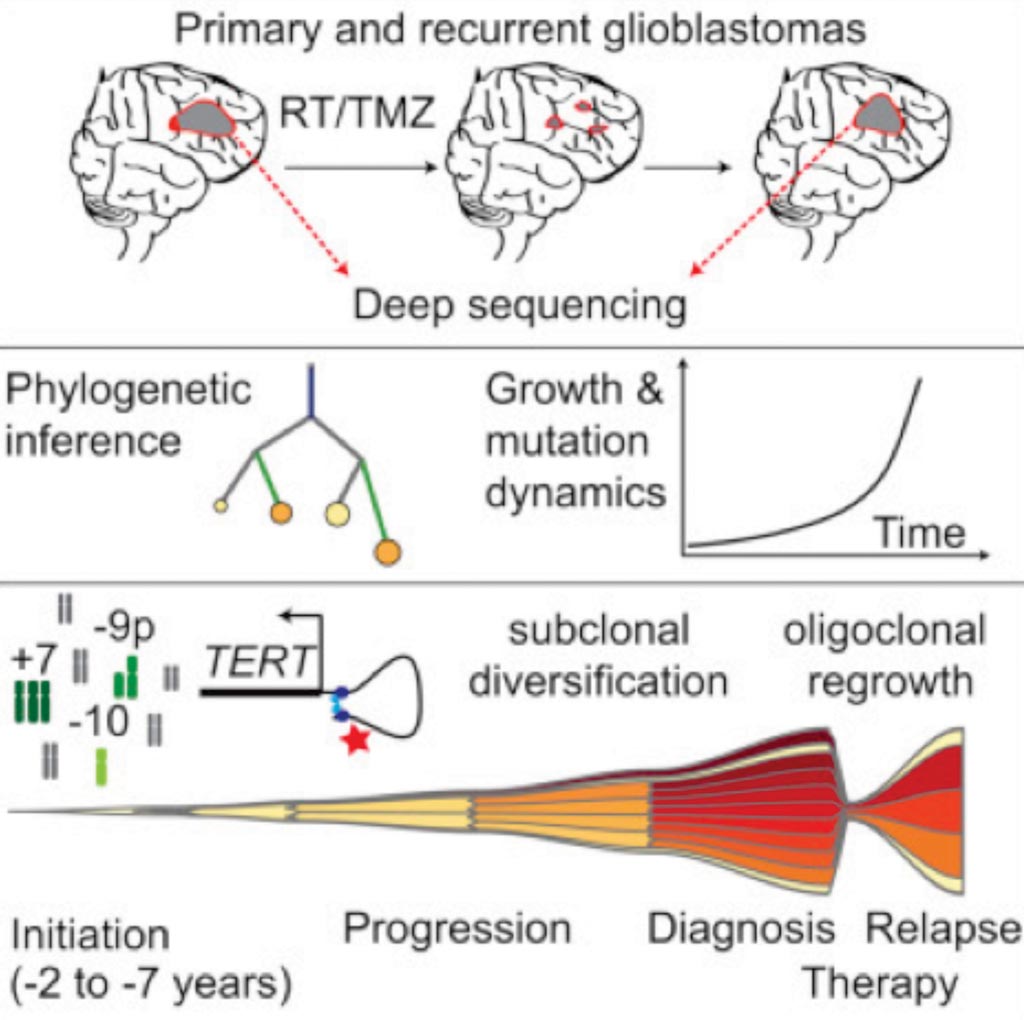 Scientists at the German Cancer Research Center (Heidelberg, Germany) and their colleagues performed whole-genome sequencing on tumor-matched blood sample controls from 21 GBM patients, along with RNA sequencing on primary and recurrent tumor samples. They also considered pairs of primary and recurrent tumors from 43 patients with IDH-wild type GBM that were profiled with targeted sequencing on 50 glioma-related genes, and used Illumina BeadChip arrays to assess DNA methylation levels across tumor samples from both groups.
The team found that by integrating these molecular data in phylogenetic and tumor growth, mutation, and evolution modeling, they were able to track down apparent initiating mutations involving chromosome 7 gains or chromosome 9 and 10 losses that appeared an estimated two to seven years before the patients' GBM diagnoses, along with mutations affecting the telomerase reverse transcriptase (TERT) promoter that appeared to mark tumor transitions to a rapid growth phase.
The authors suggested that their findings imply that standard therapy exerted little selective pressure on most recurrent tumors since the vast majority of driver mutations were acquired prior to initial diagnosis and only few drivers were acquired after initial treatment. Relapsed tumors acquired no stereotypical pattern of mutations and typically regrew from oligoclonal origins, suggesting sparse selective pressure by therapeutic measures. The study was published on March 21, 2019, in the journal Cancer Cell.
Related Links:
German Cancer Research Center