Blood Test Improves Detection of Severe Transplant Rejection
By Labmedica International staff writers
Posted on 04 Feb 2019
Lung transplant recipients have the shortest survival rates among patients who get solid organ transplantation of any kind as only about half live past five years. Lung transplant recipients face a high incidence of chronic rejection, which occurs when the body's immune system attacks the transplanted organ.
Existing tools for detecting signs of rejection, such as biopsy, either require the removal of small amounts of lung tissue or are not sensitive enough to discern the severity of the rejection. Scientists have developed a simple blood test that can detect when a newly transplanted lung is being rejected by a patient, even when no outward signs of the rejection are evident.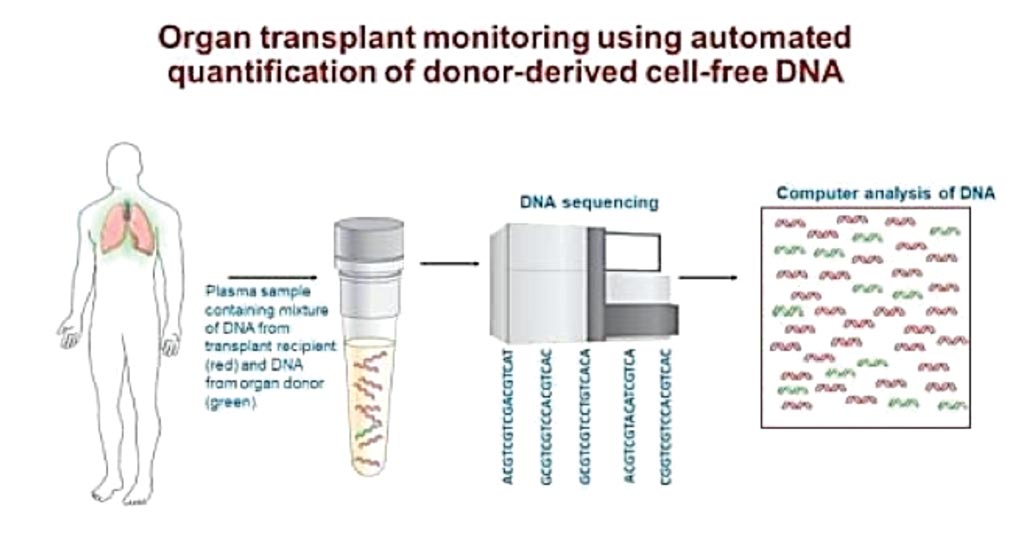 A large team of scientists working with the National Heart, Lung and Blood Institute (Bethesda, MD, USA) enrolled and monitored 106 lung transplant recipients. Blood samples collected in the first three months after transplantation underwent the testing procedure. Genomic DNA isolated from donor and recipient pre-transplant blood was genotyped, and the data for the two samples were compared to identify single-nucleotide polymorphisms (SNPs). Following the transplant, cell-free DNA (cfDNA) was isolated from plasma samples to generate a DNA library for shotgun sequencing. The cfDNA sequence reads were then surveyed for the presence of donor and recipient SNPs and % of donor-derived cell-free DNA (ddcfDNA) was calculated as the percentage of donor SNPs to total (recipient and donor) SNPs.
The results showed that those with higher levels of the donor-derived DNA fragments (ddcfDNA) in the first three months of transplantation were six times more likely to subsequently develop transplant organ failure or die during the study follow-up period than those with lower donor-derived DNA levels. The team found that more than half of the high-risk subjects showed no outward signs of clinical complications during this period. The authors concluded that lung transplant patients with early unresolving allograft injury measured via %ddcfDNA are at risk of subsequent allograft injury, which is often clinically silent, and progresses to allograft failure.
Hannah Valantine, MD, a professor of cardiovascular medicine and a co-leader of the study, said, "We showed for the first time that donor-derived DNA is a predictive marker for chronic lung rejection and death, and could provide critical time-points to intervene, perhaps preventing these outcomes. Once rejection is detected early via this test, doctors would then have the option to increase the dosages of anti-rejection drugs, add new agents that reduce tissue inflammation, or take other measures to prevent or slow the progression." The study was published on January 26, 2019, in the journal EBioMedicine.
Related Links:
National Heart, Lung and Blood Institute