Genetic Test Helps Patients Avoid Unnecessary Thyroid Surgery
By Labmedica International staff writers
Posted on 19 Nov 2018
A genetic test has been developed that can help avoid costly diagnostic surgery that involves removing one or both lobes of the thyroid gland, by reliably distinguishing between benign and cancerous thyroid nodules using a very small sample of cells.
Thyroid nodules are common, and approximately 600,000 patients with nodules undergo a fine needle aspiration (FNA) biopsy every year, where cells are extracted from the nodule and examined to determine whether it is benign or cancerous. While the biopsy test is mostly accurate, it returns an indeterminate finding in approximately one-in-four to -five cases, which forces patients to undergo either a repeat FNA, or diagnostic surgery where at least half of the patients' thyroid is removed for further assessment.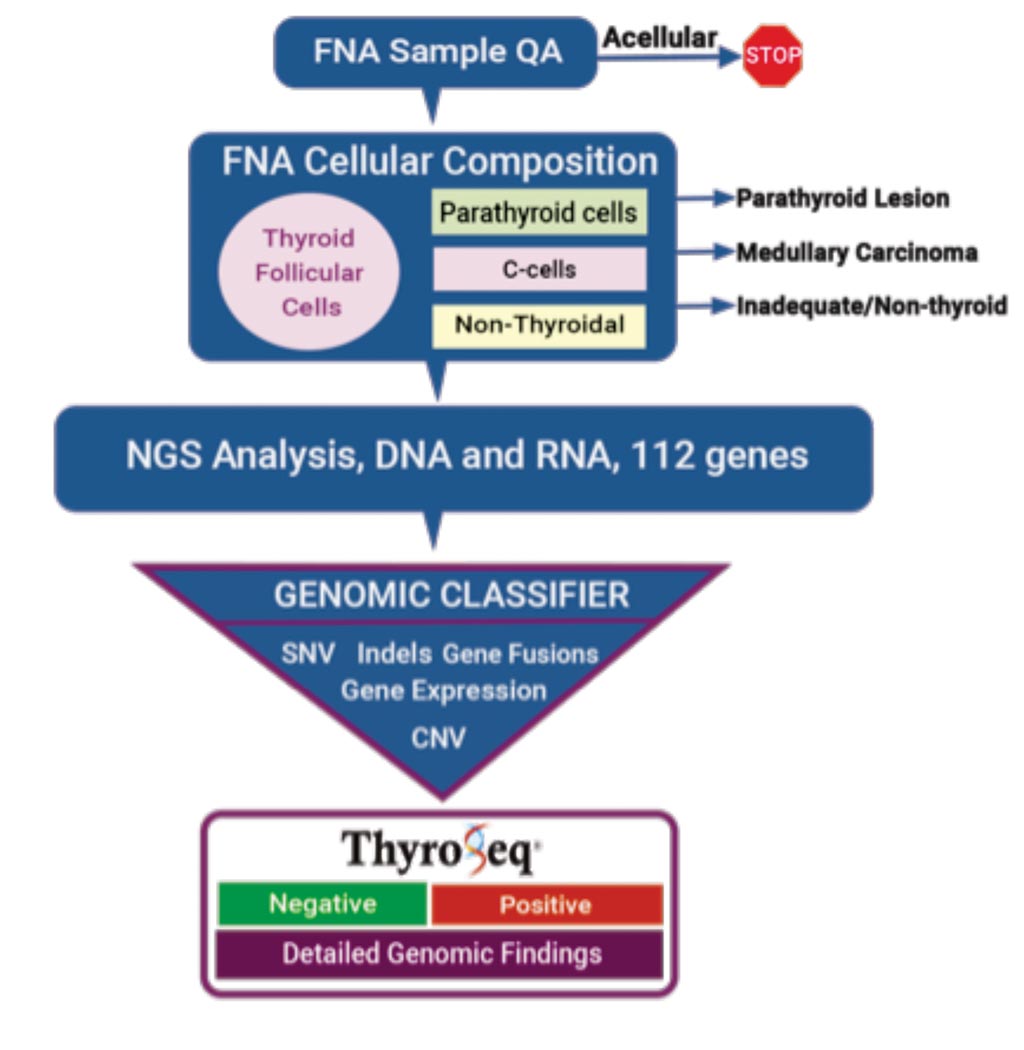 A large team of scientists collaborating with the University of Pittsburgh School of Medicine (Pittsburgh, PA, USA) carried out a prospective cohort study and recruited 782 patients with 1,013 thyroid nodules clinically evaluated at 10 sites, nine in the USA and one in Singapore, between January 2015 and December 2016. Fine-needle aspiration (FNAs) samples were collected for molecular analysis by either rinsing the residual material in the aspiration needle from all passes or collecting a dedicated pass into a preservative solution tube.
The team used the ThyroSeq v3 Genomic Classifier (GC) (ThyroSeq, Oakland, PA, USA) which is a targeted next-generation sequencing test that interrogates selected regions of 112 thyroid cancer-related genes for point mutations, insertions/deletions, gene fusions, copy number alterations, or gene expression alterations. The test is designed to diagnose all types of thyroid cancer, including Hurthle cell cancer, as well as medullary carcinoma and parathyroid lesions. The genomic classifier was applied to assign a value to each detected genetic alteration based on the strength of association with malignancy: 0 (no association with cancer), 1 (low cancer probability), or 2 (high cancer probability).
The team reported that of the 286 cytological indeterminate nodules, 206 (72%) were benign, 69 (24%) malignant, and 11 (4%) noninvasive follicular thyroid neoplasms with papillary-like nuclei (NIFTP). A total of 257 (90%) nodules (154 Bethesda III, 93 Bethesda IV, and 10 Bethesda V) had informative GC analysis, with 61% classified as negative and 39% as positive. In Bethesda III and IV nodules combined, the test demonstrated 94% sensitivity and 82% specificity. The observed 3% false-negative rate was similar to that of benign cytology, and the missed cancers were all low-risk tumors. Among nodules testing positive, specific groups of genetic alterations had cancer probabilities varying from 59% to 100%.
David Steward, MD, a professor of otolaryngology and first author of the study, said, "Beyond simply differentiating benign and malignant nodules, the study shows that ThyroSeq also provides a detailed genetic profile of the positive nodules. Since thyroid cancer is known to progress differently based on the mutation involved, ThyroSeq potentially allows physicians to employ a precision medicine approach, modifying treatment for each patient based on the mutations present." The study was published on November 8, 2018, in the journal JAMA Oncology.
Related Links:
University of Pittsburgh School of Medicine
ThyroSeq