Liquid Biopsy Identifies Chronic Liver Diseases
By Labmedica International staff writers
Posted on 03 Oct 2018
A recently developed liquid biopsy cell-sorting device was able to detect circulating epithelial cells of hepatocyte origin in blood from healthy individuals, patients with chronic liver disease without hepatocellular cancer (HCC), and those with HCC.
A cell-sorting device had previously been developed to isolate epithelial cells in the circulation (circulating epithelial cells, or CECs) from patient blood samples and combined it with a messenger RNA (mRNA) analysis system to identify CECs with liver-specific markers.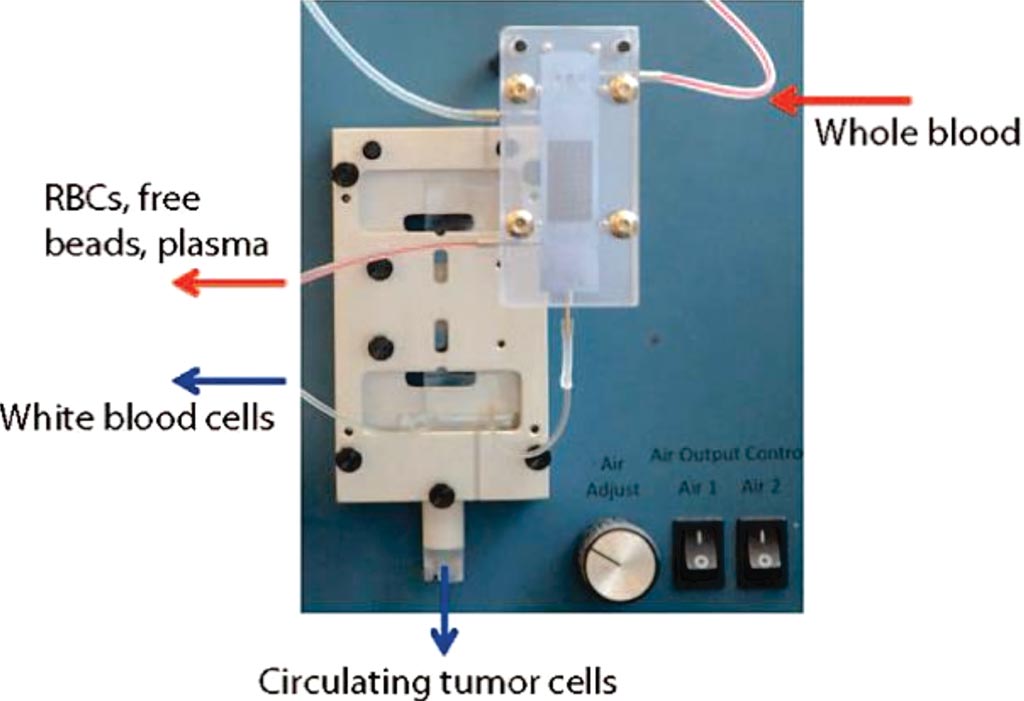 Scientists from Massachusetts General Hospital (Charlestown, MA, USA) and their colleagues obtained blood samples from 10 healthy donors, 39 patients with chronic liver disease (CLD) and no evidence of HCC, 54 patients with HCC, and 10 who underwent curative treatment for HCC with no evidence of disease. The team had developed an antigen-agnostic cell-sorting device, called the iChip, which isolates CECs while preserving cell viability and high-quality RNA content.
The procedure included RNA sequencing and immunofluorescent quantification with a threshold of five cells per 10 mL of whole blood. CECs presented in a similar proportion of patients with CLD (79%), those with HCC (81%) and those with no evidence of HCC after treatment (90%) in contrast to 5% in the healthy donors. Among patients with CLD, those with advanced fibrosis (stage 3 or 4) had a higher concentration of CECs compared with those without advanced fibrosis (5.1 versus 0.7 cells/mL). In a subanalysis, the investigators found that liquid biopsy CEC detection could phenotypically differentiate underlying disease state in cases of chronic liver disease versus. HCC with a preliminary sensitivity of 85% at a specificity of 95%.
The authors concluded that the novel detection of cells from diseased livers circulating in the bloodstream both by immunofluorescence and RNA-sequencing have the potential to use these cells as biomarkers. Important applications of this liquid biopsy may include CLD etiology determination, fibrosis staging, and HCC surveillance. Further study of CECs could open a new field of biomarker development leading to a spectrum of non-invasive diagnosis and monitoring techniques for patients with liver disease. The study was published on September 12, 2018, in the journal Gastroenterology.
Related Links:
Massachusetts General Hospital