Urine Test Accurately Detects Bladder Cancer Recurrence
By Labmedica International staff writers
Posted on 10 Aug 2018
Urinary tests have been studied for the detection of bladder tumors; however, most of these tests have not been implemented in clinical practice because of cost issues, practical aspects, or insufficient sensitivity or specificity as compared to the gold standard.
Bladder cancer, which ranks fifth among the most frequently diagnosed cancers in the EU, has a high disease recurrence rate, some 70%, requiring frequent follow-ups. The standard follow-up procedure includes a cystoscopy, and this procedure is coupled with a urine analysis to inspect for cancerous cells and, if needed, a biopsy of the suspect area.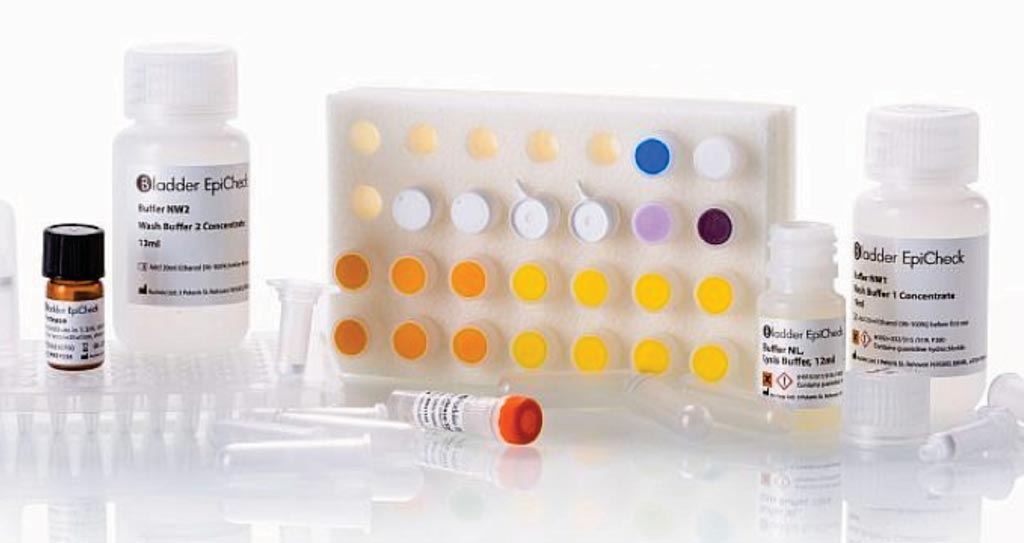 Scientists at the Radboud University Nijmegen Medical Center (Nijmegen, The Netherlands) and their European colleagues performed a single-arm, prospective, double-blind clinical study was in five leading urology centers in Europe on 440 patients who were recruited in their first year of follow-up. Results for cystoscopy and cytology were noted, and if a lesion was detected, the date and result of histological confirmation were recorded.
The team collected a urine sample for the Bladder EpiCheck test (Nucleix, Rehovot, Israel) – a urine test developed to monitor recurrence of bladder cancer according to 15 DNA methylation biomarkers. The test was performed on ≥10 ml of urine and processed within five days in a central laboratory. Processing includes centrifugation to separate the cell pellet, from which DNA is extracted. The extracted DNA is digested using a methylation-sensitive restriction enzyme that cleaves DNA at recognition sequences if it is unmethylated, while leaving methylated sequences intact. Digested DNA is then amplified via real-time polymerase chain reaction with locus-specific primers and probes (eight wells per sample), and the resulting data are analyzed using the Bladder EpiCheck software.
Out of 440 patients recruited, 353 were eligible for the performance analysis. Overall sensitivity, specificity, negative predictive value (NPV), and positive predictive value were 68.2%, 88.0%, 95.1%, and 44.8%, respectively. Excluding low-grade (LG) Ta recurrences, the sensitivity was 91.7% and NPV was 99.3%. The area under receiver operating characteristic (ROC) curves with and without LG Ta lesions was 0.82 and 0.94, respectively. For the 403 patients with a Bladder EpiCheck result, 320 samples (81.1%) were negative and 83 (18.9%) were positive; the mean EpiScore was 31.2 ± 26.6.
Opher Shapira, PhD, the CEO of Nucleix Ltd, said, "With bladder cancer the problem is not early detection since it usually has signs like blood in the urine. The main problem is monitoring for recurrence of the cancer, because it is a highly recurrent disease. The standard procedures for monitoring causes repeated discomfort in patients and are very costly to the health system. The results of the test mean that physicians who prescribe our urine test for patients and get a no-cancer result back from the laboratory can be assured their patients do not have high grade tumors." The study was published on July 15, 2018, in the journal European Urology Oncology.
Related Links:
Radboud University Nijmegen Medical Center

Nucleix