Tissue-Imaging Technology Enables Real-Time Diagnostics
By Labmedica International staff writers
Posted on 04 Jul 2018
A new microscope system can image living tissue in real time and in molecular detail, without any chemicals or dyes. The system is called simultaneous label-free autofluorescence multi-harmonic microscopy (SLAM).
The system uses precisely tailored pulses of light to simultaneously image with multiple wavelengths. This enables scientists to study concurrent processes within cells and tissue, and could give those studying cancer a new tool for tracking tumor progression and physicians new technology for tissue pathology and diagnostics.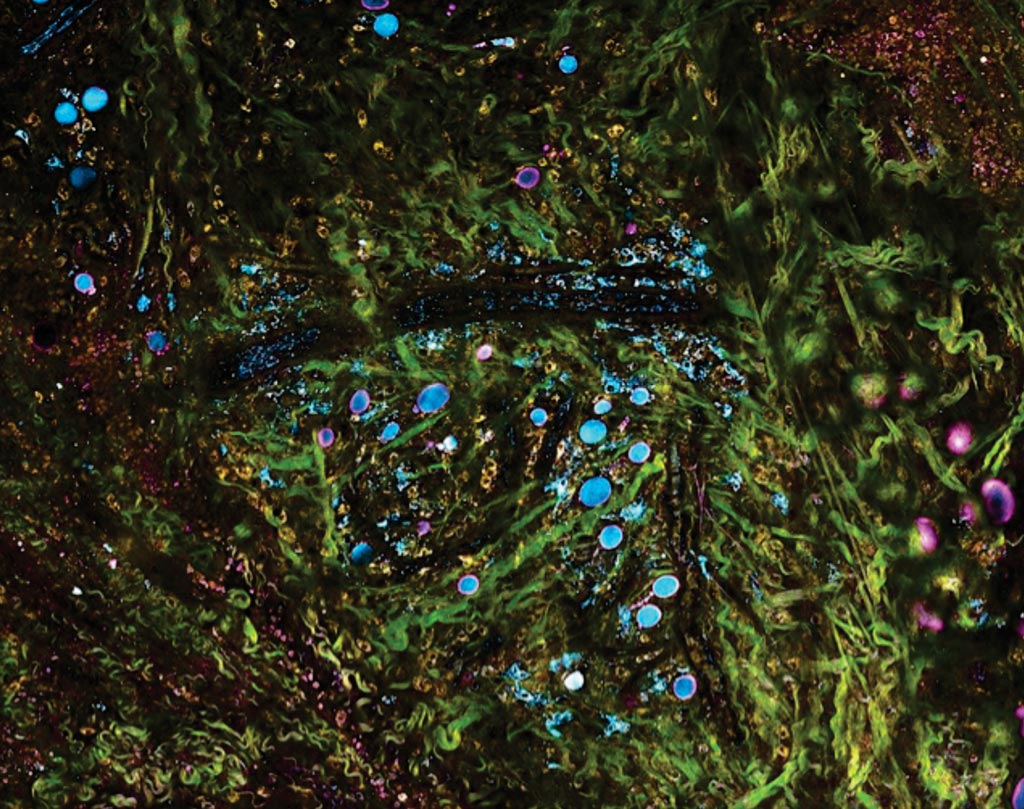 Scientists at the University of Illinois at Urbana-Champaign, Urbana, IL, USA) designed an optical imaging platform that performs simultaneous label-free autofluorescence-multiharmonic (SLAM) microscopy, featuring fast epi-detection of nicotinamide adenine dinucleotide (NADH) from three-photon autofluorescence (3PAF) and simultaneous, and efficient acquisition of autofluorescence (FAD) from two-photon autofluorescence (2PAF), combined with non-centrosymmetric structures from second-harmonic generation (SHG) and interfacial features from third-harmonic generation (THG).
The team saw that the cells near the mammary tumors in rats had differences in metabolism and morphology, indicating that the cells had been recruited by the cancer. In addition, they observed surrounding tissues creating infrastructure to support the tumor, such as collagen and blood vessels. They also saw communication between the tumor cells and the surrounding cells in the form of vesicles, tiny transport packages released by cells and absorbed by other cells. The authors concluded that they had demonstrated the versatility and efficiency of SLAM microscopy for tracking cellular events in vivo, and are a major enabling advance in label-free intravital microscopy (IVM).
Stephen A. Boppart, MD, PhD, a professor and head of the Biophotonics Imaging Laboratory, and senior author of the study, said, "With advances in microscopy techniques such as ours, we hope to change the way we detect, visualize and monitor diseases that will lead to better diagnosis, treatments and outcomes." The study was published on May 29, 2018, in the journal Nature Communications.
Related Links:
University of Illinois at Urbana-Champaign