Hormone Levels Alter CVD Risk in Older Women
By Labmedica International staff writers
Posted on 13 Jun 2018
Higher androgen and lower estrogen levels are associated with cardiovascular disease (CVD) risk factors in women; however, studies on sex hormones and incident CVD events in women have yielded conflicting results.
Studies have shown that, prior to menopause, women have lower heart disease rates than men, and because estrogen levels drop sharply after menopause, physicians once thought that replacing estrogen would reduce cardiovascular disease risk. Other studies have shown replacement female hormones were not necessarily protective and could possibly raise the risk of strokes, blood clots and heart disease.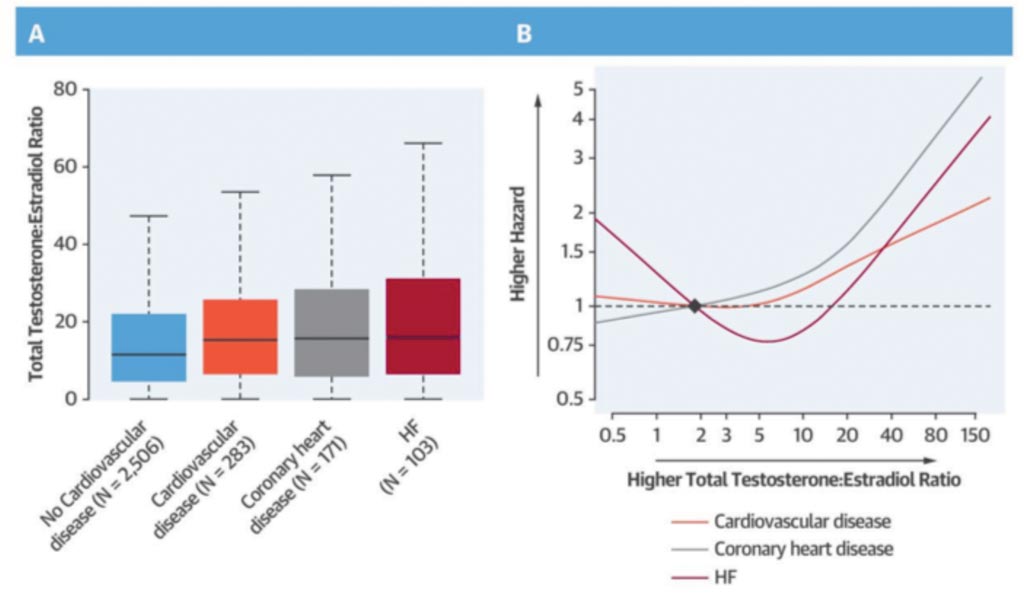 A team of scientists working with Johns Hopkins Medicine (Baltimore, MD, USA) analyzed data from 2,834 postmenopausal women who had participated in the federally funded Multi-Ethnic Study of Atherosclerosis (MESA). Participants were a mean age of 65 at the start of the study, and 38% white, 28% African-American, 22% Hispanic and 12% Chinese-American. At an initial visit that took place between 2000 and 2002, scientists took blood samples and measured levels of testosterone and estradiol.
Over 12 years of follow up, the women had 283 instances of cardiovascular disease, including 171 instances of coronary heart disease and heart attacks, 88 strokes and 103 instances of heart failure as determined by medical records, hospitalizations, telephone interviews and death certificates. When team compared testosterone and estradiol levels to instances of heart and cardiovascular diseases, they found, in general, that higher testosterone was associated with increased risk and higher estradiol levels with lower risk. For every standardized unit increase in the ratio of testosterone to estrogen, there was a 19% increase in cardiovascular disease risk, a 45% increase in coronary heart disease risk and a 31% increase in heart failure risk.
Erin D. Michos, MD, MHS, associate professor of medicine and a senior author of the study, said, "A woman's sex hormone levels and ratios of them isn't something that physicians regularly check. Because an imbalance in the proportion of testosterone (the main male sex hormone) to estrogen (the main female sex hormone) may affect heart disease risk, physicians may want to think about adding hormone tests to the toolbox of screenable risk factors, like blood pressure or cholesterol, to identify women who may be at higher risk of heart or vascular disease." The study was published in the June 2018 issue of the Journal of the American College of Cardiology.
Related Links:
Johns Hopkins Medicine