Cell Block Prep Method Modified for Molecular Studies
By Labmedica International staff writers
Posted on 15 May 2018
Biomarker testing is currently required to guide the selection of a growing number of targeted therapies in patients with a wide range of malignancies. Combined with increasing use of immunostaining for tumor diagnosis, this has substantially increased the demand for the amount of tissue in small specimens.
Recently, next-generation sequencing platforms have entered clinical practice. These platforms afford the ability to consolidate testing of multiple genes and types of alterations into a single platform; however, some next-generation sequencing platforms require substantially larger DNA input than standard molecular methods. For cytology specimens to remain a viable diagnostic modality in the era of personalized medicine, it is crucial for those specimens to consistently provide sufficient material for diagnostic and predictive ancillary studies.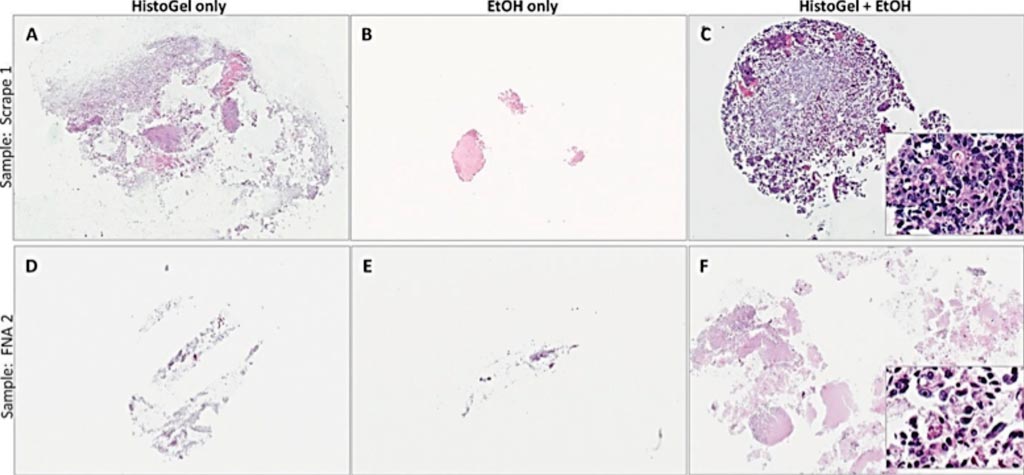 Pathologists from Memorial Sloan Kettering Cancer Center (New York, NY, USA) tested multiple modifications of the cell block preparation protocol to identify a method with the greatest cell capture using split fine-needle aspirations (FNAs) and scrapes from fresh, surgically resected tumors (ex vivo samples). Ex vivo FNAs were prepared using a 25-gauge needle, and scrapes were prepared by gently scraping the cut surface of a tumor with a surgical blade. The team developed an improved HistoGel)-based cell block preparation method. Cellularity yield with the new versus the standard method was assessed in ex vivo split samples and in consecutive clinical fine-needle aspirates processed before and after.
The scientists reported that the key modification in the new method was pretreatment of the pelleted cells with 95% ethanol before the addition of HistoGel (HistoGel + ethanol method). In addition, they optimized the melting conditions of HistoGel and added a dark, inorganic marker to the cell pellets to highlight the desired level of sectioning during microtomy. Cell blocks from ex vivo split samples showed that the HistoGel + ethanol method yielded, on average, an 8.3-fold (range, 1–20) greater cellularity compared with the standard HistoGel-only method. After the switch from the standard HistoGel method to the modified method in their clinical practice, sufficiency of positive fine-needle aspirates for some molecular studies increased from 72% to 97%.
The authors concluded that a modification of the HistoGel-based cell block preparation method that leads to substantial improvement in cell recovery from FNA needle rinses compared with the standard HistoGel method. They showed the validation of this method both in ex vivo split samples and in routine clinical FNAs before and after the implementation of the new method in their laboratory. This protocol is simple and readily adoptable and leads to substantially increased sufficiency of FNA samples for molecular testing. The study was published in the April 2018 issue of the journal Archives of Pathology & Laboratory Medicine.
Related Links:
Memorial Sloan Kettering Cancer Center