Cancer Stem Cells Isolated Using Novel Method
By Labmedica International staff writers
Posted on 07 Mar 2018
Stem cells are in various tissues in the body, and unlike regular cells, which have a limited lifespan; they can divide and renew themselves for long periods of time. They are also unspecialized, meaning that when one of them divides, the resulting cells can transform into another cell type.
Similarly, cancer stem cells (CSCs), believed to reside at the heart of tumors, fueling their growth, are also thought to be unspecialized and able to self-renew until they transform into new cancer cells. Most effective treatments for primary tumors leave cancer stem cells unscathed. Even if a primary tumor is successfully treated, secondary tumors can appear years later and are often more aggressive and harder to treat.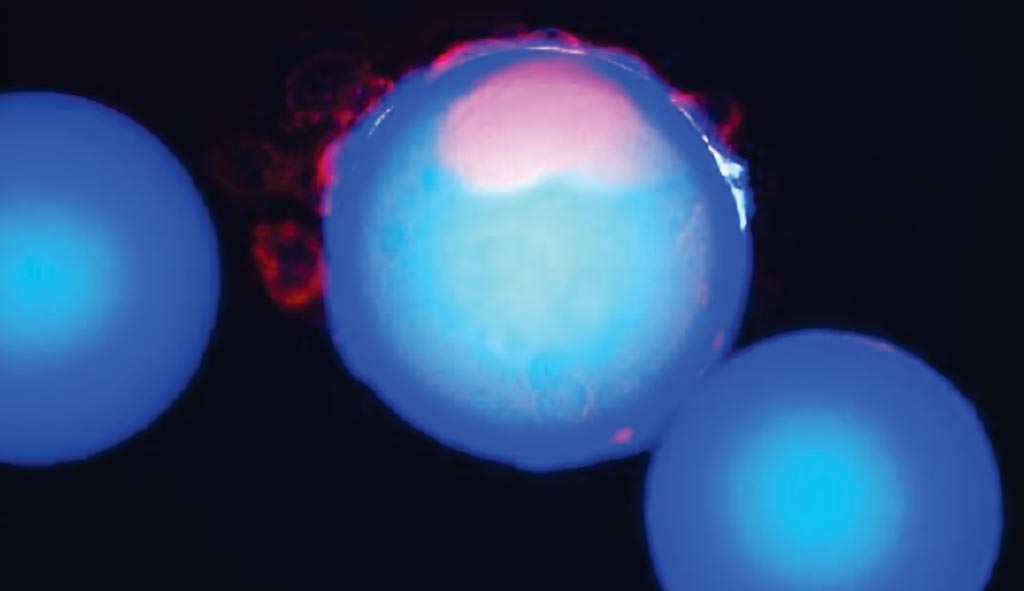 Scientists at the University of Texas at Dallas (Richardson, TX, USA) have devised a new technique to isolate aggressive cells thought to form the root of many hard-to-treat metastasized cancers, a significant step toward developing new drugs that might target these cells. The team used a two-step process to sort through a library of 40,000 chemical compounds, looking for any that would selectively bind to breast cancer stem cells, isolating them from standard breast cancer cells.
The screening process identified five compounds, called ligands that bind specifically to cancer stem cells and the investigators selected one of them for closer study. They incubated a mixture of both breast cancer stem cells and non-stem cancer cells together with 40,000 tiny plastic beads, each coated with multiple copies of this one ligand. The synthetic ligand (1) that specifically binds to CSCs over non-CSCs of breast cancer cells was identified for the first time via a cell-binding screening of a chemical library. The ligand 1 showed specific binding to CD24−/CD44+/ALDH+ CSC population of MCF-7 and MDA-MB-231.
The team demonstrated that 1-immobilized beads can be used as matrices for affinity isolation of 1-binding CSC population from breast cancer cells. The 1-binding population showed significantly increased expressions of stemness-associated transcription factors. Importantly, the 1-binding population demonstrated accelerated tumor growth in vivo, and the resulting tumor displayed an increased migratory activity and high expressions of CSC markers.
Jiyong Lee, PhD, an assistant professor and lead investigator, said, "We have approached this problem in a novel way, and for the first time have isolated a ligand that binds specifically to cancer stem cells." The study was published on February 26, 2018, in the journal
Chemistry - A European Journal.