Bacteria Play Critical Role in Driving Colon Cancers
By Labmedica International staff writers
Posted on 13 Feb 2018
Patients with an inherited form of colon cancer harbor two bacterial species that collaborate to encourage development of the disease, and the same species have been found in people who develop a sporadic form of colon cancer.
A process has been elucidated in which these bacteria invade the protective mucus layer of the colon and collude to create a microenvironment, complete with nutrients and everything the bacteria need to survive, that induces chronic inflammation and subsequent DNA damage that supports tumor formation.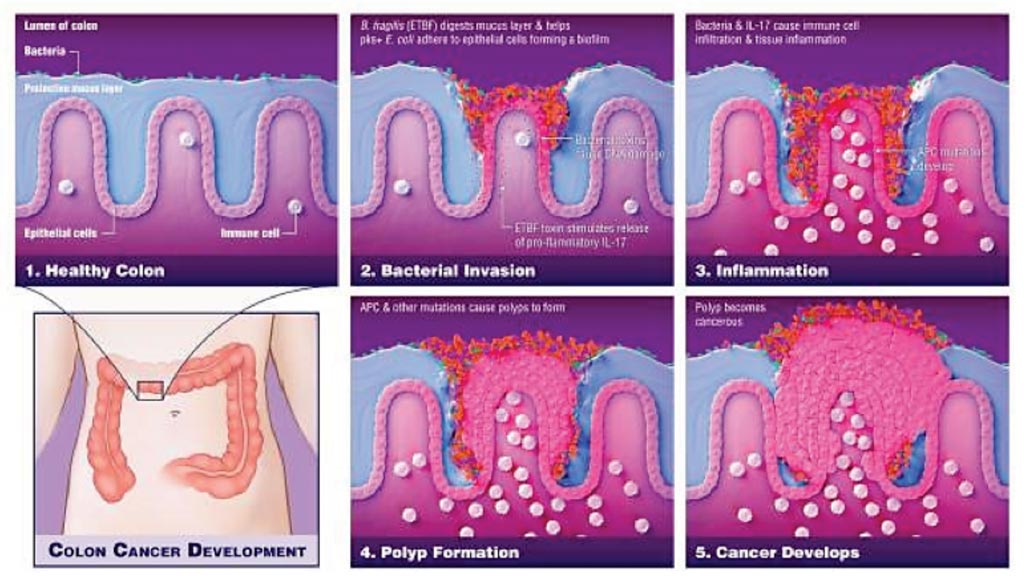 Scientists at Johns Hopkins Medicine (Baltimore, MD, USA) and their collaborators investigated the relationship between the bacteria-caused biofilms and cancer formation, by examining colon tissue removed from six familial adenomatous polyposis (FAP) patients. About 5% of colon cancers are caused by a hereditary syndrome FAP, in which an inherited mutation launches a series of genetic changes that develop over time and eventually prompt the epithelial cells to turn malignant.
The team identified patchy bacterial biofilms composed predominately of Escherichia coli and Bacteroides fragilis. Genes for colibactin (clbB) and Bacteroides fragilis toxin (bft), encoding secreted oncotoxins, were highly enriched in FAP patients' colonic mucosa compared to healthy individuals. Bacteroides fragilis and Escherichia coli, a surprising finding since the colon contains at least 500 different types of bacteria. Tests on 25 additional colon samples from FAP patients showed that the B. fragilis strain was a subtype, called ETBF, which makes a toxin that triggers certain oncogenic, or cancer-promoting, pathways in colon epithelial cells and causes colon inflammation.
The results revealed that ETBF's toxin spurs a cascade of events that promote colon inflammation that feeds back to act on the colon epithelial cells. First, the toxin triggers colon immune cells to produce interleukin-17 (IL-17). This inflammatory molecule then acts directly on the colon epithelial cells to trigger activation of a protein complex involved in promoting further inflammation, known as nuclear factor kappa-light-chain-enhancer of activated B cells (NFκB). NFκB in turn induces the colon epithelial cells to produce several signaling molecules that recruit more immune cells, called myeloid cells, to the colon.
In addition to IL-17, the studies showed that ETBF digested the mucus layer, enabling the polyketide synthases positive (pks+) E. coli to adhere in larger numbers to the colon mucosa where together the bacteria induced increased DNA damage, a step preceding the gene mutations that underlie colon tumor formation. The study was published on February 2, 2018, in the journal Science.
Related Links:
Johns Hopkins Medicine