Novel Microscope Scans Tumors and Examines Biopsies
By Labmedica International staff writers
Posted on 12 Jul 2017
Current pathology techniques involve processing and staining tissue samples, embedding them in wax blocks, slicing them thinly, mounting them on slides, staining them, and then viewing these two-dimensional tissue sections with traditional microscopes, which can take days.
Another technique to provide real-time information during surgeries involves freezing and slicing the tissue for quick viewing, but the quality of those images is inconsistent, and certain fatty tissues, such as those from the breast, do not freeze well enough to reliably use the technique.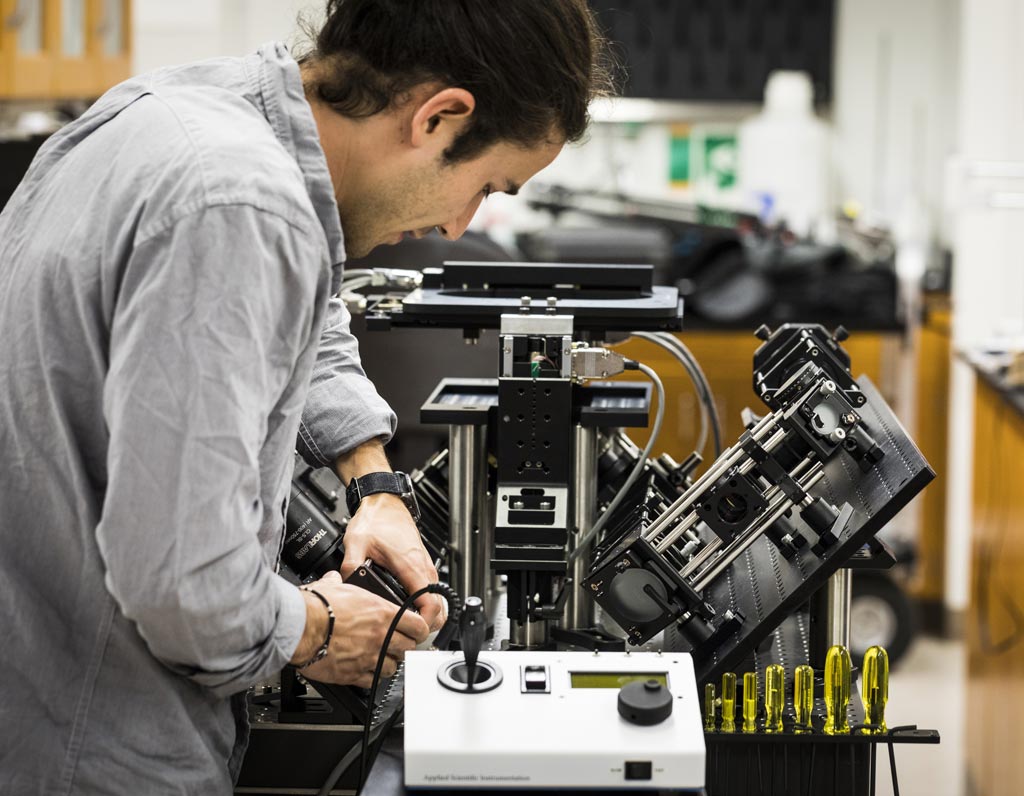 Bioengineers at the University of Washington (Seattle, WA, USA) have developed an innovative microscope that can rapidly and non-destructively image the margins of large fresh tissue specimens with the same level of detail as traditional pathology in no more than 30 minutes. The open-top light-sheet microscope was optimized for non-destructive slide-free pathology of clinical specimens enables the rapid imaging of intact tissues at high resolution over large 2D and 3D fields of view, with the same level of detail as traditional pathology.
The open-top light-sheet microscope uses a sheet of light to optically "slice" through and image a tissue sample without destroying any of it. All of the tissue is conserved for potential downstream molecular testing, which can yield additional valuable information about the nature of the cancer and lead to more effective treatment decisions. The microscope can both image large tissue surfaces at high resolution and stitch together thousands of two-dimensional images per second to quickly create a 3-D image of a surgical or biopsy specimen. That additional data could one day allow pathologists to more accurately and consistently diagnose and grade tumors. The team achieved these improvements by configuring various optical technologies in new ways and optimizing them for clinical use. Their open-top arrangement, which places all of the optics underneath a glass plate, allows them to image larger tissues than other microscopes.
Nicholas P. Reder, MD, MPH, chief resident and clinical research fellow of Pathology and co-author of the study, said, "The tools we use in pathology have changed little over the past century. This light-sheet microscope represents a major advance for pathology and cancer patients, allowing us to examine tissue in minutes rather than days and to view it in three dimensions instead of two, which will ultimately lead to improved clinical care." The study was published on June 26, 2017, in the journal Nature Biomedical Engineering.
Related Links:
University of Washington