Simple Blood Test Could Predict Alzheimer's Risk 20 Years Before Symptoms Appear
By LabMedica International staff writers
Posted on 09 Nov 2023
Dementia ranks as one of the top causes of mortality, and traditional methods for diagnosing Alzheimer's disease typically require invasive and costly procedures in hospitals, like lumbar punctures. These can be strenuous for individuals both physically and emotionally. Now, a simple, affordable, and non-invasive blood test could offer a way to predict the likelihood of someone developing Alzheimer's or multiple sclerosis (MS) decades before the onset of clinical symptoms.
Physicists from the Australian National University (Canberra, Australia) devised a method that employs a silicon dioxide membrane with microscopic pores, in conjunction with artificial intelligence (AI), to search for proteins in the blood. This approach aims to detect early signs of neurodegeneration by identifying specific biomarkers that could indicate the beginning stages of Alzheimer's. The process requires just a small blood sample and could deliver results almost immediately. This would make it possible for local clinicians to conduct the test, thereby eliminating the need for a hospital trip, which could be particularly beneficial for individuals in distant and rural communities.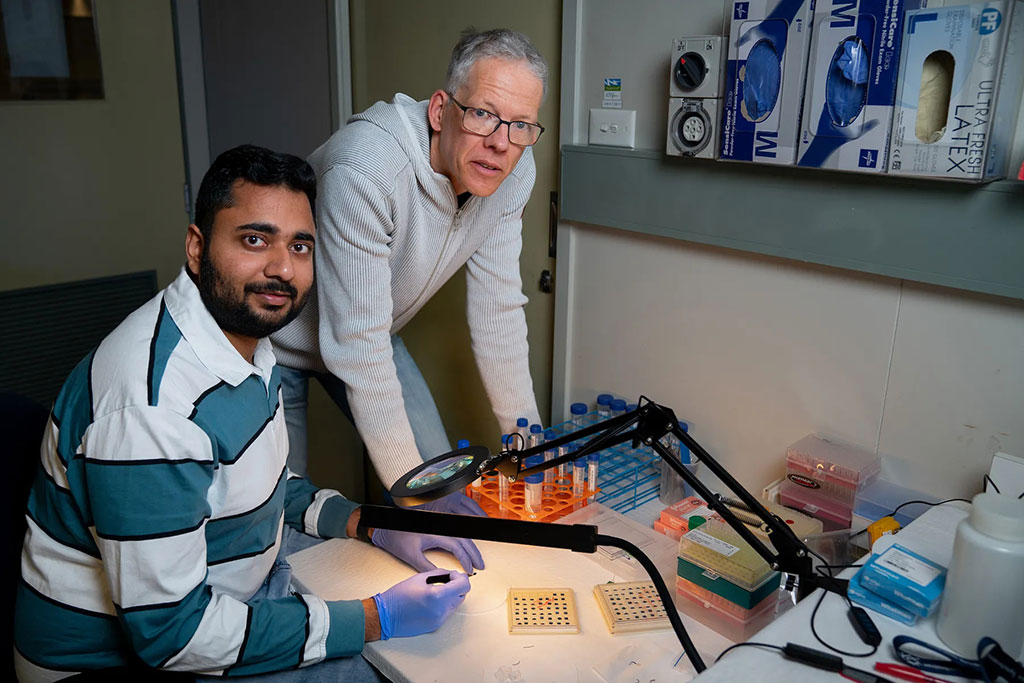 This innovative device is compact, similar in size to a smartphone, and incorporates a silicon chip with a membrane that separates chambers filled with a conducting solution containing the blood sample. When an electric current passes through the membrane, the passage of proteins through the nanopores causes momentary dips in the current. Highly time-resolved plots of the current dips reveal the unique signatures of each protein, which the AI system can then identify to pinpoint markers of illness. Since proteins are essential to life and hold specific information unique to each person, they can reveal vital insights into one's health, such as indications of brain cell deterioration.
Detecting proteins linked with early neurodegeneration in the blood is akin to finding a needle in a haystack. Thanks to its high throughput and the vast quantity of individual proteins passing through the pore, the device can locate these 'needle' biomarkers in the 'haystack' of blood. The membrane, despite its slim profile, is durable. Its heightened sensitivity is key to detecting low concentrations of proteins, which is essential because only small amounts of neural proteins traverse the blood-brain barrier to appear in blood samples. The AI used in this process is versatile, designed to simultaneously screen for a variety of neurological conditions, including Parkinson's disease, multiple sclerosis, and amyotrophic lateral sclerosis (ALS).
The research team is further improving the device's detection capabilities with an upgraded design featuring a conical nanopore set within a thicker membrane. In this upgraded model, proteins interact with the conical entrance, slowing down as they pass through. This interaction provides a more prolonged, detailed profile of the current dips. The researchers are also exploring new pore shapes such as double cones and funnels, built utilizing the Heavy Ion Accelerator Facility whose ion bombardment can be accurately controlled to create damage tracks that can generate a range of pore shapes after subsequent etching. While Alzheimer's remains incurable, early detection of the risk for Alzheimer's—up to twenty years before clinical symptoms arise—could substantially enhance patient health outcomes. The screening technique is expected to become available within the next five years.
"Instead of waiting for weeks for the result, a typical measurement would take about 15 minutes and results are available in nearly real time," said PhD researcher and co-author Shankar Dutt. "If that person can find out their risk level that far in advance, then it gives them plenty of time to start making positive lifestyle changes and adopt medication strategies that may help slow down the progression of the disease."
Related Links:
Australian National University