Blood Tests Can Detect Inflammatory Bowel Diseases Years before Diagnosis
By LabMedica International staff writers
Posted on 08 Nov 2023
Inflammatory bowel diseases (IBD), which include Crohn's disease and ulcerative colitis, are chronic conditions that lead to ongoing inflammation in the digestive tract. This results in discomfort and symptoms such as stomach pain and persistent diarrhea. Recognizing and managing these conditions early is crucial for better patient outcomes. Past assumptions held that most patients experienced symptoms approximately one year prior to being diagnosed. However, the presence of significant damage to the bowels at the time of diagnosis indicated that these diseases might have been developing for a much more extended period. Now, new research has revealed that certain signs of Crohn's disease can be identified through blood tests up to eight years before its diagnosis, and signs of ulcerative colitis can be detected up to three years prior.
This research, carried out by investigators at the Francis Crick Institute (London, UK) and Aalborg University (Copenhagen, Denmark), highlights that the onset of inflammatory bowel diseases occurs well before symptoms manifest. This discovery opens the possibility for healthcare providers to intervene preemptively or to start treatment at an earlier, potentially more effective stage. The researchers reached their findings by reviewing ten years of blood test results leading up to an IBD diagnosis. They noted variations in specific blood minerals, cell counts, and inflammation indicators, including fecal calprotectin—a marker released during bowel inflammation and currently used to decide if a person with gastrointestinal complaints should undergo more detailed examinations. These variations became noticeable up to eight years before Crohn's disease was diagnosed and three years before ulcerative colitis was diagnosed.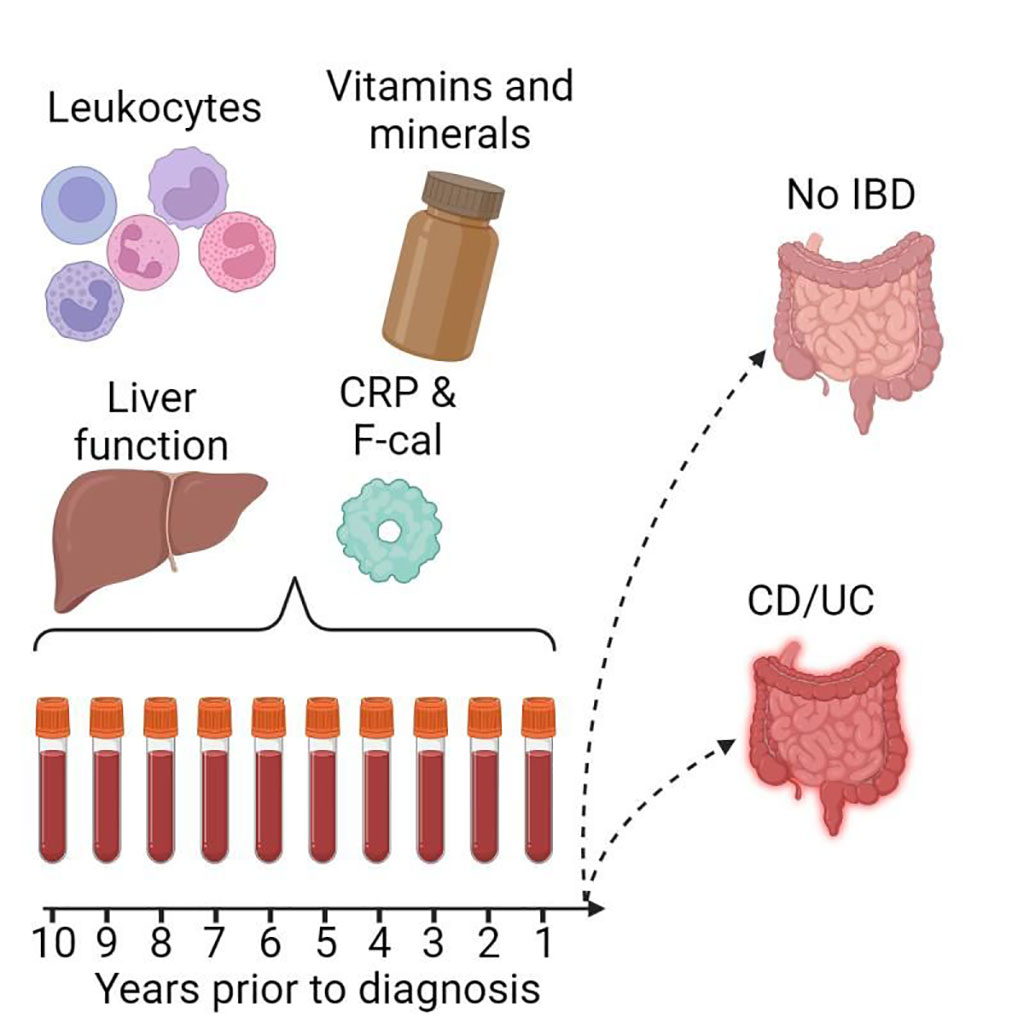 What's particularly noteworthy is that many of these changes were minor and fell within what would be considered normal ranges in standard blood tests, meaning they wouldn't typically trigger alarms for further action. It took a comprehensive analysis of a large volume of data to spot these subtle changes among various indicators. The researchers aim to delve further, exploring whether initiating treatment or preventive measures before symptoms appear could be beneficial, and examining whether these research insights could help predict who might develop IBD in the future.
"Our research shows that the bowel damage we're seeing at the point of diagnosis is just the tip of the iceberg. So many changes are subtly taking place in the body before the disease takes hold," said James Lee, Group Leader of the Genetic Mechanisms of Disease Laboratory at the Crick. "This has huge implications for prevention as it highlights that there's a window of opportunity for treatment."
"Our findings are novel and go hand-in-hand with emerging evidence that chronic inflammatory bowel diseases likely have their onset years prior to diagnosis," added Tine Jess, Director at the Center for Molecular Prediction of Inflammatory Bowel Disease, PREDICT, at Aalborg University.
Related Links:
Francis Crick Institute
Aalborg University