ELISAs Reliably Detect Anti-CCHFV Antibodies in Acute Infections
By LabMedica International staff writers
Posted on 19 Jan 2023
Crimean-Congo haemorrhagic fever (CCHF) is a life-threatening tick-borne viral disease included in the WHO priorities for research and product development for early diagnostics. EUROIMMUN (Lübeck, Germany), a PerkinElmer, Inc. (Waltham, MA; USA) company, has developed and subsequently evaluated ELISAs for the detection of specific IgM and IgG antibodies against the causative virus (CCHFV).
The EUROIMMUN Anti-CCHFV IgM and IgG ELISAs are based on recombinant viral nucleoprotein with the N-protein being the major target of the immune response. N-specific IgM is detectable after a median of 2-3 days after the onset of symptoms, followed by IgG 1-2 days later. The diagnostic performance of the novel commercial ELISAs was evaluated against established CE-marked tests. These were the EUROIMMUN CCHFV Mosaic 2 IgM and IgG indirect immunofluorescence assays (IFA), which served as reference tests, and IgM and IgG ELISAs from another manufacturer.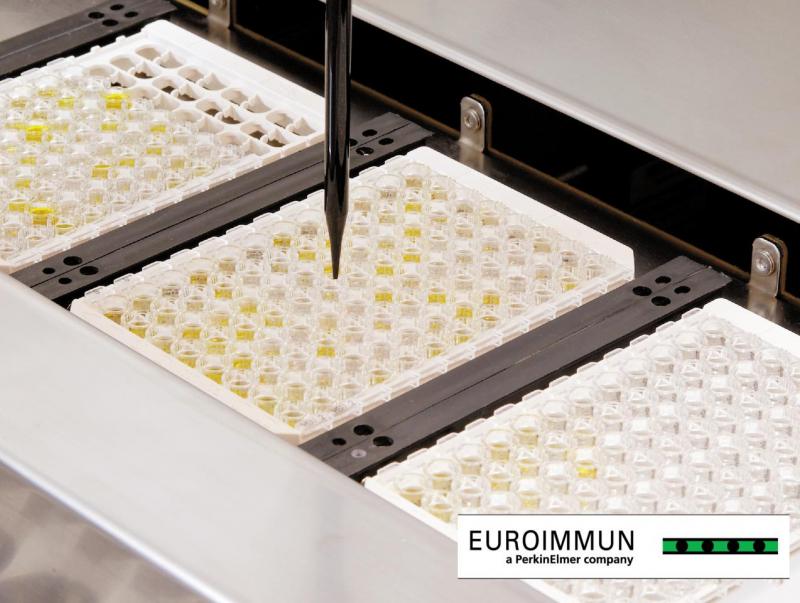 The EUROIMMUN Anti-CCHFV IgM and IgG ELISAs both yielded a higher sensitivity (IgM 98.0%, IgG 47.1%) than the other commercial ELISAs (IgM 95.9%, IgG 35.3%), as determined in 49 serum samples from patients with acute-phase CCHFV infection. The lower sensitivity of both IgG ELISAs compared to IFA could be attributed to varying antigen presentation between the two techniques and the study panel of acute-phase samples. However, the main value of IgG analysis is in disease monitoring and epidemiological surveillance. The EUROIMMUN IgG ELISA had previously demonstrated a sensitivity of 98.8% in patients with subsided CCHF.
The specificity of the EUROIMMUN IgM ELISA was slightly higher (86.4%) than that of the other ELISA (84.7%), as evaluated in 89 sera from control patients, healthy blood donors and patients with hantavirus or sandfly fever infections. For IgG, both assays demonstrated a specificity of 100%. The authors have summarized that the ELISAs from the two manufacturers showed a substantial qualitative agreement and a very strong positive correlation of quantitative results for both IgM and IgG. They concluded that the EUROIMMUN Anti-CCHFV ELISAs are standardised and easy-to-use tools that reliably support identification of acute CCHF cases.
The study was performed in a population in Türkiye, which has the highest number of laboratory-confirmed CCHF cases in the world. The endemic region of CCHFV encompasses countries in Africa, the Balkans, the Middle East and Asia that lie within the geographical habitat of the principal tick vector, namely ticks of the genus Hyalomma. Due to the non-availability of CCHF vaccine, the management of local outbreaks is dependent upon rapid identification of cases and appropriate infection control measures. Since ELISAs are less complex as compared to other serological methods, they are highly suitable for use in on-site laboratories involved in outbreak assistance.