Biomarkers Found for COVID-19 MIS-C Condition in Children
By LabMedica International staff writers
Posted on 13 Sep 2021
Multisystem Inflammatory Syndrome in Children (MIS-C) manifests as a severe and uncontrolled inflammatory response with multiorgan involvement, occurring weeks after SARSCoV-2 infection.
MIS-C disproportionately affects male children and children of Hispanic or Black descent. It manifests as a severe and uncontrolled inflammatory response with multiorgan involvement. A hyperinflammatory state is evidenced by clinical makers including high serum concentrations of C-reactive protein (CRP), ferritin, and D-dimers, and increased levels of pro-inflammatory cytokines.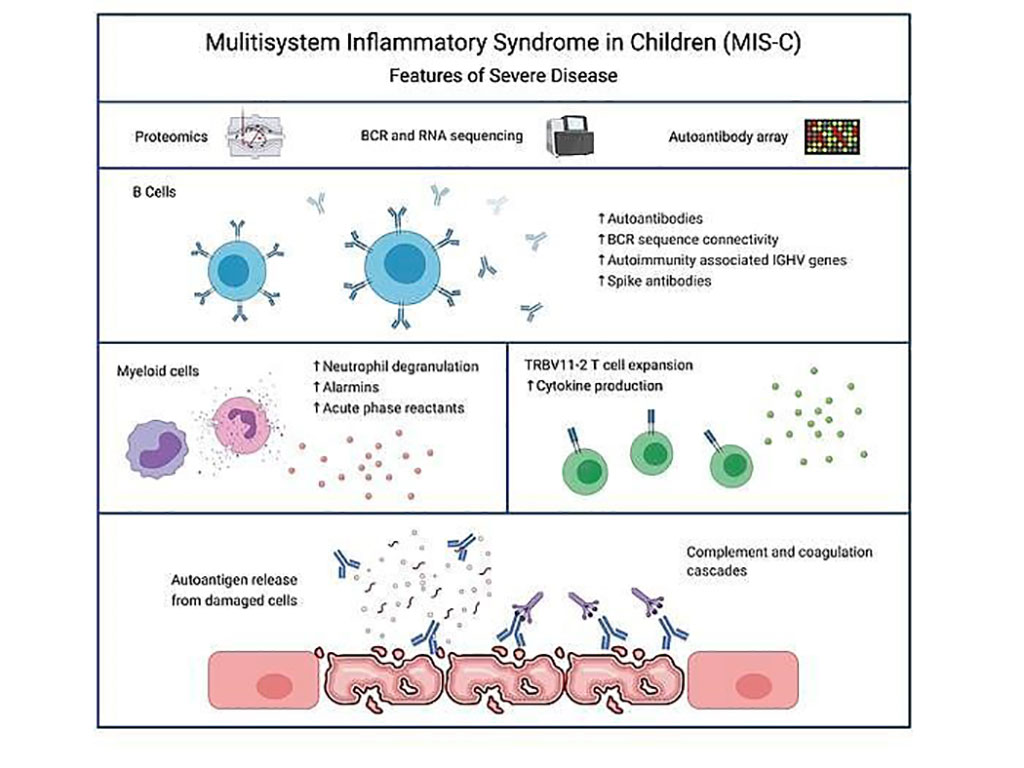 Pediatric Infectious Diseases specialists at the Cedars-Sinai Medical Center (Los Angeles, CA, USA) and their colleagues characterized and identified pathogenic pathways, proteins and signatures associated with MIS-C by multi-omics analysis, including proteomics, RNA-sequencing, autoantibody arrays and B cell receptor (BCR)-sequencing. Samples consisted of seven mild MIS-C, 20 severe MIS-C, seven Kawasaki disease (KD), 20 healthy control and 15 febrile control patients.
RNA-seq was performed using RNA isolated from whole blood. Library construction was performed using the SMARTer Stranded Total RNA-Seq Kit v3 – Pico Input Mammalian kit (Takara Bio USA, Inc., San Jose, CA, USA). Total RNA samples were assessed for concentration using a Qubit fluorometer (ThermoFisher Scientific, Waltham, MA, USA), and for quality using the 2100 Bioanalyzer (Agilent Technologies, Santa Clara, CA, USA). Autoantibody analysis was performed by using native HuProt™ arrays for IgG and IgA profiling of serum samples (CDI labs, Baltimore, MD, USA).
The scientists identified a strong autoimmune signature in MIS-C, with autoantibodies targeted to both ubiquitously expressed and tissue-specific antigens, suggesting autoantigen release and excessive antigenic drive may result from systemic tissue damage. They further identified a cluster of patients with enhanced neutrophil responses as well as high anti-spike IgG and autoantibody titers. BCR sequencing of these patients identified a strong imprint of antigenic drive with substantial BCR sequence connectivity and usage of autoimmunity associated immunoglobulin heavy chain variable region (IGHV) genes. This cluster was linked to a TRBV11-2 expanded T cell receptor (TCR) repertoire, consistent with previous studies indicating a superantigen-driven pathogenic process.
The authors concluded that their study furthers our understanding of the immunopathogenesis of MIS-C, particularly the autoimmune aspects of disease, and highlights pathogenic pathways that may act as targets for more directed therapeutic interventions. They identified B cell receptor profiles that are associated with hyperinflammation and autoimmune responses. They confirmed their previous finding that TRBV11-2 T cell expansion is linked to a more severe disease phenotype and demonstrate a link between TRBV11-2 expansion and a cluster of hyperinflammatory MIS-C patients with autoimmune signatures. Furthermore, they identified serum proteins with potential to act as biomarkers to predict severity of MIS-C. The study was published on August 26, 2021 in the
Journal of Clinical Investigation.
Related Links:

Cedars-Sinai Medical Center
Takara Bio USA
Thermo Fisher Scientific
Agilent Technologies
CDI labs