Liquid Biopsies Detect Pediatric Bone Tumors Based on Epigenetic Profiles
By LabMedica International staff writers
Posted on 17 Jun 2021
Sequencing of cell-free DNA (cfDNA) in the blood of cancer patients (liquid biopsy) provides attractive opportunities for early diagnosis, assessment of treatment response, and minimally invasive disease monitoring. As a consequence, cfDNA analysis holds great promise for precision oncology and personalized therapies, and is currently evaluated in a broad range of clinical studies.
Ewing sarcoma (EwS) constitutes an ideal model cancer for establishing and validating fragment-based liquid biopsy analysis for pediatric tumors. EwS has a unique epigenetic signature with established clinical associations, which constitutes a potential epigenetic marker for early diagnosis and tumor classification based on cfDNA. Moreover, EwS tumors have well-established genetic aberrations that can be used for comparison.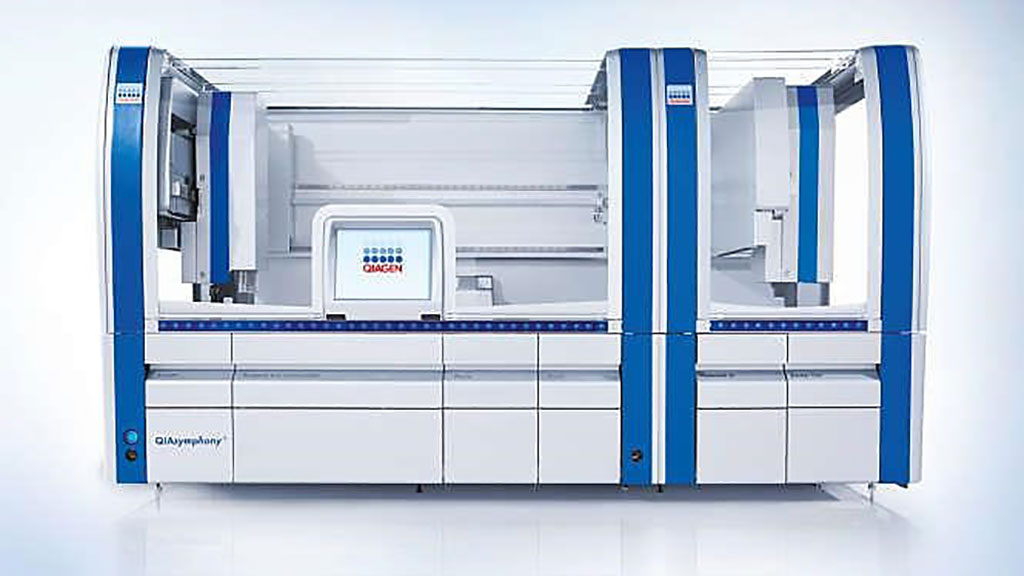 An international team led by scientists at the St. Anna Children's Cancer Research Institute (Vienna, Austria) and their colleagues included 200 plasma samples from 95 patients with EwS and 41 plasma samples from 31 patients with other types of sarcoma: EwS-like sarcoma (three patients, two of which were positive for the CIC-DUX4 fusion gene), osteosarcoma (eight patients), rhabdomyosarcoma (12 patients), synovial sarcoma (three patients), and other types of sarcoma (five patients). Plasma samples from 22 healthy individuals (24–50 years old) were used as controls.
cfDNA was isolated using the QIAsymphony Circulating DNA Kit with the QIAsymphony SP instrument or the QIAampMinElute cfDNA Kit (Qiagen, Hilden, Germany). Whole-genome sequencing libraries were generated from 10 ng of cfDNA. Final libraries were eluted in 20 µl nuclease-free water, quantified with the Qubit dsDNA HS Assay Kit (Thermo Fisher Scientific, Waltham, MA, USA). Patient-specific assays for fusion gene detection and quantification were designed following the guidelines from the Bio-Rad ddPCR (Bio-Rad, Hercules, CA, USA).
The team reported that after confirming that they could detect tumor-derived DNA in their cell-free DNA samples, they noted that the tumor-derived DNA tended to be shorter than the cell-free DNA found among healthy controls. These fragments were often about 167 base pairs in size, which corresponds to the length of DNA that wraps around a nucleosome plus linker DNA. These shorter tumor-derived DNA fragments were additionally found among patients for whom there were no detectable genetic changes. This suggested that fragmentation patterns could be used to identify tumor-derived DNA independent of genetic alterations.
The scientists further developed a tool they dubbed LIQUORICE, for liquid biopsy regions-of-interest coverage estimation, that overlays these genome-wide cell-free DNA fragment profiles atop a predetermined set of genomic regions where epigenetic changes often occur in the cancer type. In that way, it develops a consensus signature of fragment coverage in those regions. They additionally developed machine-learning classifiers to not only distinguish individuals with cancer from controls but also between different types of pediatric sarcoma, without relying on the recurrent genetic changes. When they tested their classifiers, they found they were highly sensitive.
The authors concluded that their study demonstrated how deep whole-genome sequencing of cfDNA enables comprehensive detection, classification, and monitoring of pediatric tumors based on their genetic and epigenetic profiles, thus providing a clinically relevant method for liquid biopsy analysis in cancers with few or no genetic alterations. The study was published on May 28,2021 in the journal
Nature Communications.
Related Links:

St. Anna Children's Cancer Research Institute
Qiagen
Thermo Fisher Scientific
Bio-Rad