Salivary Diagnostic Signatures of Concussion Found in Male Athletes
By LabMedica International staff writers
Posted on 05 Apr 2021
Sport-related concussion is defined as a traumatic brain injury induced by biomechanical forces that typically results in the rapid onset of short-lived impairment of neurological function that resolves spontaneously. A high percentage of cases may go misdiagnosed or unidentified.
The development and validation of objective diagnostic tools for concussion, both within traditional clinical settings and pitch side at sporting events are being studied. Several blood biomarkers have been intensively studied, including S100β, glial fibrillar acidic protein (GFAP), ubiquitin carboxy-terminal hydrolase L1 (UCH-L1), neuron-specific enolase (NSE), Tau, neurofilament light protein (NFL) and beta-amyloid protein.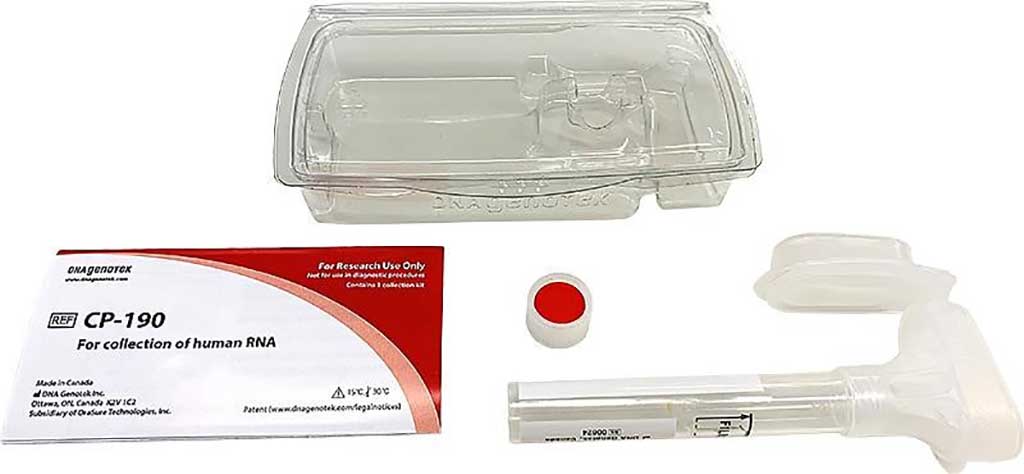 A team of medical scientists associated with the University of Birmingham (Birmingham, UK) obtained saliva from male professional players in the top two tiers of England's elite rugby union competition across two seasons (2017–2019). Samples were collected preseason from 1,028 players, and during standardized head injury assessments (HIAs) at three time points (in-game, post-game, and 36–48 hours post-game) from 156 of these. Samples were also collected from controls (102 uninjured players and 66 players sustaining a musculoskeletal injury).
Saliva was collected in by passive drool in Oragene-RNA RE-100 or CP-190 saliva self-collection kits (DNA Genotek, Ottawa, ON, Canada) containing an RNA stabilizing solution preserving the samples for up to eight weeks. Diagnostic small non-coding RNAs (sncRNAs) were identified with next generation sequencing and validated using quantitative PCR in 702 samples. A predictive logistic regression model was built on 2017–2018 data (training dataset) and prospectively validated the following season (test dataset). The amplification was performed in a LightCycler 480 RealTime PCR System (Roche Diagnostics, Rotkreuz, Switzerland) in 384 well plates.
The investigators reported that the head injury assessment (HIA) process confirmed concussion in 106 players (HIA+) and excluded this in 50 (HIA−). They found 32 small non-coding RNAs (sncRNAs) were significantly differentially expressed across these two groups, with let-7f-5p showing the highest area under the curve (AUC) at 36–48 hours. Additionally, a combined panel of 14 sncRNAs could differentiate concussed subjects from all other groups, including players who were HIA− and controls, immediately after the game (AUC 0.91) and 36–48 hours later (AUC 0.94). When prospectively tested, the panel confirmed high predictive accuracy (AUC 0.96) post-game and (AUC 0.93) at 36–48 hours.
The authors concluded that the detection of signatures of concussion at early time points in saliva (a non-invasively sampled biofluid) presents both at the pitch side, and in primary care and emergency medicine departments, an opportunity to develop a new and objective diagnostic tool for this common clinical presentation. In addition, sncRNAs may be an important tool in developing understanding of the pathophysiology of concussion. The study was published on March 23, 2021 in the journal British Journal of Sports Medicine.
Related Links:

University of Birmingham
DNA Genotek
Roche Diagnostics
Other channels