Methylated DNA Profiling Explored for Prenatal Testing Applications
By LabMedica International staff writers
Posted on 17 Nov 2020
A method for analyzing cell-free methylated DNA being developed for use in cancer liquid biopsy testing can potentially also be used for prenatal testing applications.
The method called, cell-free methylated DNA immunoprecipitation and high-throughput sequencing (cfMeDIP-seq), uses antibodies to pull out small quantities of methylated, circulating, cell-free DNA. The method avoids the chemical conversion and destructive nature of bisulfite sequencing, the gold-standard method for methylation profiling.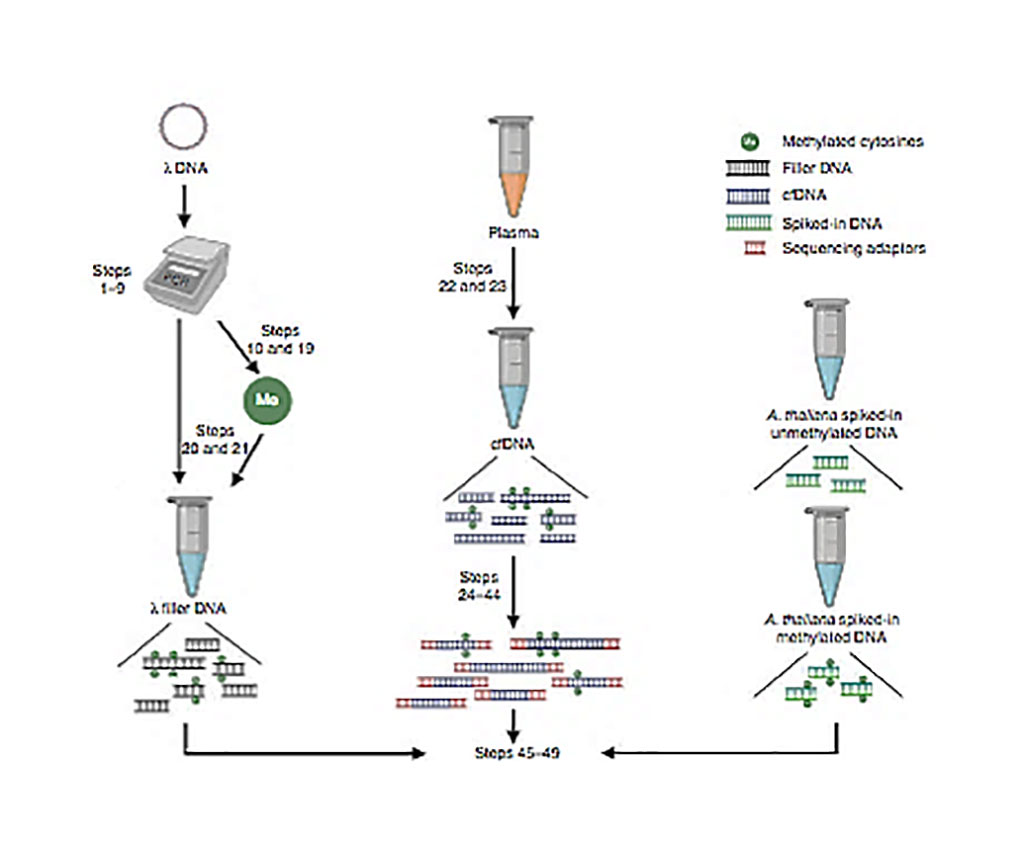 A team of scientists at Princess Margaret Cancer Centre (Toronto, ON, Canada) presented data on cfDNA from three maternal plasma samples taken between weeks 17 and 18 of gestation. Using principal component analysis, The team was able to separate placental from non-placental DNA, based on known placenta methylome regulators, including tumor suppressors, transposon silencing elements, and placenta imprinted regions. The team is in the process of collecting 300 patient samples representing preterm births and healthy controls.
Using cfMeDIP-seq and machine learning, the team hope to be able to predict subtypes of preterm birth, as well as early and late preeclampsia. In addition, using synthetic spike-in controls with unique molecular indices, the investigators were able to use generalized linear models to absolutely quantify cfDNA, allowing them to correct for enrichment and sequencing biases associated with fragment length, GC content, and CpG dinucleotide fraction within a fragment.
Samantha L. Wilson, PhD, a medical geneticist and the first author of the study, said., "In this study, we have looked at the chemical changes found between circulating DNA of healthy pregnancies and pregnancies involving premature birth. We have identified changes in DNA methylation that can determine pregnancies with a high risk of premature birth. Since the test only uses DNA in the mother's blood, we can do this with a noninvasive blood test with little additional risk to the pregnancy. This study resulted in a noninvasive blood test that can detect pregnancies with increased risk of premature delivery. Use of this test will lead to changes in pregnancy care to try to prevent premature birth."
Dr. Wilson, added "Currently we're sequencing everything, and it's expensive. If we find a machine learning model that is able to predict preterm birth or whatever pregnancy complication we're looking at, the next step is to reduce the dimensions in the data and create a panel that would be more cost effective for a healthcare setting." The study was presented at the American Society of Human Genetics 2020 virtual conference, held October 27-30, 2020.
Related Links:

Princess Margaret Cancer Centre
Other channels