Increased Membrane Glycoprotein Level Predicts Lung Cancer Metastasis
By LabMedica International staff writers
Posted on 25 Mar 2020
A protein found in extracellular vesicles (Evs) shed by lung cancer cells was found to be an effective, relatively noninvasive biomarker for the early detection of lung cancer metastasis and could shape the direction of therapeutic decisions.
EVs, which include exosomes, microvesicles, and apoptotic bodies, are cell-derived lipid-bilayer-enclosed structures, with sizes ranging from 30 to 5,000 nanometers. The vesicles, which contain RNA, proteins, lipids, and metabolites that are reflective of the cell type of origin, are either released from the cell when multivesicular bodies (MVBs) fuse with the plasma membrane, or they are released directly from the plasma membrane. In the past decade, EVs have emerged as important mediators of cell communication because they serve as vehicles for the intercellular transmission of biological signals (proteins or nucleic acids) capable of altering cell function and physiology.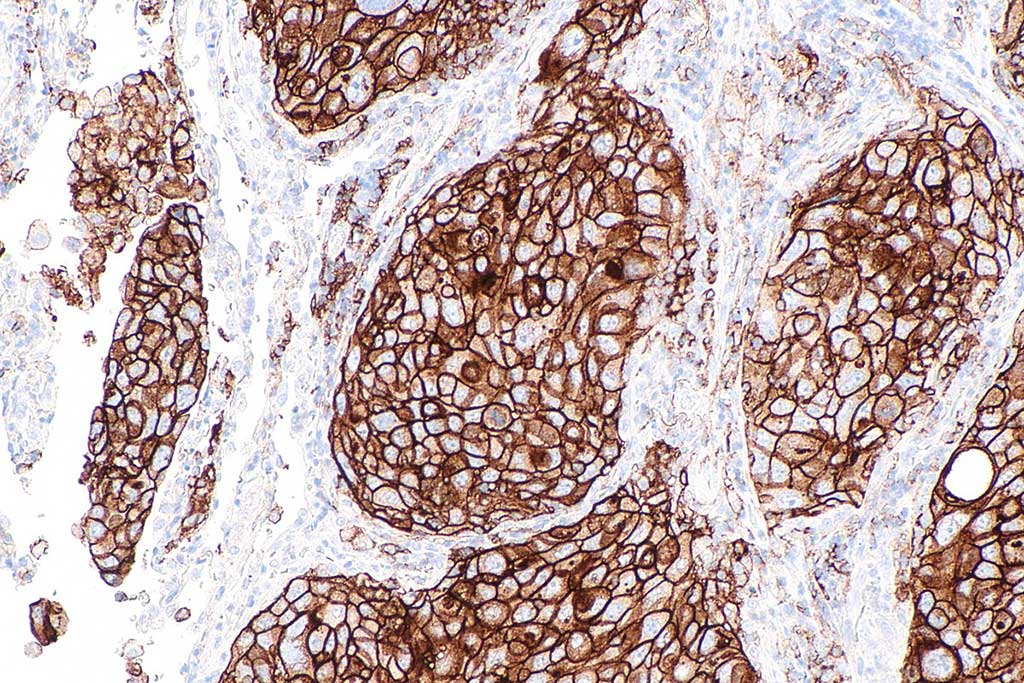 Non–small cell lung cancer (NSCLC) is the most commonly diagnosed cancer and the leading cause of cancer death worldwide. More than half of patients with NSCLC die after developing distant metastases, so rapid, minimally invasive prognostic biomarkers are needed to reduce mortality.
To search for such biomarkers, investigators at Tulane University (New Orleans, LA, USA) used mass spectrometry in a proteomics approach to identify proteins differentially expressed on extracellular vesicles of nonmetastatic 393P and metastatic 344SQ NSCLC cell lines.
The investigators reported that they had found that the tetraspanin-8 (Tspan8) protein was selectively enriched on 344SQ Evs. Tspan8 is a member of the transmembrane 4 superfamily, also known as the tetraspanin family. Most of these members are cell-surface glycoproteins that are characterized by the presence of four hydrophobic domains. These proteins, which are expressed in many different carcinomas, mediate signal transduction events that play a role in the regulation of cell development, activation, growth, and motility.
In addition to finding increased Tspan8 on the metastatic cell line, analysis of Tspan8 expression in archived serum samples obtained from patients with NSCLC participating in a clinical trial indicated that serum EV-Tspan8 concentration predicted future metastasis.
"The protein could be used as a biomarker to develop a rapid, minimally invasive test to catch these cancers early when they are more treatable," said senior author Dr. Tony Hu, professor of cellular and molecular diagnosis at Tulane University. "The goal of any cancer diagnosis and treatment is to catch it early. This information could help diagnose patients who are at high risk for having their cancer metastasize, and treatment could be tailored to account for that. Not all patients have the same type of tumor, and if you can target therapy to address a particular tumor, you can improve outcomes."
The lung cancer study was published in the March 11, 2020, online edition of the journal
Science Advances.
Related Links:

Tulane University