Novel Cell‐Free DNA Screening Assay Validated for Trisomies
By LabMedica International staff writers
Posted on 11 Sep 2019
Prenatal screening for trisomies 21, 18, and 13 is currently performed using multiple maternal serum and ultrasound markers. Clinical implementation studies of maternal plasma cell‐free (cf)-DNA testing have demonstrated a much higher sensitivity and specificity for these trisomies.
However, where cfDNA screening has been adopted in public health programs, it is mostly as a second‐tier test. Health economic analyses have identified the necessity of more cost‐effective cfDNA tests to enable a wide adoption of first‐line screening. Targeted tests are based on high complexity genetic analysis platforms that require a relatively advanced laboratory setup.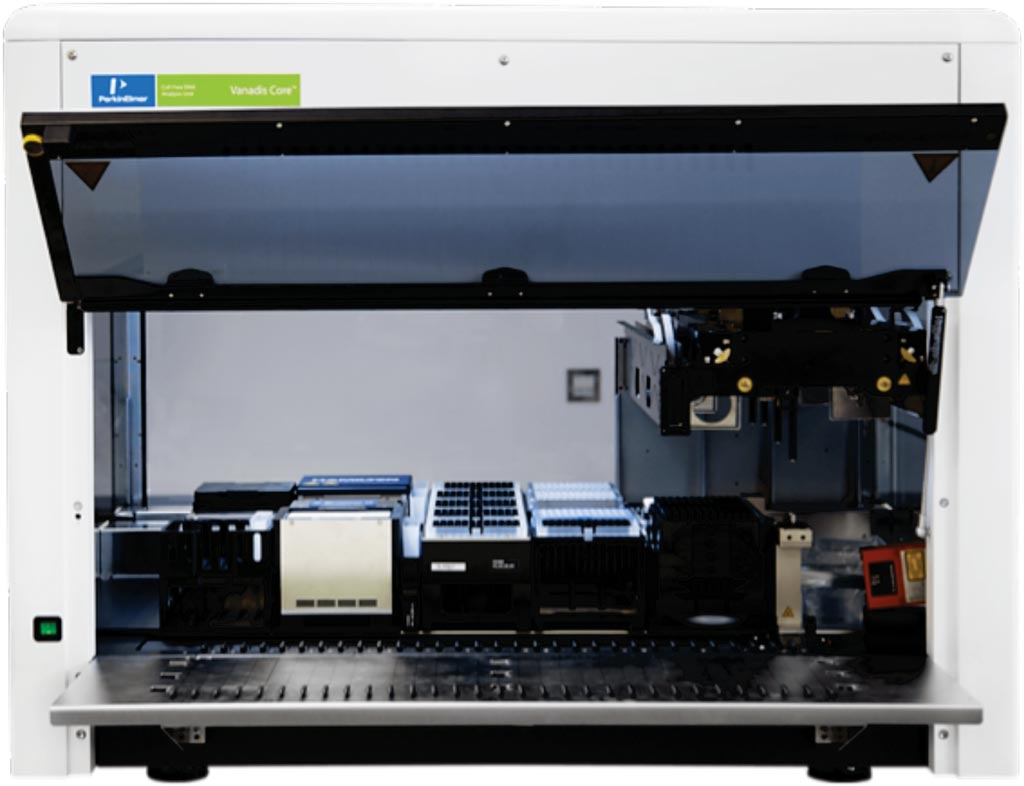 An international collaboration of scientists led by those at Vanadis Diagnostics (PerkinElmer, Sollentuna, Sweden) analyzed maternal plasma samples from 1,200 singleton pregnancies, which included 158 fetal aneuploidies. Reference outcomes were determined by amniocentesis or chorionic villi sampling (CVS), followed by cytogenetic testing, such as karyotyping, fluorescence in situ hybridization (FISH) or quantitative fluorescence-polymerase chain reaction (QF‐PCR) or clinical examination of neonates.
Processing and analysis of plasma samples was performed using the Vanadis noninvasive prenatal testing (NIPT) was performed blinded to the reference outcomes. The automated Vanadis NIPT assay targets specific chromosomes based on digital molecular quantification in a 96‐well microplate format. The assay enables automated high precision cfDNA analysis from primary blood tubes. The Vanadis NIPT assay relies on a series of enzymatic steps that specifically generate labeled rolling circle replication products (RCPs) from chromosomal cfDNA targets.
The scientists reported that the assay sensitivity was 100% (112/112) for trisomy 21 (Down syndrome), 89% (32/36) for trisomy 18 (Edwards syndrome), and 100% (10/10) for trisomy 13 (Patau syndrome). The respective specificities were 100%, 99.5%, and 99.9%. There were five first pass failures (0.4%), all in unaffected pregnancies. Sex classification was performed on 979 of the samples and 99.6% (975/979) provided a concordant result.
Masoud Toloue, PhD, vice president and general manager of Diagnostics at PerkinElmer, the parent company of Vanadis, said, "We continue to be encouraged by clinical studies that further validate our Vanadis platform as a reliable, cost-effective solution for laboratories and obstetricians to offer aneuploidy screening. Our Vanadis platform eliminates the technical complexity of NIPT, giving more women access to cfDNA screening for common trisomies and further improving prenatal care on a global scale."
The authors concluded that the study demonstrated that cfDNA testing with the highly automated Vanadis NIPT system does not require specialized personnel for screening. The Vanadis system is also designed to help reduce cost and allow wider population-based screening. The study was published on August 19, 2019, in the journal Prenatal Diagnosis.
Related Links:
Vanadis Diagnostics