Five-Gene Signature Predicts Survival from Renal Cell Carcinoma
By Labmedica International staff writers
Posted on 20 Mar 2019
Papillary renal cell carcinomas include type 1 lesions, which are characterized by small cells in single layers and scanty cytoplasm and type 2 lesions, which are distinguished by larger cells, pseudo-stratified nuclei, and voluminous eosinophilic cytoplasm.
Though the exact cause of papillary renal cell carcinoma is unknown, smoking, obesity, and genetic predisposition conditions such as hereditary leiomyomatosis and renal cell cancer may contribute to the development of this type of cancer. It accounts for about 10% to 15% of all renal cell carcinomas.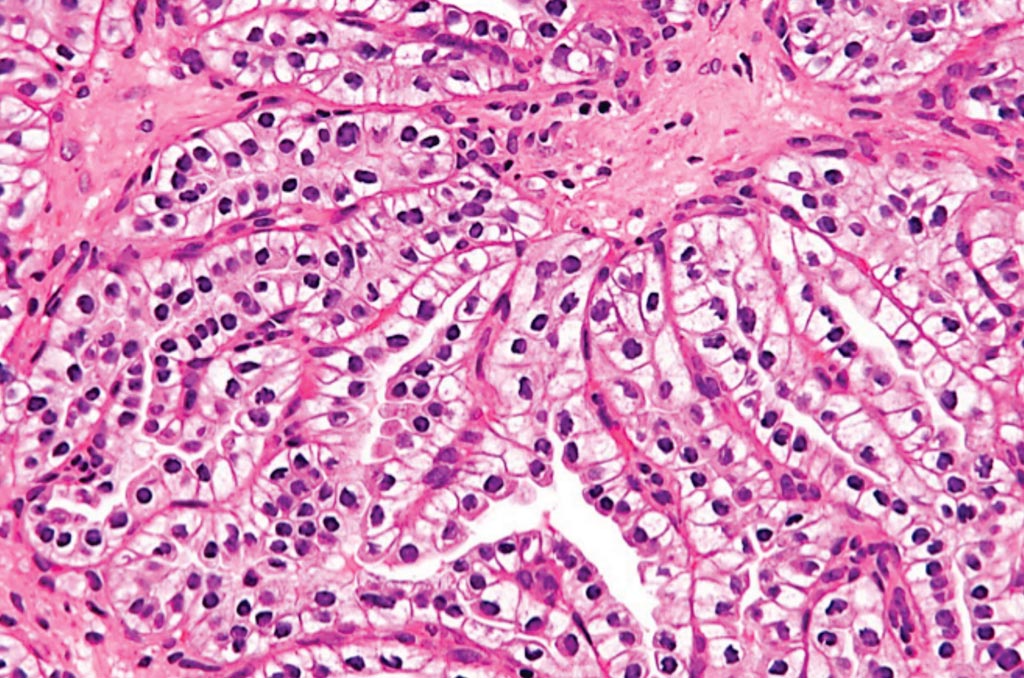 Urologists at the Qilu Hospital of Shandong University (Jinan, China) and their associates investigated the gene expression changes in papillary renal cell carcinoma (pRCC) and screen several genes and associated pathways of pRCC progression. They downloaded the pRCC RNA sequencing (RNA-seq) data set from The Cancer Genome Atlas (TCGA). They identified the differentially expressed messenger RNA (mRNA) between cancer and normal tissues and performed annotation of differentially expressed mRNAs to figure out the functions and pathways they were enriched in. Then, they constructed a risk score that relied on 5-mRNAs.
Based on differentially expressed gene in high-risk cases, the investigators found five survival-related genes, CCNB2, IGF2BP3, KIF18A, PTTG1, and BUB1, that could distinguish 53 high-risk pRCC patients from 89 low-risk patients in a subsequent validation analysis. The study revealed the 5-mRNA expression profile and the potential function of a single mRNA as a prognostic target for papillary renal cell carcinoma.
The authors concluded that by performing a comprehensive analysis for differentially expressed mRNA profiles and corresponding clinical information, the study demonstrated that 5-mRNA signature was a potential diagnostic marker in pRCC, and was an independent prognostic factor in pRCC patients. This signature has a lot of potential prognostic and therapeutic implications for the pRCC patient management. The study was published on March 1, 2019, in the journal PLoS ONE.
Related Links:
Qilu Hospital of Shandong University