Genetic Markers Predict Susceptibility of Pancreatic Tumors
By Labmedica International staff writers
Posted on 18 Mar 2019
A panel of genetic markers allows clinicians to match pancreatic tumors with appropriate existing chemotherapeutic drugs.
Since it has been difficult to select suitable treatment for patients with pancreatic ductal adenocarcinomas (PDACs) based on genomic alterations, investigators at the University of Pittsburgh (PA, USA), performed targeted genomic profile analyses of a large number of PDACs to evaluate the full spectrum of treatable genomic alterations.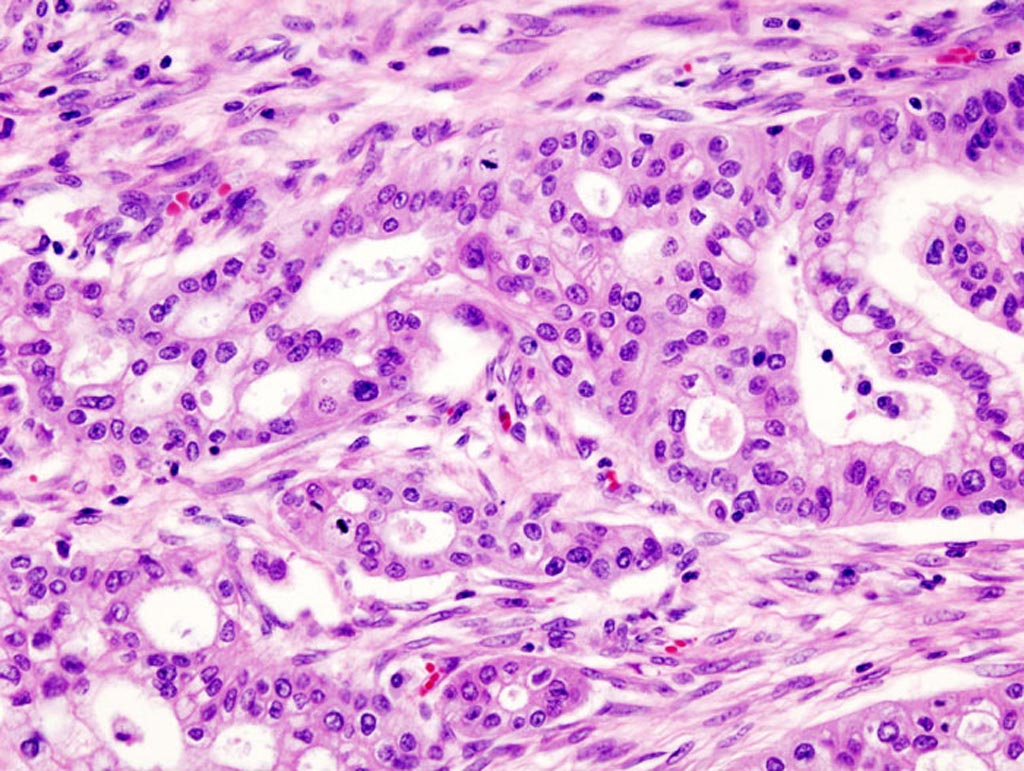 Previously, these investigators had developed "PancreaSeq", a clinical molecular test to evaluate common pancreatic cysts and identify which cases may progress to cancer. The assay targets mutation detection by next generation sequencing in pancreatic cyst fluid fine needle aspiration (FNA) specimens. The PancreaSeq panel offers simultaneous sequencing and detection of mutations in eight pancreatic cancer-related genes (AKT1, CTNNB1, GNAS, KRAS, PIK3CA, PTEN, TP53, and VHL).
For the current study, the investigators performed targeted genomic profile analyses of 3594 PDAC samples from an international cohort, including capture-based targeted genomic profiling of as many as 315 cancer-associated genes and intron regions of 28 genes that were rearranged in cancer cells. Tumor mutation burden (TMB) and microsatellite instability (MSI) status were also assessed.
Results revealed that KRAS, TP53, CDKN2A, and SMAD4 were the most frequently altered genes in the PDAC tissues. KRAS mutations were found in 88% of samples. Among PDACs without mutations in KRAS, alterations were found in genes whose products were in the mitogen-activated protein kinase signaling pathway and were candidate drug targets, as well as gene fusions, gene amplifications, genes with missense mutations, and genes that contained deletions. Many of these encoded proteins in receptor tyrosine kinase, RAS, or mitogen-activated protein kinase signaling pathways. A genetic marker, which indicated that the tumor should be susceptible to existing chemotherapy drugs, was found in 17% percent of cases.
"Every pancreatic cancer is different, and performing molecular profiling of each patient's tumor could help determine the best treatment options," said first author Dr. Aatur Singhi, assistant professor of pathology at the University of Pittsburgh. "Rather than blindly giving patients the same chemotherapy, we want to tailor a patient's chemo to their tumor type. A one-size-fits-all approach is not going to work. Therefore, we would like to make molecular profiling standard-of-care for patients with pancreatic cancer."
The study was published in the March 2, 2019, online edition of the journal Gastroenterology.
Related Links:
University of Pittsburgh