Neuroblastoma Molecular Analysis Leads to Prognostic Markers
By Labmedica International staff writers
Posted on 27 Dec 2018
Neuroblastoma is a pediatric tumor of the sympathetic nervous system. Its clinical course ranges from spontaneous tumor regression to fatal progression. It most frequently starts from one of the adrenal glands, but can also develop in the neck, chest, abdomen, or spine.
Some neuroblastomas are fatal despite treatment, whereas others respond well to treatment and some undergo spontaneous regression without treatment. Symptoms may include bone pain, a lump in the abdomen, neck, or chest, or a painless bluish lump under the skin. Occasionally, neuroblastoma may be due to a mutation inherited from a person's parents.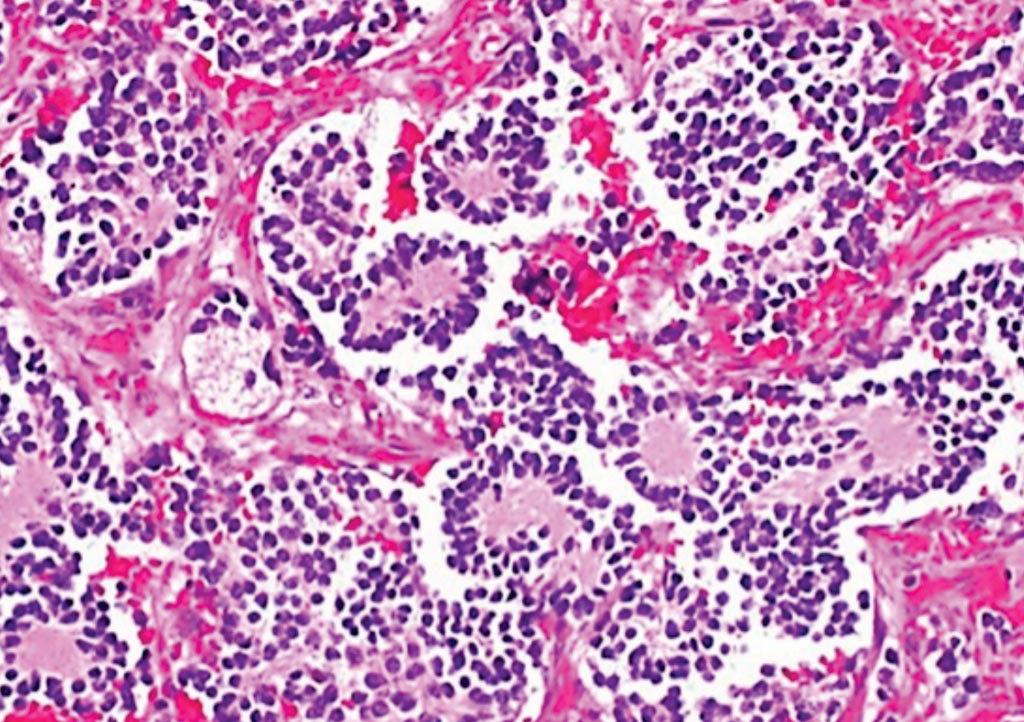 A large team of scientists working with the University Hospital of Cologne (Cologne, Germany) investigated the molecular features of the divergent tumor subtypes, and performed genome sequencing on 416 pretreatment neuroblastomas and assessed telomere maintenance mechanisms in 208 of these tumors. The team profiled the 416 pre-treatment neuroblastomas using targeted, exome, or whole-genome sequencing, cases in an effort to understand the relationship between tumor mutations and clinical phenotypes in these pediatric sympathetic nervous system tumors, which sometimes regress spontaneously but can also progress to become fatal.
The team focused in on alterations affecting 17 RAS or TP53 pathway genes, including recurrently mutated genes such as ALK that have been described in prior studies. They identified 52 neuroblastoma cases with MYCN amplifications, 21 cases marked by TERT rearrangements, and 31 cases that involved alternative lengthening of telomeres (ALT)-associated promyelocytic leukemia nuclear bodies, along with at least eight tumors that contained predicted inactivating ATRX mutations.
The investigators found that patients whose tumors lacked telomere maintenance mechanisms had an excellent prognosis, whereas the prognosis of patients whose tumors harbored telomere maintenance mechanisms was substantially worse. Survival rates were lowest for neuroblastoma patients whose tumors harbored telomere maintenance mechanisms in combination with RAS and/or p53 pathway mutations. Spontaneous tumor regression occurred both in the presence and absence of these mutations in patients with telomere maintenance–negative tumors.
The authors concluded that assessment of telomere maintenance mechanisms and a limited set of RAS and TP53] pathway genes may be sufficient to accurately estimate patient risk at diagnosis and to guide treatment stratification. In a clinical setting, telomerase activation may be readily determined by examining the genomic status of MYCN and TERT in the majority of cases and supplemented by analysis of TERT expression levels in MYCN-wild type and TERT-wild type tumors. The study was published on December 7, 2018, in the journal Science.
Related Links:
University Hospital of Cologne